Experience the best of
Edinburgh with Withlocals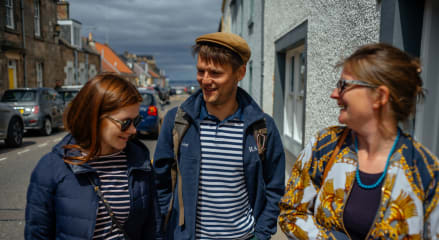 Find the perfect private tour

Select one of our local experts

Enjoy Edinburgh like a local
Explore Edinburgh
The fun never ends in Edinburgh! Enjoy one of our private tours to the spellbinding Edinburgh Castle, the photogenic Royal Mile or the historic Victoria Street. Discover the incredible things to do in the city with the local of our choice.
Top 10 things to do in Edinburgh
Make your stay in Edinburgh complete with these things to do
"

We did our first Withlocals tour when arriving to the city and can highly recommend people to do the same.

"
Explore Edinburgh with our incredible locals
Learn about their personal stories and find out how you can explore Edinburgh with locals
Why you should book a
Withlocals tour
100% Customizable

Let your local host tailor the tour
completely to your wishes.

Private guided tours

No strangers on your tour.
It's just you and your local host.

Responsible

Our tours are designed with
people, places & the planet in mind
Things to do in Edinburgh
Our locals will give you the best experiences that Edinburgh has to offer
Find experiences by category
Discover experiences based on your interest
Travelers love our locals
What other guests say about our tours and locals
Enjoy the Best of the Edinburgh
Like a Local
Incredible Activities at Every Turn in Edinburgh
Take in the sights of the city like a local and discover precisely where to go in Edinburgh for an exhilarating journey. From enchanting architecture to fascinating history, you will be enthralled by the captivating things to do in Edinburgh. Follow the lead of your friendly local host to have an unforgettable experience in Edinburgh. History buffs will be captivated by the riveting stories of the city's past and architecture lovers will be amazed by the gorgeous designs in Old Town and New Town. Taking a stroll down the cobblestone streets of the Royal Mile is one of the most fascinating things to do in Edinburgh. Your local host will show you exactly what to do in Edinburgh if you wish to uncover all the city's vibrant history among its hidden alleyways. When looking for mesmerizing activities in Edinburgh, look no further than a visit to the glorious Edinburgh Castle. This breathtaking fortress has stood the test of time and has watched over the city for centuries. If you are ever stuck on what to do in Edinburgh, just waltz down the famous Victoria Street for lovely shops and some of the most colorful images in town. The Palace of Holyroodhouse is one of the most spellbinding things to see in Edinburgh. If you are searching for unforgettable activities in Edinburgh, a private tour is a wonderful way to make your adventure 100% customizable. Just tell your local host of your interests and they will take care of everything for you!
Related Edinburgh pages
You might be interested in these
Edinburgh