Experience the best of
Bologna with Withlocals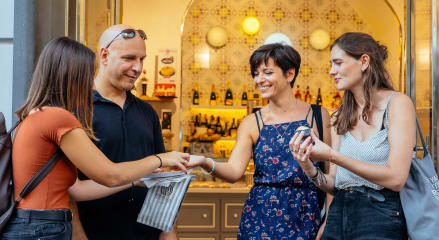 Find the perfect private tour

Select one of our local experts

Enjoy Bologna like a local
Explore Bologna
Discover tons of amazing things to do in Bologna! From the iconic Two Towers to the lively Piazza Maggiore, and the beautiful Basilica of San Domenico. Also explore some of the lesser known, equally impressive hidden treasures with your local host.
Top 5 things to do in Bologna
Make your stay in Bologna complete with these things to do
"

We did our first Withlocals tour when arriving to the city and can highly recommend people to do the same.

"
Explore Bologna with our incredible locals
Learn about their personal stories and find out how you can explore Bologna with locals
Why you should book a
Withlocals tour
100% Customizable

Let your local host tailor the tour
completely to your wishes.

Private guided tours

No strangers on your tour.
It's just you and your local host.

Responsible

Our tours are designed with
people, places & the planet in mind
Things to do in Bologna
Our locals will give you the best experiences that Bologna has to offer
Find experiences by category
Discover experiences based on your interest
Travelers love our locals
What other guests say about our tours and locals
Enjoy the Best of the Bologna
Like a Local
Witness the Fantastic Things to Do in Bologna
See all the amazing things to do in Bologna! From medieval architecture to foodie gems, the charming streets of Bologna will take your breath away. Magnificent Churches & Palaces When searching for what to do in Bologna, kickstart your tour by visiting the stunning architectural treasures of the city! The Basilica di San Petronio and Basilica of San Domenico are two proud churches that contain beautiful works of art inside. Sanctuary of the Madonna di San Luca sits atop a hill overlooking Bologna and you can take a lovely walk through its portico that connects the church to the city. Then, admire the historic Palazzo d'Accursio and Palazzo del Podestà and learn how they became two of the most important palaces in Bologna. Fascinating History The history of Bologna can be told through its fascinating landmarks! The iconic Two Towers are the most prominent structures that overlook the city. Then, learn the interesting story behind the marvelous Fountain of Neptune and its symbolic meaning. Discover Bologna's past as another Italian canaled city by viewing the often overlooked Finestrella di Via Piella. Foodie Attractions You cannot mention Bologna without talking about its world-class cuisine! Watch it all come to life at FICO World Eataly and learn everything there is to know about Italian culinary tradition. If you are not through shopping for all your gastronomic delights, wander to Mercato Delle Erbe for fresh produce, cheese, wine and more. Customize Your Tour Your local guide will show you all the wonderful things to do in Bologna! Personalize your itinerary based on the highlights you wish to see most. Just inform your local host of your interests and they got you covered!
Related Bologna pages
You might be interested in these
Bologna