Experience the best of
Hong Kong with Withlocals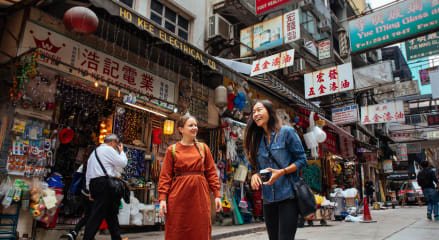 Find the perfect private tour

Select one of our local experts

Enjoy Hong Kong like a local
Explore Hong Kong
Whether you're a foodie, history lover, urban explorer or a traveling family. Enjoy Hong Kong to the max with the best things to do in Hong Kong with a local expert. The best thing? It's private & personalized - just for you!
Top 10 things to do in Hong Kong
Make your stay in Hong Kong complete with these things to do
"

We did our first Withlocals tour when arriving to the city and can highly recommend people to do the same.

"
Explore Hong Kong with our incredible locals
Learn about their personal stories and find out how you can explore Hong Kong with locals
Why you should book a
Withlocals tour
100% Customizable

Let your local host tailor the tour
completely to your wishes.

Private guided tours

No strangers on your tour.
It's just you and your local host.

Responsible

Our tours are designed with
people, places & the planet in mind
Things to do in Hong Kong
Our locals will give you the best experiences that Hong Kong has to offer
Find experiences by category
Discover experiences based on your interest
Travelers love our locals
What other guests say about our tours and locals
Amazing tour with Angel

"We had a night and day tour with Angel. She was great, very knowledgeable but also flexible. We had three jet lagged teenagers and she was happy to do different things if requested. She was very helpful and engaging. We had a wonderful time "

Anna

About local AngelHong Kong,

September 2023

Must go tour for anyone visiting HongKong!

"Angel was an amazing host!! Even though my flight was delayed she was very accommodating and flexible. She took me around the city, explained the history and the culture along with her own experiences which made the tour so unique! I really loved the local cuisine which we tried. She knows the perfect shops to take you shopping! Even the though the Victoria peak was not on the itinerary she was kind enough to accommodate it for me! Overall I had a wonderful experience and highly recommend Angel as a host to anyone visiting Hong Kong :) "

Ashvini

About local AngelHong Kong,

August 2023

Lynaire

"My walking tour around Hong Kong was a great way to spend a quick visit to Hong Kong and Made better by a great guide, would recommend Matteo, he was friendly and kind"

Lynaire

About local MatteoHong Kong,

July 2023

Great day with Angel exploring Hong Kong

"Thank you so much Angel for the great tour! The whole family enjoyed the day, and we would have never had the opportunity to experience Hong Kong in the way that we did without your local knowledge and insights. It was great to hear your stories around the interesting sights we visited, along with your guidance in sampling exotic and exciting local dishes."

Marjukka

About local AngelHong Kong,

July 2023

Fantastic !

"One day with angel in hkg ! Great experience ! Even we can see the dragonboat festival , once in a year ! Good job n see you soon ! 👍 very recommend"

Andry

About local AngelHong Kong,

June 2023

Amazing experience 10/10

"Matteo is an incredible guide, full of enthusiasm and passion for this city. He is welcoming and provides a great tour experience. I would recommend him to anyone visiting Hong Kong! 10/10! "

Bianca

About local MatteoHong Kong,

June 2023

Real street life

"Another excellent tour with Cosmo ! Such a nice guy ans so interesting and knowledgeable about this local area! Hard to describe but just fantastic. Thanks Cosmo! "

Inside Hong Kong!

"Fabulous on the ground tour ! Seeing the real Hong Kong . Cosmo is knowledgeable and gives an insight to what is special about Hong Kong away from the steel and glass. Cosmo is easy to get on with and english is excellent! An absolute pleasure to be with . The tour is a must to see the real city . Allan's review "

Amazing Gems, Deep in the Heart of HK

"Samuel showed me a facet of HK that I would not have been to find myself. His deep local knowledge and unique stories of the city was very enlightening and we covered a lot of ground through the little streets that he expertly navigated. Very enjoyable tour and such an advantage to experience a diverse and authentic side of exciting HK."

Ying

About local SamuelHong Kong,

May 2023

Eye-Opening Walk In Authentic HK Streets

"Matteo showed me a fantastic views of HK of that I wouldn't have been able to find on my own In addition to imparting very valuable photography tips and tricks, he weaved that together with his very deep knowledge of little known pockets of the city and the fascinating stories behind each location The tour was a very enlightening experience and his passion for his craft and tales of HK is outstanding "

Ying

About local MatteoHong Kong,

May 2023
Enjoy the Best of the Hong Kong
Like a Local
Fun things to do in Hong Kong
The best way is the local way! From scenic nature hikes up Hong Kong Peak to the fragrant night markets in Kowloon, your local host will show you all the amazing things to do in Hong Kong on your private tour. Hong Kong is a cultural haven, with plenty of unique activities to do. If you're looking to get off the beaten track, you'll love exploring Hollywood Road, Cat street and the beautiful Man Mo Temple. Foodies can stop for pineapple buns, then hit the vibrant markets in Kowloon for delicious street food and rows and rows of high-end shops! With your local host by your side, you'll know just where to go discover all the best things to see in Hong Kong! With so many unique activities in Hong Kong, you'll be wishing you could stay a while longer. Whether you prefer to shop till you drop, take a cable car up the Peak for spectacular city views or hike the Dragon's Back, you'll discover so much more with your local host. Simply tell them where your interests lie, and they will personalize your day. Exploring with a local who knows the city like the back of their hand means you'll always find the best things to see and do in Hong Kong, and will always know just where to go! If you're planning your activities in Hong Kong, look no further than a Withlocals 100% private and fully customizable tour. With your local host by your side, you'll discover where to go, what to do and the very best things to see in Hong Kong! Let them know which activities you most enjoy, and they will sort it all out locally for you!
Related Hong Kong pages
You might be interested in these
Hong Kong