Experience the best of
Medellin with Withlocals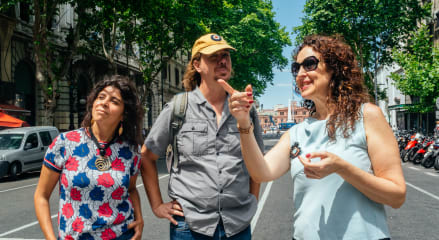 Find the perfect private tour

Select one of our local experts

Enjoy Medellin like a local
Explore Medellin
See the amazing things to do in Medellin! From the radiant Joaquín Antonio Uribe Botanical Garden to the charming Pueblito Paisa, and the bewildering Casa Museo Pablo Escobar. Have an incredible adventure with the local of your choice.
Top 3 things to do in Medellin
Make your stay in Medellin complete with these things to do
Choose your local

1

Off the Beaten Track in Medellin: Comuna 13 Tour

3 hours • city highlight tours

Choose your local

2

The 10 Tastings of Medellin

3 hours • food tours

With Jhoan

3

Highlights & Hidden Gems of Medellin

3 hours • city highlight tours
"

We did our first Withlocals tour when arriving to the city and can highly recommend people to do the same.

"
Explore Medellin with our incredible locals
Learn about their personal stories and find out how you can explore Medellin with locals
Why you should book a
Withlocals tour
100% Customizable

Let your local host tailor the tour
completely to your wishes.

Private guided tours

No strangers on your tour.
It's just you and your local host.

Responsible

Our tours are designed with
people, places & the planet in mind
Things to do in Medellin
Our locals will give you the best experiences that Medellin has to offer
Find experiences by category
Discover experiences based on your interest
Travelers love our locals
What other guests say about our tours and locals
Enjoy the Best of the Medellin
Like a Local
See the Incredible Things to Do in Medellin
Find the best things to do in Medellin with a local! From gorgeous parks to fascinating hidden gems, you'll have a remarkable time discovering Medellin. Natural Beauty Everywhere Medellin is full of natural wonders and there are tons of places to witness the city's connection with nature. Joaquín Antonio Uribe Botanical Garden is one of the top Medellin attractions with its radiate flowers and magnificent bird species in the middle of town. Nutibara Hill is a wonderfully preserved ecosystem offering spectacular views of the city. Arví Park is a visually stunning nature preserve with miles of walking trails. Unique Sights of Medellin There are lots of fantastic activities that are only possible in Medellin! Ride the Metrocable to experience the city's innovative public transport system. Wander the streets of the once infamous Comuna 13 and see how it has transformed into an artistic haven with endless street murals. Parque de los Pies Descalzos is a relaxing city park that encourages visitors to slip off their shoes and walk around barefoot. Fantastic Hidden Gems Searching for some adventures off the beaten path in Medellin? Visit the Tilin Tilin Chocolate Factory to taste local cacao and other flavours of Colombia. Parque Sabaneta is a charming city park offering tasty Colombian street food and vendors selling handmade crafts. The Museo Universidad Antioquia is an often overlooked museum with thousands of interesting archaelogical treasures. See More with a Local Your private local guide will show you all the best things to do in Medellin! From eco-friendly day trips and peaceful city activities to delicious food tours and cultural landmarks, your local host will reveal exactly what to do in Medellin for a fantastic adventure.
Related Medellin pages
You might be interested in these
Medellin