Experience the best of
Manila with Withlocals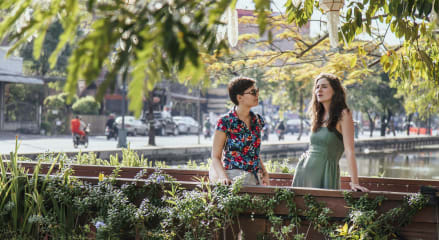 Find the perfect private tour

Select one of our local experts

Enjoy Manila like a local
Explore Manila
Let our local experts guide you through a handpicked selection of things to do on a private tour. Think hidden gems, insider stories, and all the local vibes. Ready to find your private tour of Manila? Your adventure-packed day is just one click away!
Top 5 tours in Manila
Make your stay in Manila complete with these things to do
Why you should book a
Withlocals tour
100% Customizable

Let your local host tailor the tour
completely to your wishes.

Private guided tours

No strangers on your tour.
It's just you and your local host.

Responsible

Our tours are designed with
people, places & the planet in mind
Private tours with locals in Manila
Our locals will give you the best experiences that Manila has to offer
Explore Manila with our incredible locals
Learn about their personal stories and find out how you can explore Manila with locals
With Wilma

9 hours • day trips

from €235 per person
Find experiences by category
Discover experiences based on your interest
Travelers love our locals
What other guests say about our tours and locals
Extraordinary Guide- A MUST HIRE

"Juliet is very knowledgeable, passionate, personable & organized tour guide in Manila. She is very diverse in her knowledge from history, culture, people, government & food. She speaks excellent English clearly. She is such a gem who truly goes over & beyond for his clients with an experience you won't forget. She has an amazing driver Derek who is very safe in the crazy Manila traffic with new air-conditioned vehicle. You feel like family after a few short minutes with her & honestly at end it was hard to say good-bye. She can do any tour in & around Manila which is amazing as she will tailor it to your desires & needs. She is great with a flexible schedule & works with your schedule to provide the best experience you can have while in Manila exploring it. She provides beyond exceptional service for the price she charges as she is beyond worth it plus more. She is hands down the best in Manila & a must hire. I have exceptionally high expectations as Juliet exceeding them which is hard to do along with her driver Derek. "

Heidi

About local JulietManila,

December 2019

Taal volcano : a must see

"Should you only do one tour while you are in Manila, then it has to be that one ! It is really amazing. Juliet will start the tour with some views of the volcano island before driving you near the lake where a boat will bring you to the island. From there, you can decide to walk or take a horse (at your own expenses) to the top. I would recommend to do as i did a horse back riding unless you are 100% fit as the path leading to the top (same for humans or horses) is a bit difficult on the last quarter. From the top, the view on the volcano inside lake is just amazing. A must see tour."

Canoe Rafting

"An experience to do. I never did rafting before and found it quite thrilling when passing through those little rapids"

City tour of Manila

"I was unlucky to make this tour at the time a typhoon was touching Manila area. That means lot of rain and violent winds. However, Juliet manage to make the best of it under those difficult circumstances. Not only we made what was planned to be seen but Juliet manage to add a couple of things to it as a visit to a casino and the american cemetery. Manila may not be the most well known capital in the world but i would however recommand the city tour to have an idea of the city rich history."

An amazing experience

"Juliet made our experience truly unforgettable. She was not only very pleasant to deal with but also more than helpful. I really recommend her as a tour guide."

Monika

About local JulietManila,

July 2019

Old & New Manila City Tour including entrance fees.

"My husband and I had a terrific time with Aerie. He was friendly, knowledgeable and had terrific recommendations on what to see. Book with Aerie and you won't be disappointed!"

Dena

About local JulietManila,

March 2016

The real Manila

"I was able to discover the real Manila where there is no mass tourism and where real life takes place, it was an experience that I can recommend to everyone."

Dominik

About local BernadetteManila,

November 2023

Philippine hospitality at its best

"I was a party of four which included two senior citizens. Our tour guide, Juliet, prepared a perfect tour itinerary for my group. Her knowledge of Philippines history was very inviting. We always wanted to know more about the history of the Philippines. In addition, she left more than enough time to take pictures, walk around and enjoy the sights, as well as time to do some souvenir shopping. There wasn't a second during our tour where I felt rushed by Juliet. What made Juliet special, she was very attentive to the senior citizens who were on the tour with us. She definitely is a perfect example of Philippine hospitality. Thank you Juliet for your patience and kindness with my group. We definitely enjoyed every second of your expertise. We wish we would have booked another tour with you. I personally would recommend Juliet to anyone seeking a tour in Manila. You won't be disappointed. [From Joseph & Erika]"

Joseph

About local JulietManila,

May 2019

Visit to Pagsanjan Waterfalls

"I and my wife had booked the tour to the waterfalls and it was a really exciting day. Juliet was at our hotel before time and had a nice comfortable vehicle to drive upto the falls. She is really good and keeps you involved with her talks and suggestions. The weather was not too good but whatever we could do was thoroughly enjoyable. Thanks Juliet for the excellent company and important tips to make our trip enjoyable."

Prakash

About local JulietManila,

January 2019

Old & New Manila City Tour including entrance and meals.

"This was such a wonderful experience! Juliet was a phenomenal tour guide. We loved that she reached out personally after we booked to introduce herself and let us know of the other tours she offered, as well as advise us to dress fairly light since it would be a hot humid day. She was well informed and knew her stuff. She met us at our hotel 30 minutes prior to the tour to discuss where and what locations were a must for us to see. From there we created an itinerary. We started out at the cemetery for American and Filipino soldiers. Intramuras was fascinating! We were able to see so many parts of Manila that we never realize were there. Juliet was very open to schedule changing and adding destinations stops, of course within reason. One of the last minute changes was going to Luneta park and watching the changing of the guard. At the end of the tour, she even surprised us with a stop at Okada- a spectical to be seen! I must mention the driver, Juliet hired an experienced driver. This was the first time we have ridden with such a smooth driver. Past experiences with hired drivers were usually a whip lash fest. Thank you Juliet for an amazing experience! You will see us again for sure!"

Richard

About local JulietManila,

November 2018
Enjoy the Best of the Manila
Like a Local
Private & Personalized Tours in Manila with a Local
When you hit the road and land in a new city like Manila, there's an exciting way to dive into its soul: personalized local tours. Forget the typical touristy routes – these tours are like having a local friend show you around all the cool spots.
Imagine having someone who lives and breathes Manila spill its secrets. That's what local guides bring to the table. They know the hidden alleys, the best bites, and stories that never made it to the guidebooks. Whether you're into munching through food tours, wandering the city's streets, or going off the beaten path, a local guide hooks you up with a private tour that's authentically Manila.
The best part? These tours are all about you. No herding in big groups or rushing through places you're not interested in. With private tours, you're the boss. Whether it's snapping pics at iconic landmarks, diving into history, or checking out the art scene, the tour is tuned to your vibes at your tempo.
But it doesn't stop at city limits. Day trips let you escape the urban jungle and explore nearby wonders. And if you're just setting foot in Manila, kickstart tours give you a taste of everything. Think of it as a crash course in Manila awesomeness, guided by a local who knows the city like the back of their hand.
So, next time you're in Manila, ditch the ordinary. Grab a local tour and unlock the city's real magic – the stories, flavors, and places that make it uniquely Manila. Get ready to explore like a local!
Related Manila pages
You might be interested in these
Tours in Manila