Experience the best of
Cusco with Withlocals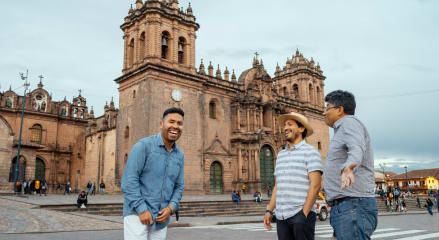 Find the perfect private tour

Select one of our local experts

Enjoy Cusco like a local
Explore Cusco
Witness all the spectacular things to do in Cusco! From the fascinating Saqsaywaman to the gorgeous Church of the Society of Jesus, and the lively San Pedro Market. Explore all the unforgettable highlights with your favorite local host.
Top 3 things to do in Cusco
Make your stay in Cusco complete with these things to do
Choose your local

1

City Kickstart Tour: Cusco

1.5 hours • city highlight tours

Choose your local

2

Treasures of Cusco: Inca Influences Tour

2.5 hours • city highlight tours

Choose your local

3

Highlights & Hidden Gems of Cusco

3 hours • city highlight tours
"

We did our first Withlocals tour when arriving to the city and can highly recommend people to do the same.

"
Explore Cusco with our incredible locals
Learn about their personal stories and find out how you can explore Cusco with locals
Why you should book a
Withlocals tour
100% Customizable

Let your local host tailor the tour
completely to your wishes.

Private guided tours

No strangers on your tour.
It's just you and your local host.

Responsible

Our tours are designed with
people, places & the planet in mind
Things to do in Cusco
Our locals will give you the best experiences that Cusco has to offer
Find experiences by category
Discover experiences based on your interest
Travelers love our locals
What other guests say about our tours and locals
Enjoy the Best of the Cusco
Like a Local
Things to Do in Cusco for Everyone
The endless things to do in Cusco provide adventures for every interest! From interactive cooking classes to market fun, the picturesque streets of Cusco will keep you busy all day. Entertaining Night Scene The nightlife in Cusco will satisfy all your senses! Head to the Pisco Museum to learn the secrets behind Cusco's national drink and enjoy a delicious Pisco Sour. If you're hungry from the day's adventurous activities, take a hands-on cooking class and prepare your own Peruvian dinner. With the extra energy, hit the dance floor at the hottest discos recommended by your local host. See the Local Side of Cusco You have countless opportunities to get a better understanding of the local culture of Cusco! Wander around the lively San Pedro Market to watch locals barter over handmade crafts and tasty street food. Visit the astounding architectural gem of Qorikancha and the Church of Santo Domingo built upon its base. Finally, learn the intricacies of authentic Andean textiles at the Centro de Textiles Tradicionales del Cusco. Fun with the Kids Cusco is filled with family friendly activities you can enjoy with the youngsters! Take the kids to the ChocoMuseo where the whole family can indulge in a sweet treat. If you stumble across a local in traditional dress with an alpaca, use the opportunity to take an adorable family portrait. Your private guide will make the best recommendations to ensure everyone leaves with a smile on their face. Go Further with a Private Local Guide Discover the best things to do in Cusco with the help of a Cusco private guide. Whether you wish to taste classic Peruvian dishes, see the city's most historical sites or explore the majestic landscapes on an amazing day trip, your local host will customize the best plan for you!
Related Cusco pages
You might be interested in these
Cusco