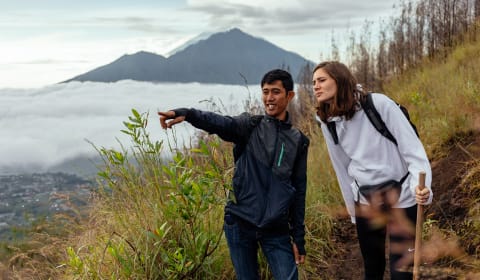 Enjoy the views from the sacred Mount Batur
Discover one of the most amazing places in Bali with your local host! You can't miss the Kitamani region, located at around 31 miles from Denpasar! The land holds a mountain area, the second most sacred active volcano in the island, called Mount Batur and a gorgeous large lake. The views there are the main reason for which it's the most popular tourist destination in the island.
Go there with your private guide, who can show you the best locations for panoramic sights. One of the most awesome & romantic things to do there is enjoying the stunning sunrise at the vulcano, especially if you're traveling as a couple. The area is also known as a great producer for plants. You can actually find the biggest bamboo producer in Bali in its northern part. Enjoy your trip!