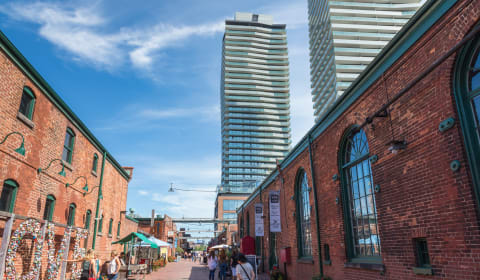 Artistic Adventures in the Distillery District
If you're in Toronto and looking for a dose of history and artsy vibes, the Distillery District is where it's at! Step into this old-timey wonderland, complete with cobblestone streets and vintage buildings that transport you back in time. It's like walking into a movie set, but with a twist of modern creativity. You'll find yourself surrounded by hip art galleries, quirky boutiques, and some of the coolest restaurants in the city. And speaking of restaurants, don't even get me started on the delicious craft beers they serve up at the Mill Street Brewery. So, grab your camera, put on your walking shoes, and get ready for a walk to explore this hidden gem that'll leave you feeling like a time-traveling art connoisseur!
P.S. Keep an eye out for the Distillery District sign – it's like the red carpet for all your Instagram-worthy moments! And don't forget to pop into the local studios and galleries; you might just discover a one-of-a-kind masterpiece to take home as a souvenir. Trust me, you won't want to miss this artistic haven in the heart of Toronto!
Local tipExperience the Distillery District's enchanting ambiance by visiting in the evening when the fairy lights create a dreamy atmosphere