Experience the best of
Salzburg with Withlocals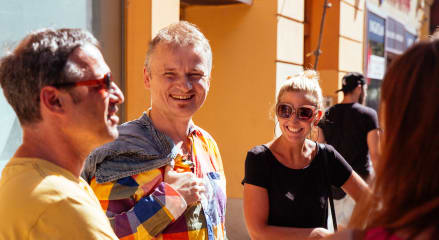 Find the perfect private tour

Select one of our local experts

Enjoy Salzburg like a local
Explore Salzburg
Discover Salzburg, the beautiful and romantic city of Austria! With its majestic mountains, Baroque architecture, and stunning landscape, you'll be sure to find something to delight you. With Locals, explore the city and experience its unique culture and cuisine. You can explore with knowledgeable guides and discover the city's hidden gems. Let With Locals show you the best of Salzburg and create memories to last a lifetime!
Top 3 things to do in Salzburg
Make your stay in Salzburg complete with these things to do
Choose your local

1

Treasures of Salzburg: Sound of Music Tour

2.5 hours • city highlight tours

Choose your local

2

Highlights & Hidden Gems of Salzburg

3 hours • city highlight tours

With Dietmar

3

The 10 Tastings of Salzburg

3 hours • food tours
"

We did our first Withlocals tour when arriving to the city and can highly recommend people to do the same.

"
Explore Salzburg with our incredible locals
Learn about their personal stories and find out how you can explore Salzburg with locals
Why you should book a
Withlocals tour
100% Customizable

Let your local host tailor the tour
completely to your wishes.

Private guided tours

No strangers on your tour.
It's just you and your local host.

Responsible

Our tours are designed with
people, places & the planet in mind
Things to do in Salzburg
Our locals will give you the best experiences that Salzburg has to offer
Choose your local

2.5 hours • city highlight tours

from €61.77 per person

Choose your local

3 hours • city highlight tours

from €72.80 per person

With Dietmar

3 hours • food tours

from €132 per person
Travelers love our locals
What other guests say about our tours and locals
Enjoy the Best of the Salzburg
Like a Local
"Experience the Enchantment of Salzburg, Austria!"
Welcome to Salzburg, Austria! This beautiful city is nestled in the foothills of the Alps, providing stunning views and unique attractions. As the birthplace of Mozart, Salzburg is a cultural gem with a vibrant music scene, exciting festivals and a rich history. Explore the city's many churches, palaces and castles, which showcase the city's Baroque architecture and captivating stories. Stroll through Salzburg's picturesque cobblestoned streets and quaint alleyways. Shop in the many markets and boutique stores, or take a break in one of the city's many cozy cafés. Discover Salzburg's countryside, with its rolling hills, stunning mountain views and world-famous lakes. Explore the many outdoor activities available, such as hiking, biking, skiing and snowboarding. No matter what you're looking for, Salzburg has it all. Withlocals offers a variety of tours and experiences that will help you get the most out of your time in this amazing city. From exploring the city's cultural sights to discovering its breathtaking countryside, Withlocals will make sure you make the most of your time in Salzburg.
Related Salzburg pages
You might be interested in these
Salzburg