Experience the best of
Buenos Aires with Withlocals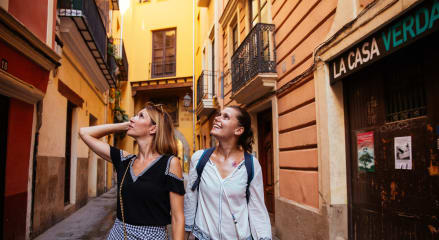 Find the perfect private tour

Select one of our local experts

Enjoy Buenos Aires like a local
Explore Buenos Aires
Experience all the fantastic things to do in Buenos Aires! From the iconic Casa Rosada to the astonishing Teatro Colón, and the energetic La Boca District. Explore the top highlights of the city with the friendly local of your choice.
Top 5 things to do in Buenos Aires
Make your stay in Buenos Aires complete with these things to do
"

We did our first Withlocals tour when arriving to the city and can highly recommend people to do the same.

"
Explore Buenos Aires with our incredible locals
Learn about their personal stories and find out how you can explore Buenos Aires with locals
Why you should book a
Withlocals tour
100% Customizable

Let your local host tailor the tour
completely to your wishes.

Private guided tours

No strangers on your tour.
It's just you and your local host.

Responsible

Our tours are designed with
people, places & the planet in mind
Things to do in Buenos Aires
Our locals will give you the best experiences that Buenos Aires has to offer
Travelers love our locals
What other guests say about our tours and locals
Enjoy the Best of the Buenos Aires
Like a Local
See the Best Things to Do in Buenos Aires
There are tons of incredible things to do in Buenos Aires for fun all year round! From beautiful architecture to entertaining theatres, the vibrant streets of Buenos Aires will provide an endless good time. Nonstop Entertainment The things to do around Buenos Aires will keep you busy day and night! Start the day at the lively Plaza Dorrego and enjoy its fabulous selection of bars and cafés. Then, sit back and watch the dance culture of the city by watching a Tango Show. An opera performance at Teatro Colón is one of the best things to do in Buenos Aires to appreciate one of the city's finest cultural landmarks. Activities for Any Interest There are fun things to do in Buenos Aires for every type of traveller! Nature lovers will adore Parque Tres de Febrero and its magnificent rose garden. El Ateneo Grand Splendid is a world-renowned bookstore that is guaranteed to provide bookworms their next source of inspiration. The Catedral Metropolitana is an engineering masterpiece that is a must-see for any architecture lover. Local Culture All-Year Round Some of the top things to do in Buenos Aires include learning about its rich history and culture. Dia de la Independencia is a spirited celebration and among the top things to do in Buenos Aires in July. When the temperature rises, fascinating museums like the MALBA and the Museo Evita are some of the top things to do in Buenos Aires in December. See More with a Private Guide Discover more amazing things to do in Buenos Aires by exploring the city with a Buenos Aires private local guide. Whether you wish to taste the city's most delicious foods, go on thrilling day trips or stick to the top city highlights, there are lots of activities right for you!
Related Buenos Aires pages
You might be interested in these
Buenos Aires