Experience the best of
New Orleans with Withlocals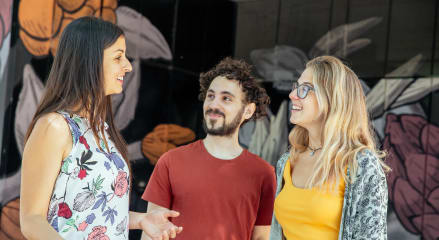 Find the perfect private tour

Select one of our local experts

Enjoy New Orleans like a local
Explore New Orleans
Witness all the incredible things to do in New Orleans! From the entertaining French Quarter to the lavish Audubon Park, and the majestic Lake Pontchartrain. See the best sites in the city with the friendly local host of your choice.
Top 3 things to do in New Orleans
Make your stay in New Orleans complete with these things to do
With Brett

1

City Kickstart Tour: New Orleans

1.5 hours • city highlight tours

With Holley

2

The History of New Orleans: Jazz Origins Private Tour

3 hours • city highlight tours

With Holley

3

The Ultimate historical plantation Day Trip

4 hours • day trips
"

We did our first Withlocals tour when arriving to the city and can highly recommend people to do the same.

"
Explore New Orleans with our incredible locals
Learn about their personal stories and find out how you can explore New Orleans with locals
Why you should book a
Withlocals tour
100% Customizable

Let your local host tailor the tour
completely to your wishes.

Private guided tours

No strangers on your tour.
It's just you and your local host.

Responsible

Our tours are designed with
people, places & the planet in mind
Things to do in New Orleans
Our locals will give you the best experiences that New Orleans has to offer
Travelers love our locals
What other guests say about our tours and locals
Enjoy the Best of the New Orleans
Like a Local
See the Incredible Things to Do in New Orleans
Witness the best things to do in New Orleans! From smooth jazz to quirky museums, you'll have an unforgettable adventure in this remarkable city. Local Activities When trying to find what to do in New Orleans today, ask your host for all the favourite local activities. Local artists gather at the historic Jackson Square and the beautiful space is used for numerous celebrations year-round. Wandering City Park is one of the things locals do in New Orleans for a peaceful escape within the city. Cultural Attractions New Orleans has a distinct culture all its own and there are tons of places that teach you about its extraordinary history. The New Orleans Historic Voodoo Museum gives you a stunning view into the bizarre world of this spiritual practice. Head over to the New Orleans Jazz Museum to celebrate the history of this lively genre and watch entertaining performances. Visit the Backstreet Cultural Museum to browse through a unique collection of mementos from traditions only celebrated in New Orleans. Festivals Galore New Orleans is a city that loves to celebrate and you'll be sure to find a raging party if visiting during the first few months of the year. For the best things to do in New Orleans in January, February and March, look no further than the Mardi Gras festivities. Carnival Season gets underway with Twelfth Night in January and parades continue well into February and March to make this a fun time to visit. See More with a Local Your private local guide will show you all the incredible things to do in New Orleans! From the city's most iconic squares to fabulous shopping and delectable food tours, your local host will expand your knowledge of this amazing destination.
Related New Orleans pages
You might be interested in these
New Orleans