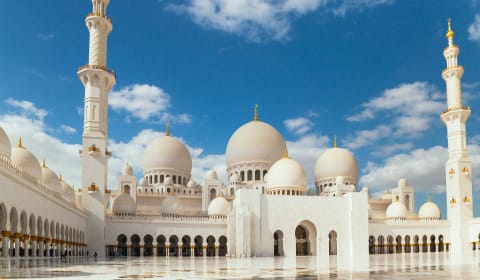 Marvel at the Sheikh Zayed Grand Mosque
Perhaps one of the most breathtaking mosques you will ever see and certainly the most expensive in the world, this beautiful white-domed structure will leave you stunned. It is magnificent in every way. Inside, you will find stunning sights including the world's largest loomed carpet and real gold chandeliers. The architecture combines ancient and contemporary Islamic styles.
The best way to see any mosque in the UAE, especially if you are not Muslim is to go with a local. Your host will guide you in what is expected when visiting a mosque, for example entrances are different for men and women. Your host will also share incredible stories about the mosque's history and Islamic rituals. Go with one of our local hosts and you won't regret this unforgettable experience!