Experience the best of
Seoul with Withlocals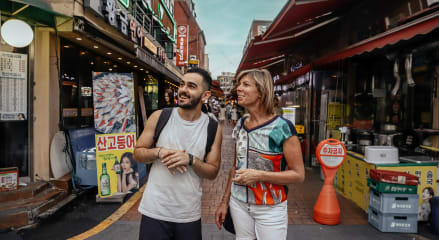 Find the perfect private tour

Select one of our local experts

Enjoy Seoul like a local
Explore Seoul
Experience the local things to do in Seoul. Enjoy a private tour to the relaxing Cheonggyecheon Stream, the magnificent Gwanghwamun Square, or the fascinating Jongmyo Shrine. Exciting adventures await with your friendly local by your side.
Top 3 things to do in Seoul
Make your stay in Seoul complete with these things to do
Choose your local

1

The 10 Tastings of Seoul: Street Food

3 hours • food tours

Choose your local

2

Highlights & Hidden Gems of Seoul

3 hours • city highlight tours

Choose your local

3

Treasures of Seoul: Tea ceremony Tour

2.5 hours • city highlight tours
"

We did our first Withlocals tour when arriving to the city and can highly recommend people to do the same.

"
Explore Seoul with our incredible locals
Learn about their personal stories and find out how you can explore Seoul with locals
Why you should book a
Withlocals tour
100% Customizable

Let your local host tailor the tour
completely to your wishes.

Private guided tours

No strangers on your tour.
It's just you and your local host.

Responsible

Our tours are designed with
people, places & the planet in mind
Things to do in Seoul
Our locals will give you the best experiences that Seoul has to offer
Find experiences by category
Discover experiences based on your interest
Travelers love our locals
What other guests say about our tours and locals
Nice introduction to Seoul with Dario

"We had a really nice introduction to Seoul City with Dario. We walked around some of main downtown attractions and Dario gave us input on history and current issues of the city and the country. Dario is a polite, nice person to hang around with. "

Michalis

About local DarioSeoul,

September 2023

Great food tour

"We had a fun and tasty tour with Julian. Not only did we get to try several dishes, we learned some history and enjoyed walking between food stops. This tour was a good decision, and I would do it again."

Andrea

About local JulianSeoul,

September 2023

Perfect welcome

"We very much enjoyed Sanghee's tour, and enjoyed it as an introduction to Seoul on our first day in the city. She took the time to ensure we were oriented, that we saw what we liked, and that we were comfortable with a cool drink when one was needed. Would definitely recommend!! "

Thanks so much Ho Jin!

"We had a fantastic morning with Ho Jin exploring Seoul. Our tour covered a lot of ground literally and figuratively. Ho Jin takes great pride and interest in the history of Korea and we felt privileged to see so much of the city while learning about it ourselves. Thanks Ho Jin!"

Stuart

About local Ho JinSeoul,

September 2023

A real gentleman

"Pleasant, considerate, well informed and interesting What more could a visitor want!"

Michael

About local Ho JinSeoul,

September 2023

Very pleasant afternoon

"Enjoyable walking tour taking in some key tourist spots and some hidden gems. Knowledgeable guide who was happy sharing stories and details without being repetitive or overly talkative. Happy to recommend! "

Phoebus

About local Ho JinSeoul,

September 2023

Great introduction to the center of Seoul

"Hi Jin gave a great tour of the center of Seoul. During the tour he gave great tips in regards to restaurants to eat, places to buy things and places to drink. Definitely recommend going with him if you want to have a globetrotters view on Seoul. "

Sugeng Ernest

About local Ho JinSeoul,

August 2023

DMZ private tour

"This was our second tour with Sanghee - she is a great host. Really friendly, informative and helpful. Excellent English and easy to talk to. We were picked up at 6.30am from our accomdation - early start is needed to minimise later queues. Much more relaxing and enjoyable to have a personal tour than be in a large bus group. Sanghee drove us to the start of the DMZ tour where she got our tickets and accompanied us to the 3rd tunnel, the observatory and a village in the DMZ. JSA is currently closed so not an option for visitors. Tour of DMZ is about 3 hours but whole trip about 7 - 8 hours. Fasciating experience to see the border with North Korea but it is surreal to think of this as a tourist destination. Worth a viist if in Seoul for several days."

Seoul Street Food tour

"Sanghee was a fantastic host - communcation before the tour was excellent. She met us promptly at our hotel and took us on a delicious journey through the tastes of Seoul. We sampled a wide range of savoury and sweet foods in restaurants and stalls. Sanghee made sure to tailor the food to us including gluten free and vegetarian options. It was our first day in Seoul and she helped with transport cards as well as giving us confidence with food choices. HIghtly recommed this tour but make sure you are hungry when you start!"

A unforgettable experience

"Sanghee went above and beyond what we expected! We went to multiple cafes and got some of the most delicious treats on my trip so far! Ending the night with the tea class with something that I know not many get the experience and the atmosphere was so nice and light hearted I would go back in a heartbeat!"
Enjoy the Best of the Seoul
Like a Local
Things to do for Everyone in Seoul
You will be amazed with the endless things to do in Seoul. From mesmerizing parks to interesting museums, you will marvel at the captivating things to see in Seoul. An Unforgettable Night Once the sun goes down for the evening, there are many sensational nighttime activities in Seoul. Head over to the famous Gangnam district for epic parties at the hottest nightclubs in the city. For awe-inspiring views of the skyline, the N Seoul Tower provides dazzling scenery. Your local host will tell you exactly what to do in Seoul for an unbeatable night of fun. Quirky Adventures Throughout Town Discover the unique activities of Seoul that create its incredible personality. The Seoul Skygarden is an alluring walk surrounded by lush vegetation. One of the things to do in Seoul that is sure to put a smile on your face is riding inside a duck-shaped boat along the Han River. Family Friendly Adventures Not sure of what to do in Seoul for the whole family? Keep the youngsters entertained with adorable animals and enjoyable playgrounds at Seoul Forest. For a rewarding educational opportunity, skip over to the Gwacheon National Science Museum to learn about dinosaurs and much more. Find Hidden Gems with a Local Guide If you are ever clueless on where to go in Seoul, you can rely on your private local guide to direct you in the right direction. From the enchanting Naksan Park to the brilliant Starfield COEX Mall, you will constantly make wonderful memories in Seoul. Just inform your local host of your preferences and they got you covered.
Related Seoul pages
You might be interested in these
Seoul