Experience the best of
Cape Town with Withlocals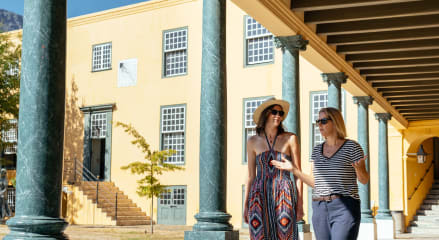 Find the perfect private tour

Select one of our local experts

Enjoy Cape Town like a local
Explore Cape Town
Going to Cape Town and wondering what to do? No need to worry, there's plenty of things to do in Cape Town with a local. Join your favorite host and discover the best the city has to offer from an exclusive selection of unique experiences.
Top 10 things to do in Cape Town
Make your stay in Cape Town complete with these things to do
"

We did our first Withlocals tour when arriving to the city and can highly recommend people to do the same.

"
Explore Cape Town with our incredible locals
Learn about their personal stories and find out how you can explore Cape Town with locals
Why you should book a
Withlocals tour
100% Customizable

Let your local host tailor the tour
completely to your wishes.

Private guided tours

No strangers on your tour.
It's just you and your local host.

Responsible

Our tours are designed with
people, places & the planet in mind
Things to do in Cape Town
Our locals will give you the best experiences that Cape Town has to offer
Find experiences by category
Discover experiences based on your interest
Travelers love our locals
What other guests say about our tours and locals
Enjoy the Best of the Cape Town
Like a Local
The Best Local Activities in Cape Town
Discover what to do in Cape Town from a true local! From vibrant neighborhoods to breathtaking beaches, you will be astonished by the many things to see in Cape Town. With your welcoming local host leading the way, you will have a humungous smile with all the splendid activities in Cape Town. History buffs will love exploring the bustling streets of District 6. Learn about Cape Town's turbulent past and listen to captivating stories from your knowledgeable local host. Artistic minds will fancy the hip Woodstock neighborhood with street art along every corner. Let your local host know what really interests you, and they will show you all the incredible things to do in Cape Town. When trying to plan the ultimate vacation, you will find there are lots of activities in Cape Town. Your favorite local host will point you in the right direction of where to go in Cape Town. Whether you decide to take a picturesque cable car ride to the peak of Table Mountain or head to the beach to take a crack at surfing, trekking the city with a real local is the easiest way to find the best things to do in Cape Town! If you are trying to learn what to do in Cape Town, a Withlocals private tour is the best way to customize your day with 100% personalized activities. Just inform your local host of your interests, and they will plan everything for you!
Related Cape Town pages
You might be interested in these
Cape Town