Experience the best of
Warsaw with Withlocals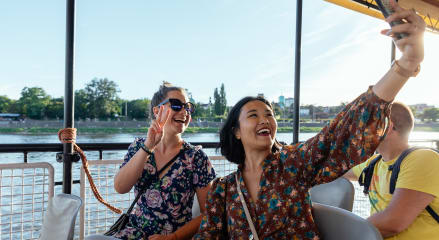 Find the perfect private tour

Select one of our local experts

Enjoy Warsaw like a local
Explore Warsaw
Have endless fun with tons of things to do in Warsaw! From the enthralling Ujazdowski Castle to the elegant Presidential Palace, and the magical old town. Enjoy the incredible activities of the city with the local of your choice.
Top 3 things to do in Warsaw
Make your stay in Warsaw complete with these things to do
Choose your local

1

Highlights & Hidden Gems of Warsaw

3 hours • city highlight tours

Choose your local

2

The 10 Tastings of Warsaw

3 hours • food tours

Choose your local

3

City Kickstart Tour: Warsaw

1.5 hours • city highlight tours
"

We did our first Withlocals tour when arriving to the city and can highly recommend people to do the same.

"
Explore Warsaw with our incredible locals
Learn about their personal stories and find out how you can explore Warsaw with locals
Why you should book a
Withlocals tour
100% Customizable

Let your local host tailor the tour
completely to your wishes.

Private guided tours

No strangers on your tour.
It's just you and your local host.

Responsible

Our tours are designed with
people, places & the planet in mind
Things to do in Warsaw
Our locals will give you the best experiences that Warsaw has to offer
Find experiences by category
Discover experiences based on your interest
Travelers love our locals
What other guests say about our tours and locals
Enjoy the Best of the Warsaw
Like a Local
Never Run Out of Things to do in Warsaw
See the city through the eyes of a local and find out exactly where to go in Warsaw for an exhilarating experience! From historic monuments to enthralling palaces, you will be astonished by all the wonderful things to do in Warsaw. With your enthusiastic local host by your side, you will have tons of fascinating things to see in Warsaw. Architecture connoisseurs will fall in love with the classic styles on display such as the Palace on the Isle and the Presidential Palace. One of the most peaceful things to do in Warsaw is to take a relaxing stroll through the Saxon Garden and admire its stunning trees and elegant fountain. Your local host will show you precisely what to do in Warsaw if you are hoping to see the most fascinating wonders the city has to offer. When searching for inspirational activities in Warsaw, exploring the vibrant squares is a fantastic way to immerse yourself in the city's remarkable history. The alluring Castle Square is home to the Royal Castle and used to be the residence of Polish monarchs of the past. If you need to know what to do in Warsaw, head over to the Old Town Market Place to see the phenomenal restoration of this medieval gathering point that was systemically destroyed during WWII. Take in the riveting atmosphere while dining at one of the many local eateries that line the square. If you are looking for extraordinary activities in Warsaw, a Withlocals private tour is a marvelous way to make your trip 100% customizable. Just inform your local host what interests you and they will schedule everything for you!
Related Warsaw pages
You might be interested in these
Warsaw