Experience the best of
Krakow with Withlocals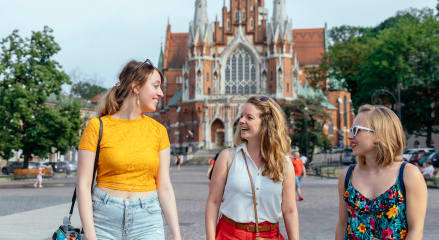 Find the perfect private tour

Select one of our local experts

Enjoy Krakow like a local
Explore Krakow
You will be astonished with the endless things to do in Krakow! From the enchanting Old Town to the gorgeous Dębniki district, and the scenic Lasocki Palace. Explore all the phenomenal sights of the city with the local of your choice.
Top 5 things to do in Krakow
Make your stay in Krakow complete with these things to do
"

We did our first Withlocals tour when arriving to the city and can highly recommend people to do the same.

"
Explore Krakow with our incredible locals
Learn about their personal stories and find out how you can explore Krakow with locals
Why you should book a
Withlocals tour
100% Customizable

Let your local host tailor the tour
completely to your wishes.

Private guided tours

No strangers on your tour.
It's just you and your local host.

Responsible

Our tours are designed with
people, places & the planet in mind
Things to do in Krakow
Our locals will give you the best experiences that Krakow has to offer
Find experiences by category
Discover experiences based on your interest
Travelers love our locals
What other guests say about our tours and locals
Enjoy the Best of the Krakow
Like a Local
The Never-Ending Things to Do in Krakow
Discover the city like a local and find out where to go in Krakow for a breathtaking journey! From lively squares to delicious gastronomic experiences, you will be blown away by all the incredible things to do in Krakow. With your friendly local host leading the way, you will have loads of interesting things to see in Krakow. History buffs will be enthralled by the gorgeous churches and synagogues such as St. Mary Church and Remuh Synagogue. A visit to the hip Kazimierz District is one of the most exhilarating things to do in Krakow. Your fantastic local host will show you exactly what to do in Krakow if you are wishing to see stunning history come to life in front of your eyes! When deciding on invigorating activities in Krakow, a tasting of Polish cuisine is a spectacular way to immerse yourself in the local culture. Head over to the 'Embassy of Herring' and try some mouthwatering herring with pickled onions, bread, and home-made vodka. If you are ever unsure of what to do in Krakow, a visit to a traditional bar in the picturesque old town is always a place for an adventurous time. Chat with the locals and enrich your taste buds with a drinking experience like no other. If you are looking for unforgettable activities in Krakow, a Withlocals private tour is a superb way to make your trip 100% personalized. Simply tell your local host what activities interest you and they will take care of everything for you!
Related Krakow pages
You might be interested in these
Krakow