Experience the best of
Cebu with Withlocals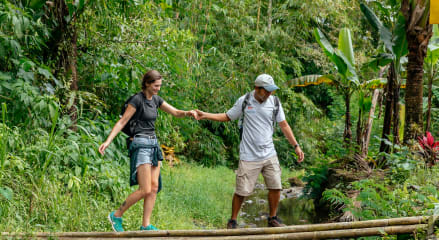 Find the perfect private tour

Select one of our local experts

Enjoy Cebu like a local
Explore Cebu
Let our local experts guide you through a handpicked selection of things to do on a private tour. Think hidden gems, insider stories, and all the local vibes. Ready to find your private tour of Cebu? Your adventure-packed day is just one click away!
Top 5 tours in Cebu
Make your stay in Cebu complete with these things to do
Why you should book a
Withlocals tour
100% Customizable

Let your local host tailor the tour
completely to your wishes.

Private guided tours

No strangers on your tour.
It's just you and your local host.

Responsible

Our tours are designed with
people, places & the planet in mind
Private tours with locals in Cebu
Our locals will give you the best experiences that Cebu has to offer
Explore Cebu with our incredible locals
Learn about their personal stories and find out how you can explore Cebu with locals
With Stephanie Rose

10 hours • day trips

from €33.09 per person

With Stephanie Rose

8 hours • day trips

from €61.76 per person

With Elroy

48 hours • day trips

from €14.71 per person
Find experiences by category
Discover experiences based on your interest
Travelers love our locals
What other guests say about our tours and locals
Enjoy the Best of the Cebu
Like a Local
Private & Personalized Tours in Cebu with a Local
When you hit the road and land in a new city like Cebu, there's an exciting way to dive into its soul: personalized local tours. Forget the typical touristy routes – these tours are like having a local friend show you around all the cool spots.
Imagine having someone who lives and breathes Cebu spill its secrets. That's what local guides bring to the table. They know the hidden alleys, the best bites, and stories that never made it to the guidebooks. Whether you're into munching through food tours, wandering the city's streets, or going off the beaten path, a local guide hooks you up with a private tour that's authentically Cebu.
The best part? These tours are all about you. No herding in big groups or rushing through places you're not interested in. With private tours, you're the boss. Whether it's snapping pics at iconic landmarks, diving into history, or checking out the art scene, the tour is tuned to your vibes at your tempo.
But it doesn't stop at city limits. Day trips let you escape the urban jungle and explore nearby wonders. And if you're just setting foot in Cebu, kickstart tours give you a taste of everything. Think of it as a crash course in Cebu awesomeness, guided by a local who knows the city like the back of their hand.
So, next time you're in Cebu, ditch the ordinary. Grab a local tour and unlock the city's real magic – the stories, flavors, and places that make it uniquely Cebu. Get ready to explore like a local!
Related Cebu pages
You might be interested in these
Tours in Cebu