Experience the best of
Oslo with Withlocals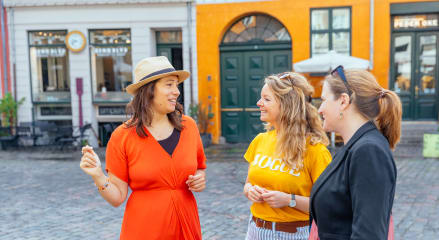 Find the perfect private tour

Select one of our local experts

Enjoy Oslo like a local
Explore Oslo
Discover the best of Oslo, Norway with Withlocals! Explore the stunning cityscapes, historic sites, and vibrant culture of this beautiful city. Withlocals offers unique tours and experiences that give you an up-close look at the city's best attractions. From food tours and outdoor adventures to cultural events and interactive activities, you're sure to find something that piques your interest. Let Withlocals show you the hidden gems of Oslo and create a magical experience you won't soon forget!
Top 3 things to do in Oslo
Make your stay in Oslo complete with these things to do
"

We did our first Withlocals tour when arriving to the city and can highly recommend people to do the same.

"
Explore Oslo with our incredible locals
Learn about their personal stories and find out how you can explore Oslo with locals
Why you should book a
Withlocals tour
100% Customizable

Let your local host tailor the tour
completely to your wishes.

Private guided tours

No strangers on your tour.
It's just you and your local host.

Responsible

Our tours are designed with
people, places & the planet in mind
Things to do in Oslo
Our locals will give you the best experiences that Oslo has to offer
Find experiences by category
Discover experiences based on your interest
Travelers love our locals
What other guests say about our tours and locals
Enjoy the Best of the Oslo
Like a Local
"Explore Oslo and Uncover the Magic of Norway!"
Welcome to Oslo, Norway! Oslo is the capital and largest city of Norway, located in the southeastern part of the country. It is one of the most visited cities in Scandinavia, known for its diverse range of activities and unique attractions. Oslo is a city of contrasts, where traditional culture and modern innovation come together. Spend your days exploring the picturesque waterfront, taking a stroll through the cobbled streets of the historic downtown, or exploring the city's vibrant nightlife. Withlocals offers you the opportunity to explore Oslo like a local, with experienced hosts who can show you the best the city has to offer. From boat tours of the fjords to private dinners in the city's most popular restaurants, Withlocals provides you with the perfect opportunity to experience the unique atmosphere of Oslo. Get to know the locals, immerse yourself in the culture, and experience a memorable adventure in one of the most beautiful places in the world.
Related Oslo pages
You might be interested in these
Oslo