Experience the best of
Kathmandu with Withlocals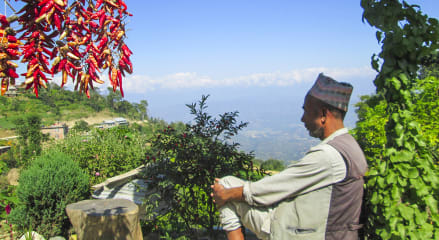 Find the perfect private tour

Select one of our local experts

Enjoy Kathmandu like a local
Explore Kathmandu
Let our local experts guide you through a handpicked selection of things to do on a private tour. Think hidden gems, insider stories, and all the local vibes. Ready to find your private tour of Kathmandu? Your adventure-packed day is just one click away!
Top 3 tours in Kathmandu
Make your stay in Kathmandu complete with these things to do
With Rikesh

1

Live Like a Local for 5 Days in a Nepali Town

0.75 hours • multi day trips

With Rikesh

2

15 Day Retreat To a Nepali Village

360 hours • multi day trips

With Babin

3

Cycling Tour in and around Kathmandu City

8 hours • day trips
Why you should book a
Withlocals tour
100% Customizable

Let your local host tailor the tour
completely to your wishes.

Private guided tours

No strangers on your tour.
It's just you and your local host.

Responsible

Our tours are designed with
people, places & the planet in mind
Private tours with locals in Kathmandu
Our locals will give you the best experiences that Kathmandu has to offer
Explore Kathmandu with our incredible locals
Learn about their personal stories and find out how you can explore Kathmandu with locals
Other private tours with locals nearby
Other travelers went to these amazing experiences near Kathmandu
With Roshan

4 hours • city highlight tours

from €100 per person
Find experiences by category
Discover experiences based on your interest
Travelers love our locals
What other guests say about our tours and locals
Experience the real Nepal

"Had an absolutely great time with Rikesh and his lovely family. I highly recommend this tour for anyone who is interested in a real experience, rather than normal touristy kind of experiences. Rikesh was awesome in showing me the real nepal, and was happy to customize the tour based on my requirements. Thank you, and hope you see you again in the future when I return!"

Lim

About local RikeshKathmandu,

February 2023

A great 3 hours with a cool local

"We were a large group of people and had a great tour with Sebastian, he was very accommodating and friendly, made sure we had everything and shared his knowledge with us along the way. We got to some local places that were very nice to see. Very very nice tour with a very very nice guy."

Chen

About local SebastianBarcelona,

November 2022

Great day out with Big!

"Our tour with Big was just fantastic. We learnt so much about Thai history, culture and food, and of course tasted some amazing dishes along the way. I would recommend a tour with Big to anyone as an introduction to Thailand and Bangkok!"

Sam

About local BigBangkok,

November 2022
Enjoy the Best of the Kathmandu
Like a Local
Private & Personalized Tours in Kathmandu with a Local
When you hit the road and land in a new city like Kathmandu, there's an exciting way to dive into its soul: personalized local tours. Forget the typical touristy routes – these tours are like having a local friend show you around all the cool spots.
Imagine having someone who lives and breathes Kathmandu spill its secrets. That's what local guides bring to the table. They know the hidden alleys, the best bites, and stories that never made it to the guidebooks. Whether you're into munching through food tours, wandering the city's streets, or going off the beaten path, a local guide hooks you up with a private tour that's authentically Kathmandu.
The best part? These tours are all about you. No herding in big groups or rushing through places you're not interested in. With private tours, you're the boss. Whether it's snapping pics at iconic landmarks, diving into history, or checking out the art scene, the tour is tuned to your vibes at your tempo.
But it doesn't stop at city limits. Day trips let you escape the urban jungle and explore nearby wonders. And if you're just setting foot in Kathmandu, kickstart tours give you a taste of everything. Think of it as a crash course in Kathmandu awesomeness, guided by a local who knows the city like the back of their hand.
So, next time you're in Kathmandu, ditch the ordinary. Grab a local tour and unlock the city's real magic – the stories, flavors, and places that make it uniquely Kathmandu. Get ready to explore like a local!
Related Kathmandu pages
You might be interested in these
Tours in Kathmandu