Experience tomorrow the best of
Mexico City with Withlocals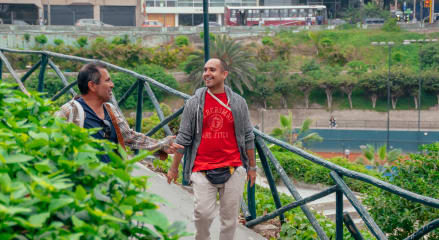 Find the perfect private tour

Select one of our local experts

Enjoy Mexico City like a local
Explore Mexico City
Let our local experts guide you through a handpicked selection of things to do on a private tour. Your personalized escapade in Mexico City tomorrow is just a click away - don't miss out!
Top 3 things to do tomorrow in Mexico City
Make your stay in Mexico City complete with these things to do
Choose your local

1

Mexico City Tastiest Street Food & Tacos Tour

2.5 hours • food tours

Choose your local

2

Highlights & Hidden Gems of Mexico City

3 hours • city highlight tours

Choose your local

3

Off the Beaten Track in Mexico City: Coyoacan Tour

2.5 hours • city highlight tours
Explore Mexico City with our incredible locals
Learn about their personal stories and find out how you can explore Mexico City with locals
Why you should book a
Withlocals tour
100% Customizable

Let your local host tailor the tour
completely to your wishes.

Private guided tours

No strangers on your tour.
It's just you and your local host.

Responsible

Our tours are designed with
people, places & the planet in mind
Things to do tomorrow in Mexico City
Our locals will give you the best experiences that Mexico City has to offer
Travelers love our locals
What other guests say about our tours and locals
Thanks Mariel

"Thank you Mariel for the great tour you prepared for us through the center of Mexico City. We learned a lot and it was a great experience. I recommend them to everyone!"

Great experience!

"I had this tour with Mariel and it was very interesting. We visited very interesting places and her knowledge of her place was evident. We really enjoyed it!"

Tacos! Tacos! Tacos!

"We love tacos. We were excited to take this tour because we wanted to experience tacos from a local's perspective. This tour did not disappoint. Mariel was fantastic. She gave us a variety of tacos while we explored the culture and the neighborhoods of Mexico. We highly recommend this tour and Mariel."

Elsa

About local MarielMexico City,

September 2023

The perfect first impression

"This layover tour was the best way to dip into everything Mexico City has to offer. We loved how relaxed and go with flow Rogelio was with our family. Though we had only met him during our layover, our time felt as if a good friend had offered to pick us up to show off their hometown. We can't wait to come back and spend more time exploring and experiencing the city with our compañero. "

Mark

About local RogelioMexico City,

September 2023

Backstreet taco crawl was awesone!

"We had a great time with Daniel as our guide as we were taken through the streets of his neighbourhood trying the variety of tacos that make Mexcio famous! We would recommend Daniel to any food lovers. Thanks again "

Rebecca

About local DanielMexico City,

August 2023

Saudi about Daniel

"We loved how Daniel showed us places we would have never knowed had we explored downtown by ourselves. Daniel was friendly, patient and very knowledgeable. He catered the tour to our interests, allowed us to explore certain stores and even took us to a taco restaurant at the end of the tour. Highly recommend. Family of 3. "

Saudi

About local DanielMexico City,

August 2023

Truly local experience

"Daniel took us to places we would have never discovered on our own. If you are someone that really likes to explore local places, this is the perfect tour for you! Some people in our group had been to Mexico City a few times and had never eaten at the places Daniel brought us! Would recommend! "

Cipher

About local DanielMexico City,

August 2023

Amazing Guide

"Mabel is the best! She gave us a great tour, adapted to our little kids and was very friendly. She even gave us detailed guides and recommendations for the rest of our trip. HIGHLY recommend! Thanks Mabel."

s

About local MabelMexico City,

August 2023

A fountain of information!

"Wow! We had a layover! Rogelio picked us up and took care of everything. We learned a lot about the history of Mexico and Mexico City, got some great snacks and ate lunch at a perfect location before he got us back to the airport. A great day!"

Robert

About local RogelioMexico City,

August 2023

A perfect kick-off to the vacation

"I chose Mabel's tour to gain a general overview of the historic center and the city, and it turned out to be the best decision I made. Mabel, aside from being a passionate and incredibly knowledgeable guide about the city and her country's history, is also an exceptionally helpful person, readily sharing all her expertise to assist visitors exploring Mexico City and Mexico as a whole. Her tour comes highly recommended, as Mabel provides not only invaluable travel tips but also insights into the history, cuisine, and local customs of Mexico."

Tommaso

About local MabelMexico City,

August 2023
Enjoy the Best of the Mexico City
Like a Local
Discover Mexico City Tomorrow with a Local
As the promise of a new day dawns upon us, the question arises - how best to uncover the treasures of Mexico City? Look no further than the expertise of local guides. Amidst the myriad things to do, a guided tour led by those who call Mexico City home offers an unrivaled experience.
While guidebooks provide insights, a local's perspective unveils hidden gems and tales that breathe life into the streets. From historical anecdotes to culinary delights, local guides curate authentic experiences tailored to your interests. Beyond mainstream attractions, they lead you to charming cafes, serene alleys, and the pulse of the city.
With a private tour, your adventure unfolds at your pace. No bustling crowds, no missed opportunities. Solo explorers, couples, or families - all can relish Mexico City through the eyes of a local. As the sun sets on today, let a local-led tour illuminate your tomorrow, revealing the heart and soul of Mexico City unlike ever before.
Things to do tomorrow in Mexico City