Experience the best of
Tokyo with Withlocals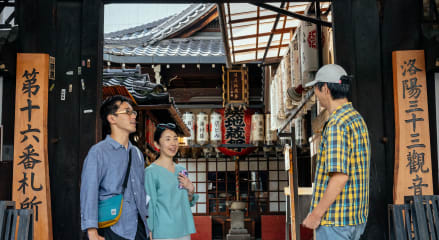 Find the perfect private tour

Select one of our local experts

Enjoy Tokyo like a local
Explore Tokyo
Explore like a local and find the best things to do in Tokyo! From the magnificent Tokyo Tower to the magical Tokyo Disneyland, and the fashionable Takeshita Street. Admire all the amazing highlights of Tokyo with a welcoming local.
Top 5 things to do in Tokyo
Make your stay in Tokyo complete with these things to do
"

We did our first Withlocals tour when arriving to the city and can highly recommend people to do the same.

"
Explore Tokyo with our incredible locals
Learn about their personal stories and find out how you can explore Tokyo with locals
Why you should book a
Withlocals tour
100% Customizable

Let your local host tailor the tour
completely to your wishes.

Private guided tours

No strangers on your tour.
It's just you and your local host.

Responsible

Our tours are designed with
people, places & the planet in mind
Things to do in Tokyo
Our locals will give you the best experiences that Tokyo has to offer
Other things to do nearby
Other travelers went to these amazing experiences near Tokyo
Choose your local

3 hours • city highlight tours

from €65.81 per person

Choose your local

2.5 hours • food tours

from €67.28 per person

Choose your local

3 hours • food tours

from €89.71 per person
Travelers love our locals
What other guests say about our tours and locals
Enjoy the Best of the Tokyo
Like a Local
Discover the Local Things to Do in Tokyo
Have the time of your life experiencing the things to do in Tokyo! From fascinating neighborhoods to quirky cafes, discover tons of the top things to do in Tokyo. Vibrant Neighborhoods Tokyo has many districts that each have something to offer! The popular Shinjuku neighborhood is home to the world's busiest train station and has enough entertainment to last a lifetime. Check out the narrow alleyways of Golden Gai for one of the best things to do in Tokyo at night. The upscale Ginza District contains brilliant designer fashion stores, magnificent art galleries, and exclusive night clubs. Creative Cafés Let your imagination run wild with the unique things to do in Tokyo! There is a cafe for every interest and they are among the top things to do in Tokyo with kids. From themed eateries to cuddly animals, the most fun things to do in Tokyo await! Get the best tips from your local host of the places that fit the interests of you or the kids. Day Trips & Solo Adventures Craving a trip to the beautiful surroundings of Tokyo? Take advantage of the adventurous things to do in Tokyo today with an excursion to Mount Takao or Enoshima Island. If you are a solo traveler, you will find endless things to do in Tokyo alone. A trip to the Tokyo Skytree or Tokyo Tower will give you stunning views of the city skyline. Join a Local Tokyo Guide If you are ever stuck on finding things to do in Tokyo, just ask for recommendations from your local host! Whether you explore the vibrant Shinjuku District, endless places to dine on sushi, or the alluring Ueno Park, you are in for a special treat!
Related Tokyo pages
You might be interested in these
Tokyo