Experience the best of
Verona with Withlocals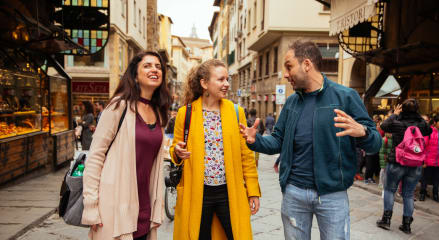 Find the perfect private tour

Select one of our local experts

Enjoy Verona like a local
Explore Verona
Experience the magical things to do in Verona! From the historic Osteria Sottocosta to the incredible Verona Arena, and the remarkable Castelvecchio Bridge. Find all the wonderful sights & hidden gems of the city with your favorite local host.
Top 5 things to do in Verona
Make your stay in Verona complete with these things to do
"

We did our first Withlocals tour when arriving to the city and can highly recommend people to do the same.

"
Explore Verona with our incredible locals
Learn about their personal stories and find out how you can explore Verona with locals
Why you should book a
Withlocals tour
100% Customizable

Let your local host tailor the tour
completely to your wishes.

Private guided tours

No strangers on your tour.
It's just you and your local host.

Responsible

Our tours are designed with
people, places & the planet in mind
Things to do in Verona
Our locals will give you the best experiences that Verona has to offer
Find experiences by category
Discover experiences based on your interest
Travelers love our locals
What other guests say about our tours and locals
Enjoy the Best of the Verona
Like a Local
See the Endless Things to Do in Verona
Discover all the wonderful things to do in Verona! From charming bridges to beautiful churches, take in the most amazing sights of Verona. Bridges that Span History The history of Verona can be viewed by its brilliant bridges that were built centuries ago! Start at the medieval Castelvecchio Bridge to admire its magnificent arches that were originally built in the 14th century. Go further back in time at the Ponte Pietra which has a history that spans over 2000 years. Glorious Piazzas & Churches Look no further than the beautiful architecture when searching for what to do in Verona! Piazza Bra is the largest in Verona and offers a vibrant atmosphere for any time of day. Piazza dei Signori contains numerous historical sights and its centerpiece is a statue of famous poet, Dante Alighieri. Next, visit the remarkable artwork of the Basilica di San Zeno Maggiore and the Verona Cathedral. For a jaw-dropping panorama of the city, head to the Santuario della Nostra Signora di Lourdes for a view that will take your breath away. Shakespeare & the Opera Verona gained much fame for being the setting of Romeo & Juliet! Visit Juliet's House itself for a striking view of her balcony. Then, head over to Romeo's House to see more of Shakespeare's influence on the city. Finally, wander the picturesque Verona streets until you reach the Verona Arena and watch one of its world-class opera performances. Personalize Your Tour Your private guide will show you all the incredible things to do in Verona! Customize your must-see list and get ready for an exciting day full of memories. Just let your local host know of your interests and they got you covered!
Related Verona pages
You might be interested in these
Verona