Experience the best of
Frankfurt with Withlocals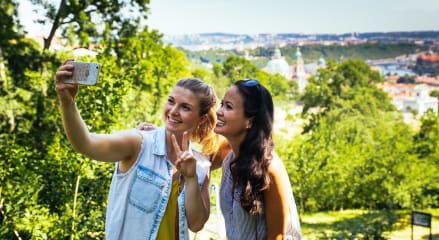 Find the perfect private tour

Select one of our local experts

Enjoy Frankfurt like a local
Explore Frankfurt
Discover the exciting city of Frankfurt, Germany, with its rich history and vibrant culture. Explore the city's iconic skyline and indulge in local specialties. Wander through the city's charming cobblestone streets and discover hidden gems. Uncover the local secrets and experience the city like a local with Withlocals!
Top 3 things to do in Frankfurt
Make your stay in Frankfurt complete with these things to do
Choose your local

1

City Kickstart Tour: Frankfurt

2 hours • city highlight tours

Choose your local

2

Highlights & Hidden Gems of Frankfurt

3 hours • city highlight tours

Choose your local

3

The 10 Tastings of Frankfurt

3 hours • food tours
"

We did our first Withlocals tour when arriving to the city and can highly recommend people to do the same.

"
Explore Frankfurt with our incredible locals
Learn about their personal stories and find out how you can explore Frankfurt with locals
Why you should book a
Withlocals tour
100% Customizable

Let your local host tailor the tour
completely to your wishes.

Private guided tours

No strangers on your tour.
It's just you and your local host.

Responsible

Our tours are designed with
people, places & the planet in mind
Things to do in Frankfurt
Our locals will give you the best experiences that Frankfurt has to offer
Travelers love our locals
What other guests say about our tours and locals
Enjoy the Best of the Frankfurt
Like a Local
Discover Frankfurt: The Heart of Germany and Beyond!
Welcome to Frankfurt, Germany! Frankfurt is the largest city in the German state of Hesse, and is one of the most important economic, financial and transportation hubs in Europe. It is the fifth-largest city in Germany, and is home to a vibrant international culture, with a large number of immigrants from around the world. Frankfurt is a city of contrasts, where traditional and modern blend together to create a vibrant and exciting destination. It is a bustling metropolis during the day, while at night the city lights up with a vibrant nightlife. In addition to its world-class shopping, dining and entertainment, Frankfurt is also home to some of the most beautiful parks and gardens in Germany. Withlocals offers a range of tours in Frankfurt, ranging from walking tours to food tours. Our knowledgeable locals will show you the best of the city, from its famous attractions to its hidden gems. Enjoy the city sights, learn about the history and culture, and sample the local cuisine. Whether you're looking for a leisurely stroll or an action-packed adventure, Withlocals has something for everyone. Experience Frankfurt in a unique and authentic way with Withlocals. Book your tour now and embark on an unforgettable journey through this incredible city!
Related Frankfurt pages
You might be interested in these
Frankfurt