Experience the best of
Cologne with Withlocals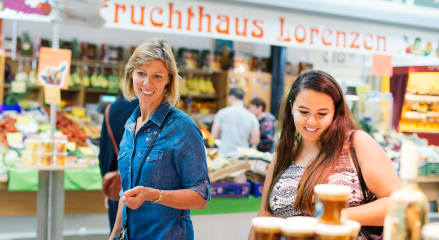 Find the perfect private tour

Select one of our local experts

Enjoy Cologne like a local
Explore Cologne
Experience the best of Cologne with a local guide! Discover the city's impressive history, vibrant culture, and exquisite architecture with the help of a local who will share their insider knowledge and show you the hidden gems. From the famous Cologne Cathedral to the enchanting Rhine River and its many bridges, you'll get to explore the city like never before.
Top 3 things to do in Cologne
Make your stay in Cologne complete with these things to do
Choose your local

1

Highlights & Hidden Gems of Cologne

3 hours • city highlight tours

Choose your local

2

Drinks & Bites in Cologne Tour

2.5 hours • food tours

Choose your local

3

The 10 Tastings of Cologne

3 hours • food tours
"

We did our first Withlocals tour when arriving to the city and can highly recommend people to do the same.

"
Explore Cologne with our incredible locals
Learn about their personal stories and find out how you can explore Cologne with locals
Why you should book a
Withlocals tour
100% Customizable

Let your local host tailor the tour
completely to your wishes.

Private guided tours

No strangers on your tour.
It's just you and your local host.

Responsible

Our tours are designed with
people, places & the planet in mind
Things to do in Cologne
Our locals will give you the best experiences that Cologne has to offer
Other things to do nearby
Other travelers went to these amazing experiences near Cologne
Choose your local

2.5 hours • city highlight tours

from €45.59 per person

Choose your local

3 hours • city highlight tours

from €50 per person

Choose your local

3 hours • food tours

from €89.71 per person
Find experiences by category
Discover experiences based on your interest
Travelers love our locals
What other guests say about our tours and locals
Enjoy the Best of the Cologne
Like a Local
Explore Cologne: Discover Germany's Most Intriguing City!
Cologne, Germany - A City of History and Culture Cologne is one of Germany's most important cities, and it has something to offer all types of travelers. From the relics of its ancient Roman past to its vibrant modern culture, there is much to explore and discover in this historic city. The city's skyline is dominated by the towering spires of the Gothic Cathedral of Cologne, an iconic landmark and a UNESCO World Heritage Site. This magnificent structure is just one of the city's many cultural highlights and is a must-see for any traveler. Cologne is also known for its lively nightlife and entertainment, with numerous bars, clubs, and other venues to explore. The city is also home to a thriving art and music scene, with galleries and music venues to explore. Withlocals offers a variety of tours and experiences to explore this vibrant city, giving travelers the chance to experience the culture and history of Cologne in a unique and authentic way. From tasting the local cuisine to visiting the city's hidden gems, Withlocals provides the perfect way to explore this fascinating city.
Related Cologne pages
You might be interested in these
Cologne