Experience the best of
Copenhagen with Withlocals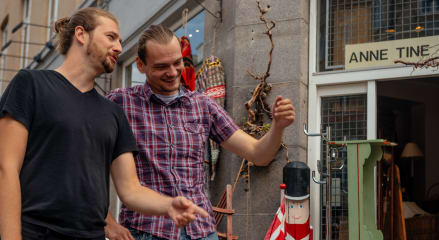 Find the perfect private tour

Select one of our local experts

Enjoy Copenhagen like a local
Explore Copenhagen
Experience the incredible things to do in Copenhagen! From the beautiful Church of Our Lady to the fascinating Experimentarium, and the magnificent King's Garden. Marvel at the most enthralling sights of Copenhagen with a friendly local.
Top 5 things to do in Copenhagen
Make your stay in Copenhagen complete with these things to do
"

We did our first Withlocals tour when arriving to the city and can highly recommend people to do the same.

"
Explore Copenhagen with our incredible locals
Learn about their personal stories and find out how you can explore Copenhagen with locals
Why you should book a
Withlocals tour
100% Customizable

Let your local host tailor the tour
completely to your wishes.

Private guided tours

No strangers on your tour.
It's just you and your local host.

Responsible

Our tours are designed with
people, places & the planet in mind
Things to do in Copenhagen
Our locals will give you the best experiences that Copenhagen has to offer
Find experiences by category
Discover experiences based on your interest
Travelers love our locals
What other guests say about our tours and locals
Enjoy the Best of the Copenhagen
Like a Local
Things to do for Everyone in Copenhagen
Experience the local things to do in Copenhagen with an enthusiastic local! From alluring architecture to beautiful green escapes, you will be blown away by the remarkable activities in Copenhagen. 1. Take in Nature at Breathtaking Parks You are never too far from enchanting parks and gardens in Copenhagen! The majestic King's Garden is exactly where to go in Copenhagen for some of the most radiant flora in the city. In particular, the flowers are a magnificent sight during the summer. One of the most breathtaking things to see in Copenhagen is Ørstedsparken which is teeming with lakes and gorgeous foliage. 2. Soak in Danish Culture with Astonishing Artwork If you are ever stuck on what to do in Copenhagen, just head over to the captivating architecture and exquisite culture around every corner. The Christiansborg Palace is the seat of the Danish government that is a striking beauty to behold. The National Gallery of Denmark is one of the splendid things to do in Copenhagen to experience world class culture. Marvel at paintings from world famous artists and check out original pieces of Danish artwork. The National Museum of Denmark is one of the enriching activities in Copenhagen to learn everything there is know about Danish history and culture. 3. Have an Unforgettable Experience with a Local Your friendly local host will show you exactly what to do in Copenhagen for a grand city tour! A private tour is a fantastic way to make your trip 100% personalized. Just inform your local host of your preferences and they will make it happen!
Related Copenhagen pages
You might be interested in these
Copenhagen