Information
About Withlocals
How it works for hosts
Withlocals is the peer-to-peer marketplace where local people offer experiences and their skills to travelers. Our mission is to connect people and cultures through food and unique experiences.
Our experiences fall into two categories:
Food Experiences
Things To Do
To get your home dining experience, tour or activity listed, first simply register as a host on our website.
Step 1
Register as a host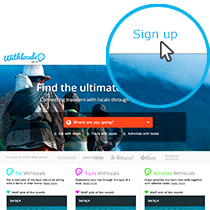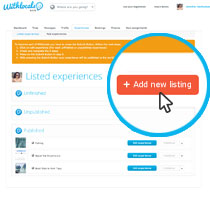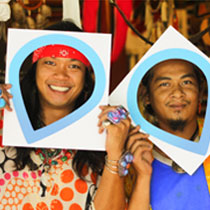 Step 1: Fill in the host details
a. Give details about the tour, activity or home dining experience you are offering.
Make sure you give as much details as possible about the activity, tour or home dining experience that you are offering. Next to an appealing description, define the highlights, what's included and don't forget to add the location.
This information will appear here on the website, so use this opportunity to really explain what you are offering. But remember, do be honest, as travelers will want to know exactly what to expect.
b. Set your own price
You are free to set your own prices. Check out your competitors on the site and set a fair price.Be sure to indicate if the price is per person or for a group. Withlocals team is here to help you with recommendations and insights based on market knowledge.
Withlocals asks a transparent service fee of 20% of the host's offers final booking price. A different fee for Withlocals Originals applies and is around 30% - this fee is higher due to extra promotional efforts & video material. For more information visit: How do I define the right price for my experience?
c. Set your dates
You decide when you want to offer your activity, tour or home dining experience. The user-friendly calendar can be used to manage all your bookings, even when they are booked outside of Withlocals.
Step 2: Get visited by the ambassador
After you submit your application via our website an ambassador will contact you to arrange a visit. At the visit the ambassador will take photos which will be used on the website and can give you more explanation about Withlocals.
Step 3: Receive bookings
A profile will be created for you on the Withlocals website. You will be able to access this and edit your details. You will also be able to manage your calendar and bookings via the website. If you receive a booking, you will need to confirm it within 24 hours. You can contact the traveler via the Withlocals website in order to discuss details.
Events
Offer a dinner party event and prepare an exciting evening with great food and people! It's very simple:
Create a Food Experience.
Add your dinner party event option in your experience page! Set up a date when you want to organize a dinner party and the maximum number of people you can host in your home. This way, multiple guests can book your dinner party event! Unforgettable evenings create memories for a lifetime!
Private experiences
Do you want to offer a tour or activity? This is a private experience! It means only the guests who booked your experience will join for the tour or activity. It's a great opportunity to make new friends and be an ambassador of your country while showing them all the hidden local gems or teaching them a new skill.