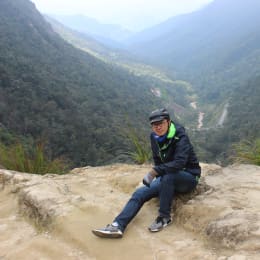 About Tuan
Location:

Nha Trang

Languages:

English

Response time:

less than 3 hours
I'm a freelancer, always wanted to explore the place where I had arrived. Shared experience, the fun, along with friends from around the world to my beautiful country.
Read reviews
(1)
Tuan offers:
100% personalized local things to do & food experiences
Guest reviews about Tuan
Fun experience!
Tuan picked me up from my hotel and we headed to the Stone Beach. We hiked down to the beach and back up. It was very tiring, but a relatively awesome experience. We stopped along the way to take pictures of the beautiful beach view. That day was a perfect time to cool off at the beach since it was very hot. Tuan also brought me lunch, but sadly I wasn't able to eat it because I was already full when I left the hotel. Additionally, we went to a local coffee shop in Chong Rock and had a nice conversation about Vietnamese culture. I truly learned a lot from him. Lastly, we drove around in his motorbike and he showed me places where I can buy cheap souvenirs and foods to bring home. Tuan is nice, flexible, and a great tour guide. I recommend touring the town with him.
April 20, 2017
Fishing on Stone Beach near Amianna Resort
It's easy to communicate with him, good English and friendly. The tour is great and the fishing site offers a very awesome view to the sea. Really love it.