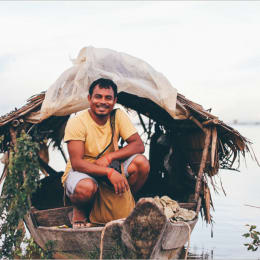 About So
Location:

Siem Reap

Languages:

English

Response time:

less than 8 hours
Siem Reap is my home; I live here with my wife, Rachel and baby boy, Noah. Myself and Rachel Co-Founded our NGO called Stepping Stones Cambodia in 2011, which is primarily a free quality English school based in my home village, with over 700 students and 13 full time staff, we could not be prouder of the school and the positive community space it has become. I am also a very passionate photographer; I love to lead photography tours providing a unique and special experience for my guests. I am outgoing, friendly and always willing to learn and try new experiences and meet new people.
Read reviews
(18)
So offers:
100% personalized local things to do & food experiences
Guest reviews about So
Really recommend this amazing tour!
Our guide Meng is an amazing guy that was very excited to proudly tell us all about his wonderful country, the stunning temples and the superfriendly locals. He took us to the temples to see the sunrise, gave us advise about the pictures and took a lot of pictures of us too during the whole day! He even took us to a temple where we were the only ones!
In the afternoon we went to a market and a nice village. It was a wonderful day with a lot of nice experiences.
April 1, 2017
Super photo tour in and around Siem Reap
Hello So,
Thank you for this great photo tour in Siem Reap, especially the afternoon with market visit and walk across the fields with contact with the working here was great. Likewise, the sunrise at Phnom Bakheng we were able to enjoy almost alone
March 31, 2017
Great day out with a friendly guide
Our guide Meng was very accommodating and friendly. A great plus was that he kept my 12 year old son very entertained throughout the trip. Glad to have engaged him and hope to back in Siem Reap again.
March 23, 2017
Photo tour Siem Reap
A very intense day, but so worth it! If you want to see the temples + the real Cambodia, then this tour is made for you.

My tour guide Oun and the tuk-tuk driver took really good care of me. They are very patient and give you all the time you need to take the photos you want.

Oun knows all the spots and angles to get the best shots. Apart from that he also made quite a lot of great shots of me. They will send the pictures to you later.

They will also teach a lot about history and culture.

Akoun (thank you) for a great day!
March 8, 2017
See the Real Cambodia Through your Lens!
no comment
January 18, 2017