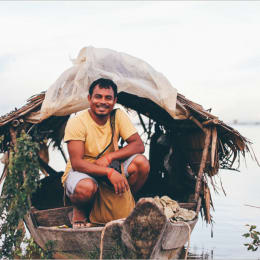 About So
Location:

Siem Reap

Languages:

English

Response time:

less than 8 hours
Siem Reap is my home; I live here with my wife, Rachel and baby boy, Noah. Myself and Rachel Co-Founded our NGO called Stepping Stones Cambodia in 2011, which is primarily a free quality English school based in my home village, with over 700 students and 13 full time staff, we could not be prouder of the school and the positive community space it has become. I am also a very passionate photographer; I love to lead photography tours providing a unique and special experience for my guests. I am outgoing, friendly and always willing to learn and try new experiences and meet new people.
Read reviews
(14)
So offers:
100% personalized local things to do & food experiences
Guest reviews about So
See the Real Cambodia Through your Lens!
no comment
January 18, 2017
Personalized experience with So
Meng one of So's associates guided our tour. He was a fantastic host, and gave us a wonderful introduction to Cambodia's countryside. The team was very very flexible and accommodated some unexpected changes from us. On our tour we saw a local market (we were the only tourists), rural village and farm, and the stilt fishing village. Meng allowed us to take our time and photograph our interests. He also took pictures us us. Meng answered all of our questions enthusiastically and honestly. Great English and easy to understand. The countryside tour was exactly what we wanted and a great contrast after seeing several temples. Good value. Highly recommend!!
January 11, 2017
See the Real Cambodia Through your Lens!
So was not around so we are hosted by his partners Oun and Meng. Both of them are interesting people, Meng talks more than Oun, but they are equally friendly.

We really appreciate the arrangement they made for us, including a short temple tour in the morning, which bring us to a small temple TA NEI that is not so crowded. We have a nice time picnic together like what a local will do while taking lots of photography which I am so excited to receive it later.

The evening tour in country site broungt us to a different scenery where we try to get near to the local villagers although we couldnt really communicate. The sunset in the middle of paddy field was unforgetable with the conversation between the old folk and our friends.

The dinner and beer gathering at night made it an amazing day. We hope that So and his friends can do it well and more and more people get to know them.

Lastly, please stay healthy and happy always. We will surely meet oneday in the future as friend. I could do nothing much but share these experiences to all the withlocals user, thanks so mush for hosting us.
September 5, 2016
See the Real Cambodia Through your Lens!
We loved our photo tour with Meng and Oun. It was a unique perspective to be guided by these two young men. They are so proud of Siem Reap and Angkor Wat and enthusiastically share their love of photography, too. HIGHLY recommend a day with these two guys!
August 1, 2016
See the Real Cambodia Through your Lens!
Had a wonderful trip with Meng. So was not available but he informed about that on time.
We went for the temples in the morning, it was very quite everywhere, which I liked. Meng told me a lot about the temples which was great.
After a rest in the hotel we went to the countryside in the afternoon. Rice fields, mushroom growing, local life and a nice beer in the tuktuk. A perfect day with Mebng and the tuktuk driver. A great way to leRn more about Cambodia.

I want to put a review on tripadvor as well but I dont have the correct address, maybe together with some photos.

Meng, thanks a lot, and the tuktuk driver as well.

Pieter.
July 30, 2016
Personalized experience with So
I had a wonderful experience with So. He is very knowledgeable. So and his team are very friendly and they really make you laugh and spend a good time. Also, the tour is very flexible (I travelled with a 55 year-old person). He went above and beyond expectations.

What I like the most is his commitment to develop Cambodian communities and his deep knowledge about the culture.

He's also an excellent photographer. He knows the right spots and he knows how to avoid tourist crowds.

If you're looking for a different, life changing experience and you want to know the true Cambodia, this is the trip for you.
April 3, 2016
Personalized experience with So
I don't think I could have had a better tour guide for my first introduction to Cambodia: the temples, the culture, the people! So Sok organised two days of sight-seeing with a running commentary so full of information, humour and personal insight that it was an absolute joy...despite the prevalent heat and humidity that one cannot avoid in this country. Along with So was his tuk-tuk driver, and his assistant Oun, both of whom added their own personality to the adventure.
But the star of the show was So, whose personal knowledge - and fantastic photography skills - was a constant relevation. There seemed to be almost nothing he did know about the sites we visited - which included Angkor Wat, Angkor Thom, Bayon, Ta Prohm, Beng Melea - plus some side trips to a bustliing Siem Reap market, working farms (including a fascinating mushroom 'garden'), and a reverential water blessing by a monk.
The only thing that could have made this better was the most "perfect" sunrise at Angkor Wat or sunset in the rural rice-fields where water buffalo chewed water-lilies and white herons flew overhead.
Apart from his presence on 'With Locals', So runs day tours through 'Overload+Cambodia', and here you can also find out about his philanthropic work with the 'Stepping Stones' project he commenced with his wife, Rachel.
THANK YOU, SO!
Julie
March 27, 2016
Personalized experience with So
Best day in Cambodia! So is a wonderful host, exceptional guide and an amazing photographer. His tour is an enlightening glimpse into the lives of the people and culture of Cambodia. Don't miss this. A definite highlight of my trip to Southeast Asia.
March 10, 2016
Personalized experience with So
So has been a pleasant tour guide in REP for us. He's quite knowledgeable of the city's secrets, places not to be missed, history and authentic food. So will definitely help you in making the most of your trip to REP – from another perspective, as a local. Thanks a lot for everything So!
See the Real Cambodia Through your Lens!
It was an absolute pleasure to spend the day with So Sok. His knowledge and passion for his homeland is obvious and much appreciated.
His advice on camera settings and alternative shooting locations, away from the crowds, assisted greatly. All this advice was intertwined with his own interesting life history and his ambitions to help others not as fortunate.
In terms of pre booking communication and flexibility of what we wanted to do on the day, I could not ask for more, it was first class.
An added bonus were the photos taken by So throughout the day which he then sent to us as a memento of the day.
In summary a great day, we enjoyed ourselves, we learnt more about Cambodia, we saw places we would not have normally seen, I took better photos and we met a good man. I strongly recommend his service and wish him the very best for the future.
See the Real Cambodia Through your Lens!
no comment
See the Real Cambodia Through your Lens!
My photography tour with So was amazing. I saw sunrise at Angkor Wat, as well as 3 other temples. In addition, I received a water blessing from a monk/priest. When I asked So if it would be possible to change the afternoon part of the tour so that I could attend the Khmer boxing, he took me to get the ticket and had the tuk tuk driver wait for me until the boxing was over. So is very engaging, speaks English well, can tell you about the history of the temples, can give you some advice on camera settings and is also quite handy for taking photos of you when you're traveling alone! Communication leading up to the tour is very good as well. If you're thinking of booking with So, don't hesitate. You won't regret it!
Personalized experience with So
There is so much more to see in Siem Reap other than temples and the pub street. If you are interested in photography and want to see and photograph local people during their everyday life, go for this tour! You will be rewarded with smiling people and a perfect host: So is always funny, always kind, can tell you lots of thing about nearly everything of cambodia and does amazing things by helping to offer local children free english lessons (you guess it: his english is perfect).
The Tour is divied into two parts and included a small khmer course so you can ask the people for a picture by yourself. In the morning we visited the three most famous temples in a non standard way and the local marke, a local village and sunset in the rice fields in the afternoon. But if you don't like to see the temples I am pretty sure that So will find an awesome alternative.
See the Real Cambodia Through your Lens!
What a wonderful time! So took me round the local's market and a village close to Siem Reap. He showed me some great places to get photographs and meet local people. Even though I've lived here a while, So was able to show me places I'd never been.
He constantly chatted with the local people and relayed to me what they were saying. He smoothed the way to take the pictures and gave me some tips for getting locals to allow me to photo them.
All in all it was a good afternoon and I was able to expand my knowledge of the area, locals and get some good pictures in the bargain. Thank you So for a great time out.