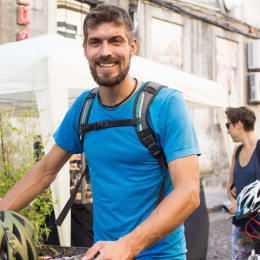 About Simon
Location:

Lisbon

Languages:

English, Español, Português, Deutsch

Response time

less than 5 hours
I´m not a bike mechanic, neither a racing champion. I'm simply a bike lover.

I travelled thousands of kilometer by bike. I ride the city every day and the trails when ever I can. I crossed the European Alps and Moroccan Atlas. I built up travel and mountain bikes and fixed historic bicycles. I built panniers and wrote a guide book. While all this cycling moved more and more to the middle of my life and turned to be my big passion which fulfills my life as much as my flat. A passion which accompanys me all my life long and I love to share with beginners as with experts.

I'm not from Lisbon, not even a portuguese. I'm simply in love with Portugal.

After 10 years of moving, travelling and changing in 2013 I decided to saddle down for a while. Portugal since years had a special attraction which always made me return. With a smoove traffic and vibe, the atlantic sea and a mountainbike paradise just around the corner, Lisbon met all my needs. Therefore the decision where to go was easy to take. Meanwhile, after the first 3 years I feel pretty home in Lisbon. Loving the portuguese way of life and still more the great and plenty nature of this small country. Another love I want to share with the city's visitors, with residents and visitors.
Read reviews
(59)
Simon offers:
100% personalized local things to do & food experiences
Guest reviews about Simon