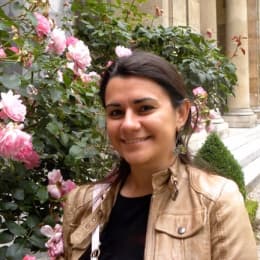 About Sara
Location:

Paris

Languages:

English, italiano

Response time:

less than 12 hours
I am an Italian art historian Parisian by heart. The City of lights conquered me more that 15 years ago, the first time I met "her". I am passionate about Paris's history, art, lifestyle, cuisine, fashion… and it would be a great pleasure to share my passion and my knowledge with you. In my tour I love making the past of the city and the monuments live again explaining not only the official history but also little curiosities, legends and traditions about places and people. I always do my best to give my guest the chance to learn something more about the city, to follow unusual paths, to discover the authentic Paris and to live it like a local.

I have a strong historical and artistic background and I have been working in tourism for more than 7 years. I am a qualified French Tour Guide (Carte Professionelle de Guide-Conferencier n. 1475034P) and professional personal shopper.
Read reviews
(9)
Sara offers:
100% personalized local things to do & food experiences
Guest reviews about Sara
Sara - Our Fabulous Guide
Sara was one of the best guides we have ever experienced in our travels! She was thoughtful, patient, and let us set the pace for the tour, as well as being helpful as we continued on our own. She was extremely knowledgable and expressed herself clearly and professionally. We learned a lot and consider ourselves very fortunate to have met her. Thank you Sara! George and Shirley Mulloy
May 19, 2017
Perfect!
On my recent, first trip to Paris (though I had been in Europe many times) I booked Sara for the Louvre and a full day at Versailles. When arranging my holiday I had decided that I needed a guide so that time would not be wasted on finding my way etc. and that I would not miss out on the finer points. Sara was simply wonderful. I cannot express enough how I enjoyed learning from her. Not only about art, but also about Paris and France. It was such a delight to be with this charming lady.
May 15, 2017
Wonderful tour of the Louvre
What a great tour of the Louvre with Sara she was so knowledgeable on all the exhibits she showed me. What impressed me most was the information she had on the building its self, I don't think I had a question she didn't have an answer to. She was wonderful and pleasant to deal with setting up skip the line tickets and in meeting for out tour, the way she coustomized it to my specific interest made it such an amazing day.
May 11, 2017
Outstanding Tours with Sara
My daughter and I were lucky to have Sara as our guide two consecutive days when we were visiting Paris. On April 6th, 2017, we meet Sara at 9:30 in the morning outside the Louvre where she began our tour with the history of the building. She then walked us through the museum offering highlights and sharing her knowledge of the art and history of the exhibits we visited. Sara made this tour very interesting and the 2.5 hours she spent with us flew by but was enough for the day. I would highly recommend Sara as your private guide for the Louvre. In my opinion, the Louvre would have been to difficult of a museum to manage on our own.
On April 7, 2017, Sara picked us up at our hotel at 8:00 am and took us on the train to Versailles. On the way to Versailles Sara explained the history. It was great to go that early in the morning. Sara walked us through the palace and explained the highlights. We were then left on our own to explore the gardens which are breathtakingly beautiful. Sara offered recommendations on cafés and restaurants. Having Sara as our guide for the Louvre and Versailles was great and a real highlight of our trip as Sara is kind, interesting to listen to and very knowledgable about art and history. I highly recommend Sara as a tour guide! Enjoy your travels!
April 13, 2017
Louvre tour
Sara was a wonderful guide - extremely knowledgeable and friendly. We thoroughly enjoyed our experience and felt like we learned a lot. We were so happy to tour with a guide - couldn't have enjoyed it as much without Sara
March 31, 2017