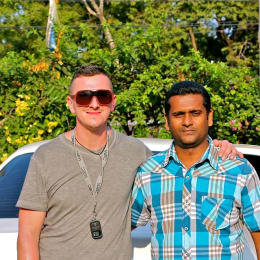 Your private guide:
Rohana
About Rohana
Location:

Kandy

Languages:

English

Response time:

less than 12 hours
I am really interested in guiding you through the cultural triangle and all over the Sri Lanka containing ancient monuments in Sri Lanka. I was born in this so-called cultural triangle.

I am a non-alcoholic and non-smoking person. During my tour you will feel comfortable and safe. My guests are always considered family members, and I feel my job is providing service to you.
Read reviews
(55)
Rohana offers:
100% personalized local things to do & food experiences
Things to Do & Things to Eat by Rohana
Guest reviews about Rohana
Extremely knowledgeable and friendly guide
I have only good things to say about our day spent with Rohana. He was on time, flexible and extremely friendly. He also spoke English very well. Given that our tour included two Buddhist holy sites, his extensive knowledge of Buddhism and of the significance of the sites was a real bonus. Without his expertise our experience would have been much more 'touristy' and much less educational. And by the end of the day, I felt like we had made a new friend in Rohana.
May 25, 2017
Rohana is a donny
Rohana was and absolute pleasure to be around. Very genuine and likeable guy. The tour was very informative and comfortable!

Highly recommended!

From
Ben and Siân
May 19, 2017
Great drive with a knowledgeable guy !
I booked the one day Sigriya- Dambulla tour. He arrived very much on time. His driving skills are excellent. It was nice chatting with him & exchanging the knowledge. He knows very much about Srilankan & Buddhist culture & history. I will surely recommend him !
May 8, 2017
Rohana is the best!
Rohana is so helpful! We had an amazing tour. He has a standard program, but you can also make you're own route. He shows the best places and can tell everything about it. That's really nice because then you know the story behind everything, what makes it way more intresting. He can also tell you everything about Sri Lanka and the culture. Beside that he can also tell everything about the religion Buddism. We really enjoyed our tour yesterday! Rohana is a very sweet man, you can fully trust him. He will help you with everything and fo really really his best to make a great day of it. Besides the tour he's also really helpful. My backpack wasn't arrived with the airplane, the day before the tour. Rohana did a lot of calls with the airport to help me find my backpack. Now i got it back!! I really appricate that! He also give us good advice about the best way to travel through sri lanka. And he helped us buy our train tickets for the next days. Rohana is really kind and a great tourgide. We had an amazing day! Thank you so much!!
May 4, 2017
Excellent driver
Our day trip with Rohana was great. Communication before the day was very quick and easy and he picked us up at our hotel on time. Rohana was really friendly, knowledge about local history and spoke very good English. Would definitely recommend.
April 18, 2017