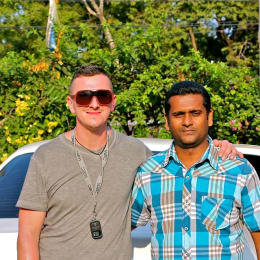 Your private guide:
Rohana
About Rohana
Location:

Kandy

Languages:

English

Response time:

less than 12 hours
I am really interested in guiding you through the cultural triangle and all over the Sri Lanka containing ancient monuments in Sri Lanka. I was born in this so-called cultural triangle.

I am a non-alcoholic and non-smoking person. During my tour you will feel comfortable and safe. My guests are always considered family members, and I feel my job is providing service to you.
Read reviews
(48)
Rohana offers:
100% personalized local things to do & food experiences
Things to Do & Things to Eat by Rohana
Guest reviews about Rohana
1 Day Trip to Sigiriya Rock & Dambulla
We would 100% recommend Rohana! Myself and my boyfriend are visiting Sri Lanka and wanted to go on a day trip from Kandy to Sigiriya Rock, Pidurangala Rock and the Dambulla Cave Temples. Rohana picked us up as agreed from our guest house in Kandy and drove us to Sigiriya. On the way he answered all our many questions about Sri Lankan life, history and culture.
Whilst we climbed Sigiriya Rock Rohana waited for us and then took us to Pidurangala Rock. We would definitely recommend adding this to any day trip if you are fit as the views of Sigiriya are spectacular and you will probably be the only people there!
We stopped for lunch and then went on to Dambulla. Rohana came with us to the temple and gave us a tour which was fascinating. Learning about the Buddhist religion from Rohana is one of the highlights of our day.
Overall we had a fantastic day with Rohana and cannot recommend him enough. He was extremely knowledgeable and friendly, spoke excellent English and was a very safe driver!
Thank you Rohana.
Bronwyn and Alex
March 28, 2017
1 Day Trip to Sigiriya Rock & Dambulla
Rohana was a great guide, and a good driver. Once we met him we had no worries. He showed us different things along the route, shared stories about the places. We had enough time in Sigiriya in the morning and a peaceful time to see Dambulla as well. He showed us spots from where we could shoot better pictures. He even spent time with us in-between the day when we were curious to see local craft shops. There was so much to talk about and ask, whether is was about Sri Lanka, or Buddhism or the local lifestyle and Rohana had a lot to share with us. It felt like we were out with a family friend! :)
March 23, 2017
1 Day Trip to Sigiriya Rock & Dambulla
We had a excellent day with Rohana. Sigiriya was the highlight of our trip to Sri Lanka. Rohana's passion and knowledge really added to the experience. We also had a really interesting chat on the journey up about the history and culture of Sri Lanka (He's a very good driver, which is a very pleasant surprise in Sri Lanka!). Rohana joined us to look round the cave temples in Dambulla which were astonishing. My wife and I would really recommend booking this trip with Rohana and wish him all the best.
March 8, 2017
1 Day Trip to Sigiriya Rock & Dambulla
We had a wonderful day trip to Sigiriya and Dambulla with the lovely, generous and knowledgeable Rohana. Sigiriya Rock and Dambulla are must-do's for anyone visiting Sri Lanka and they can definitely be done in a day. The climb up to Sigiriya Rock is hot and a little bit of a challenge and but the views that you get at the top are extraordinary. The Dambulla rock temples were also an incredible experience and having Rohana talk us through the history and teachings of Buddhism was the highlight of the day. Rohana is a very knowledgeable and patient guide - he answered all of the questions that we had with great insight. Although the drive to Sigiriya is quite long the journey is very scenic and the car is very comfortable. We also visited a spice garden and Hindu temple on the way back to Kandy which were both great additions to the trip. I would definitely recommend Rohana as a guide for anyone who is visiting Kandy and hoping to take tours around the area.
February 28, 2017
1 Day Trip to Sigiriya Rock & Dambulla
Rohana is a very knowledgeable and friendly person. I am really glad for choosing him as our guide. He took us to Sigiriya, and on the way there he explained many things about Sri Lanka, its culture, its people... it was very pleasant chatting to him.
After knowing that we would head to Ella on the next day, Rohana went out of his way and arranged someone to pick us up in the train station and take us to our hotel. It was such a wonderful surprise to arrive in Ella after a tiring 6 and a half hour trip on the train and have everything taken care of.
It was great to meet you, Rohana! Wish you all the best...thank you for providing us such an amazing time in Sri Lanka. 😊We'll never forget it.
February 23, 2017
1 Day Trip to Sigiriya Rock & Dambulla
This was our first time using with locals and i was really impressed. We had a last minute driver change due to sickness but we were kept up to date and Upali arrived promptly and smiley. He was very knowledgeable and we had a wonderful day. Thank you.
February 1, 2017
1 Day Trip to Sigiriya Rock & Dambulla
We really enjoyed our day with Romania visiting all sorts of different sites. Paricularly enjoyed hearing Rohanna's knowledge about Dambulla and the cookery demonstration put on by local women from a nearby village. A very well balanced day, thank you
January 31, 2017
1 Day Trip to Sigiriya Rock & Dambulla
We were at 1 day trip to Sigiriya and Dambulla with Rohana. He is a very kind person and it is very easy to talk with him. He knows lot about Sri Lanka both of historical sites and society. He took good care of us and I can warmly recommend him to anybody as a guide and as a person.
January 31, 2017
1 Day Trip to Sigiriya Rock & Dambulla
Rohana is an excellent guide! He is very professional and kind and will tailor the experience to your needs! He is also very knowledgeable. If you go on a tour with him, you will surely learn a lot about Sri Lanka!
January 23, 2017
1 Day Trip to Sigiriya Rock & Dambulla
Rohana was an excellent guide and I would definitely recommend him to anyone. The trip was highly enjoyable and he was great to talk to about the places we visited and Sri Lanka in general. He also helped us organise the next few days of our holiday which we very much enjoyed!
January 23, 2017
1 Day Trip to Sigiriya Rock & Dambulla
Thanks Rohana for the trip. We enjoyed the trip a lot and would fully recommend it. Rohana also made individual adjustments when we asked him that we want to try some typical fruits. Thanks for that.

The only thing that could be improved from our side is the lunch break. We went to a typical tourist restaurant which was expensive, of course full of tourists, offered a buffet lunch and not very good food. We expected if we choose a trip with "withlocals" that we have lunch in a typical restaurant which also locals prefer.
January 22, 2017
1 Day Trip to Sigiriya Rock & Dambulla
Rohana did not take us on our trip. Despite my booking him for a private car for 2 people he told me (by message once we were in Sri Lanka) that we would be going in a van with 4 other people. This was not what I ordered and paid for and I told him so - and that if we couldn't have our private car I would cancel the trip and ask for my deposit back from WithLocals. He replied apologising and said we would have our private care as booked. We did have a comfortable private car but it was not driven by Rohana, instead he sent his brother/cousin. This gentlemen was very nice, a good driver etc but did not speak much English and didn't know anything about the history of the temples/sites we were visiting. I booked Rohana because he was advertised as being very knowlegable about Buddhism and we wanted to learn about it. I do not understand how Rohana was able to accept out booking for a private car and then go on to take on more people and think it was acceptable to tell us we would be in a party of 6! I will not be recommending him to any friends who visit Sri Lanka.
January 20, 2017
1 Day Trip to Sigiriya Rock & Dambulla
We had a great day. Due to the car problems it was not Rohana but a member of his family that picked us up and accompanied during the day. He was an excellent driver what is an important thing on the Sri Lankan roads. We went first to Sigiriya and then to Dambulla. On the way back we stopped for fruit shopping and for a quick look at Hindu temple in Matara. It was up to us to decide when and where to stop. Defiantly worth recommending. Thank you.
January 13, 2017
1 Day Trip to Sigiriya Rock & Dambulla
Apart from being a really nice, friendly person, Rohana was an amazing guide as he is very knowledgeable and well informed and he gave us with a lot of insight into the local culture and history of the region and sites we visited. The guide he arranged to show us Sigiriya was also very good and really interesting. The taxi he provided was in excellent condition and was clean and well equipped and his suggestions and recommendations for our itinerary were extremely useful and helped us with our planning for the rest of our holiday. He offers a very good, professional service and we highly recommend him.
January 11, 2017
1 Day Trip to Sigiriya Rock & Dambulla
My husband and I spent a day with Rohana during our recent trip to Kandy. We wanted to explore some of the cultural and religious sites in the area, and we opted for his Sigiriya and Dambulla day trip. Rohana picked us up from our guesthouse early in the morning, and it was an easy interaction from the start. On our way to Dambulla, we first stopped at a Hindu temple, which was such an interesting contrast to Buddhists temples we have seen before. The main attractions, Dambulla and Sigiriya, were incredible! And we also made a quick stop at a herb garden, where we learned about aruyvedic preparations. All the sights were special, but mostly it was Rohana who made the day. He paced the day very well - we never felt rushed, and had plenty of time to explore, and to have a leisurely lunch too. Crucially, Rohana had such a wealth of knowledge about his country and more, and we loved discussing with him the history, Buddhist philosophy, and learning about the past as well as contemporary Sri Lankan life. We would go explore with Rohana again in a heartbeat. He's a wonderful, thoughtful guide, a kindred spirit, a truly nice person.
December 29, 2016
1 Day Trip to Sigiriya Rock & Dambulla
We've spent 1 full day with Rohana and let me tell you he was amazing. He is so punctual, helpful very knowledgeable and very interesting. I would definitely recommend his services to anyone going to explore Sri Lanka. Thank you so much for everything. Teona, Remi and Victoria
December 15, 2016
1 Day Trip to Sigiriya Rock & Dambulla
I had a great day with Rohana - he was knowledgable, flexible and courteous at all times. Highly recommended!
December 15, 2016
1 Day Trip to Sigiriya Rock & Dambulla
We had an amazing day! Rohana took great care of us, great driving, great food recommendations and even greater knowledge of the local area (and UK politics & sports!) Couldn't recommend him more highly. Sigiriya rock is beautiful and definitely worth the drive! Kate, Ellie and Lucy, UK.
December 6, 2016
1 Day Trip to Sigiriya Rock & Dambulla
Rohana was an amazing guide, so friendly and knowledgeable about Sri Lanka and in particular Buddhism. Definitely book a day with him!
December 6, 2016
1 Day Trip to Sigiriya Rock & Dambulla
no comment
November 30, 2016
1 Day Trip to Sigiriya Rock & Dambulla
First with locals experience - and I've had a fantastic day with Rohana. He arrived promptly and we started chatting straight away. He gave me an insight into the country and answered many questions.
He gives you autonomy to wonder around lions rock at your own pace. We had delicious curry in a jungle setting for lunch and headed to a Hindu temple and Dambulla after.

A well worth tour for anyone who wants Kandy as a base to explore further north without worrying about accommodation. I'd definitely recommend Rohana to anyone.
November 30, 2016
1 Day Trip to Sigiriya Rock & Dambulla
I had a very good trip from Kandy to Sigiriya and Dambulla with a stop at a Hindu temple on the way. Rohana was a very well informed guide but, according to my liking, did not push his information on me. Rather, we had a continuous discussion going on, talking not only about the visited places but also about other aspects of life in Sri Lanka. Given that Rohana speaks English very well, we were able to cover a lot of areas in discussion. Moreover, Rohana showed great concern in making sure that I arrived safely at my next stop (by bus).
November 30, 2016
1 Day Trip to Sigiriya Rock & Dambulla
Me and my wife had a lovely day at stunning Sigiriya and Dambulla. Rohana was a great guide, very knowledgeable and friendly. Would recommend his services to anyone.
November 24, 2016
1 Day Trip to Sigiriya Rock & Dambulla
I had a great day with Rohana exploring the ancient Sigirya and Dambulla Caves. Rohana is a great conversationalist and very interesting in almost everything which makes the long car rides fun. He has great knowledge about the places he shows and is a good driver. I would totally recommend him.
October 27, 2016
1 Day Trip to Sigiriya Rock & Dambulla
Rohana's Uncle took my boyfriend and I on a day trip. We visited a temple in Matale, - herbal garden, Dambulla Caves, Sigiriya and a wood carving shop. We had a brilliant day and the host was very knowledgeable. Sadly I was feeling a bit unwell so ended the trip slightly earlier than planned. This was not a problem and our host tailored the day to our needs. We would wholeheartedly recommend hiring Rohana for the day to see northern Sri Lanka. Thank you!
October 21, 2016
1 Day Trip to Sigiriya Rock & Dambulla
My girlfriend and I had a great time with Rohana. He guided us very professional on the one day tour to Sigiriya and Dambulla. Rohana is a careful driver and his airconditioned car is comfortable. With his very good knowledge about Sri Lanka and religion he is a perfect tour guide and it was obvious, that he really likes to meet new people and share his experience.
I thoroughly recommend to book this tour with Rohana.
October 20, 2016
1 Day Trip to Sigiriya Rock & Dambulla
My girlfriend and I decided to do a 1-day tour of Sigiriya and Dambullah whilst staying in Kandy, rather than spend a night or two up there and I reckon this was the right decision. We were picked up by Rohana from our guesthouse after a short delay and he proceeded to drive us north in his comfortable air-conditioned car.

First stop was a herb garden. Rohana did give us the option to skip it, which in hindsight we probably should've taken. An obvious tourist trap - "free" tour round the garden but with purchases expected at the end. Ridiculously priced shop but iv experienced a lot worse hassle in Asia so don't dismiss it outright if you might be interested in some natural hair removal cream or various miracle cures!

Due to the timings you're likely going to have to climb Sigiriya in the middle of the day heat, but cramming it into 1 day this is probably unavoidable. The views are worth the effort. Entry into the park isn't cheap so factor this into your budget. The ticket you buy does include entry into the museum which is worth a 20 minute stroll around. Rohana knows his history so keep him nearby!

Lunch was OK - a standard buffet near Sigiriya and reasonably priced since you're in the middle of nowhere.

Dambullah temple was also a steep climb, but the monkeys lining the path broke this up nicely and I doubt you'll ever see more Buddhas in a cave!

Finishes with a Hindu temple visit at the end for a modest fee. Great to see the contrasts between religions and whilst you do feel a bit like you're intruding, the temple is big enough to stay out of the way.

The tour was mostly very informative (Rohana knows his stuff, especially willing to explain the principles of Buddhism to you) and enjoyable. He's a very nice guy. Thoroughly recommend for a day if you're staying in Kandy.
October 19, 2016
1 Day Trip to Sigiriya Rock & Dambulla
Such a great tour!

Rohana was an excellent guide, he has a genuine interest in the history of Sri Lanka and the significance of each of the places that he took us to. He told us that he started doing these tours as a hobby so that he could meet people from around he world while introducing us to the Kandy region. Very knowledgeable about all sorts of things, so we had some very interesting conversations.

Sigirya and Dambulla were beautiful, but make sure to bring plenty of water and sun screen!

We highly recommend Rohana to our friends!
October 2, 2016
1 Day Trip to Sigiriya Rock & Dambulla
Great guy, Great day, Great tour

Recommended!!!!
September 15, 2016
1 Day Trip to Sigiriya Rock & Dambulla
The tour to sigiriya was amazing. Thanks to Rohana for patiently waiting for us during the entire trip. Sigiriya tour is worth trying and its best if you go by private car.
September 13, 2016
1 Day Trip to Sigiriya Rock & Dambulla
Had such a great experience and got so many amazing photos. Thanks!
August 14, 2016
1 Day Trip to Sigiriya Rock & Dambulla
Rohana picked us up in his air conditioned car at our hotel in Kandy. (We were so thank full for the cold air later in the day..)
As we drove towards Sigirya we quickley found out that Rohana is an impressive knowledgable man whom it is really interesting to talk to. He knows something about everything. He is also a very considerable guide who takes care of you and we stopped to buy some water and eat lunch during our day with him.
At Sigirya he talked us through the museums so that we had a good idea about what we saw on our way up the Sigirya rock. He didn't come with up us, but were there the minute we came back down.
After, we went to Dambulla temple. It was a treat walking there with a guide with so much knowledge.
Both Sigirya and Dambulla is recommended if you're going to Sri Lanka.
On our way back to Kandy we stopped and visited an Hindu temple.
We learned so much about Buddhisme and Hinduisme in one day!
Thank you Rohana for a memorable day we will never forget. And we wont forget you.
Strongly recommended!
July 27, 2016
1 Day Trip to Sigiriya Rock & Dambulla
Rohana was a very informative guide, he was very responsive to our questions regarding the history of the sites. Furthermore, he was very patient with us and provided impeccable service throughout the tour.
July 8, 2016
1 Day Trip to Sigiriya Rock & Dambulla
Rohana was fantastic and more than happy to accommodate our needs. Comfortable car and very knowledgeable about current affairs and the history of Sri Lanka, as well as the different places we visited. Would strongly recommend him!
June 22, 2016
1 Day Trip to Sigiriya Rock & Dambulla
We had an awesome day in Dambulla and on Lions Rock! Rohana could answer all our questions about Buddha temple and knew a lot of history. He was also very flexible, as we decided to go on elephant safari the same day as well. After a long, but good day, we also decided to have Rohana as our guide the next day. He took us to tea plantations, botanical garden and an amazing waterfall. All in all we had a wonderful stay in Kandy thanks to Rohana! He is very professional but friendly and including at the same time. And he was so helpful! Showing us the best places for local food and helped us book train tickets. It is very convienient to have your own guide who knows the people and the places you are visiting. You know that the tickets you buy are legit and you know what is worth visiting, thanks to him. We would not hesitate to hire him again! We feel like he is our friend now!
June 17, 2016
1 Day Trip to Sigiriya Rock & Dambulla
Our trip to Sigiriya and Dambulla was day one of a two day journey we had with our amazing guide. Rohana. We did not have a lot of time in Sri Lanka, so we wanted to cover as much ground as possible. This tour got us to two of the best, but somewhat far sights from Kandy for the best deal I have seen anywhere! He picked us up nice and early so we wouldn't have to climb Sigiriya in the blasting midday heat. He gave us plenty of time to explore on our own and then guided us when we needed more information. Then to Dambulla where we spent a great afternoon. He is so knowledgeable. I never got the impression that he brought us to shops or businesses where he got some sort of kickback. He was always very honest about what was worth buying, whether things were a good price, or a fair deal. Kind, friendly, polite, an honest family man. We felt safe and very well taken care of the whole trip. Would definitely recommend this tour to anyone who wants to see as much of Sri Lanka as possible in a short amount of time. Thanks again for a memorable trip to Sri Lanka! Hope to see you again, my friend.
April 4, 2016
Day Tour to Pinnawala Elephant Orphanage
Our trip to Nuwaraeliya with Rohana was amazing. We actually did two day trips in a row with him, this one was our last. We decided not to take the return trip with him back to Kandy as we were going to stay in Nuwaraeliya for the night and make our way back to Colombo the next day. He was very flexible and offered to give some hotel suggestions in the area if we could not find one. He brought us to all the right places, great views, and perfect photo opportunities. First we stopped at Ramboda falls, and then made our way to a tea plantation. He gave us a great balance of letting us do our own thing, and guiding us along the way. He even offered to help arrange a ride back to Colombo from Nuwaraeliya as the trains were all booked (we traveled Easter weekend so advance planning was a must). Above and beyond service from a kind and friendly guide. Would definitely recommend and even go back to do more tours with him the next time I come to Sri Lanka. Thanks again for a great time!
April 4, 2016
1 Day Trip to Sigiriya Rock & Dambulla
My mum and I took the Sigiriya/Dambulla tour with Rohan last week and we honestly could not fault him. We had the best day and learnt so much about the history and culture of the two sites which we would not have known if we had not had Rohan as our tour guide. He was an excellent guide and just a genuinely nice and honest person. Thank you so much Rohan and we will definitely recommend you to all of our friends! Highly recommend to everyone on Withlocals.
April 4, 2016
Personalized experience with Rohana
Excellent excellent excellent! What can I say I couldn't advise you enough to book with Rohana. I don't normally write reviews but in this case it would be wrong not to. For a great price Rohana organised a personalised tour for my wife and I to Sigiriya from Kandy and the next day he dropped us off at Tangella after a tour through Ella. The service was impeccable and Rohana was happy to accommodate us in any way we pleased. Rohana has a modern air conditioned car and he will happily transport you anywhere you want to vist. He is very informative and explains the importance of each site you visit. Importantly for me he will only take you to places you want to visit, he won't take you to his "friends" businesses or anywhere to make you buy things that you never wanted in the first place.

Overall I can't rate him highly enough, please book with him and make sure you tip him, you will soon see that he deserves it. Enjoy
Personalized experience with Rohana
Rohana has been exelient from start to finish on our tour from the prompt arrival throughout . He is very punctual . We have seen and learnt so much and have thoroughly enjoyed during the beautiful day . Rohana , thank you for being so accommodating , Friendly , Considerate , a very safe driver , Tolerating our many many questions . Rohana Answered all the questions came from our side . Thank you again so much for your tone and patience and the unforgettable experience . I would like to thank Withlocals also for introducing Quality people like Rohana that any body can trust . He gave us more than we paid him . Brilliant Tour Guide with Brilliant Knowledge about All the Religions world . We wish you all the Best . If any body want to visit Sri Lanka Please select Rohana .
1 Day Trip to Sigiriya Rock & Dambulla
After a misunderstanding, we were finally picked up by one of Rohanas drivers in a clapped out car which badly needed a new exhaust. The driver was friendly enough and changed the order of the tour to what he described as the better way.
The worst part of the tour was being taken to a "herb garden" which is just an opportunity for some hard selling,. Next we were taken to a spectacular Hindu temple but -unknown to our driver- the month of February is a special time and no tourists are allowed! The rest of the trip was fine and Sigiriyah is a sight not to be missed. To all intents the service provided is "driver plus car" rather than a tour guide.
Personalized experience with Rohana
I booked Rohana has our driver and guide whilst in Kandy in January 2016. The process of booking was quick and easy and Rohana was quick to reply to any queries i had. Rohana arrived on time to pick us up from our guest house. We visited Sigiriya & Dambulla cultural sites. Rohana is a safe driver with lots of local knowledge, he also took us to a lovely roadside restaurant for lunch. To top everything off Rohana organised for his brother to drive us to our next destination in the South of the country at a very reasonable rate. I would highly recommend Rohanas services
1 Day Trip to Sigiriya Rock & Dambulla
Rohana is an excellent guide. Even though his wife had just given birth, he made sure he was available to show me around. He is so knowledgeable about the history and culture of Sri Lanka. We had a really great discussion about Buddhism and I really enjoyed my day with him. He is a cautious driver and very gracious. He is not pushy but plans a tour to help you get the most of your time with him. One of the best things that sets Rohana apart is that his English is very good. Some of the guides I met in my time in Sri Lanka had a very heavy accent that made it difficult for me to understand. Rohana is not going to be just your guide, but he will show you true Sri Lankan hospitality. Definately go with Rohana!
1 Day Trip to Sigiriya Rock & Dambulla
Rohana was the prefect driver. Safe driving in a car in good condition. Moreover he was very nice and caring and also explained a lot of things as a guide. For lunch we went to a very nice place recommended by him. Price for the tour was also fair. I would definetely recommend him to everyone!
1 Day Trip to Sigiriya Rock & Dambulla
Sigiriya was beautiful. Rohana made the trip pleasant and peaceful. He is kind and very knowledgeable regarding the history of Sri Lanka and Buddhism and was happy to answer all of my questions in depth. I would recommend Rohana to everyone.
1 Day Trip to Sigiriya Rock & Dambulla
Me and my girlfriend just got back from the Sigiriya/Dambulla tour and it was fantastic! The scenery and sights are beautiful and interesting, but Rohana is a really great tour guide. Very helpful, genuine and easy to get along with. I felt the tour was so much better with him as our guide! I would recommend him as your guide if you're coming to Kandy or Sri Lanka :)
1 Day Trip to Sigiriya Rock & Dambulla
We had an amazing day! At 7,30 there was a pickup with a nice car and from then on it was fantastic! He knows a lot about sri lanka, the culture and all the religions. All your questions will be answered and more! We saw in one day a great hindu temple, sigirya a spice garden and dambulla rock temple! Just fantastic. We really thought that having a tour guide was a big plus because he knows a lot of interesting things (for example the position ofbuddhas feet and toes have a special meaning). Just note: there are a lot of extra costs: entrance fee hindu temple 250 rp, entrance sigirya 4000 rp, spice garden as much as you want, dambulla:1500 + 50 for shoes :)

Conclusion: he is a great guide who loves his job! He helps you in every way possible from atms to a place to sleep. He found a place in our budget for after the tour and even now a day later he gave us a perfect room! Thank you very much!!!
Personalized experience with Rohana
One of the most accommodating, knowledgeable and most friendly tour guides we could hope to meet. Also a very safe driver. We thoroughly enjoyed our tour with Rohana, able to enjoy the tours at our own pace and learnt so much. Sigiriya was stunning and the climb was not as difficult as we had anticipated, (we were a little worried as my dad has a bad back) and was well worth it. Dumballa was quiet and the artistry in the caves was amazing. Thoroughly recommend using local people and in particular Rohana as a guide.