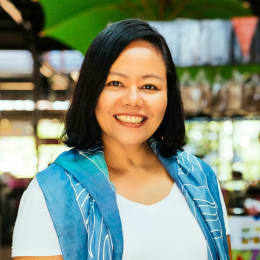 Your private guide:
Piyaporn
About Piyaporn
Location:

Bangkok

Languages:

English, ไทย

Response time:

less than 12 hours
I love traveling, meeting new people and trying different types of food. I'm very proud to present my country to all travelers around the world.
Read reviews
(313)
Piyaporn offers:
100% personalized local things to do & food experiences
Things to Do & Things to Eat by Piyaporn
Guest reviews about Piyaporn
Ultimate Local Floating Market & Boat Tour
WE HAD A LOVELY FEW HOURS WITH PIYAPORN. SHE IS VERY KNOWLEDGEABLE AND PLEASANT AND SPEAKS ENGLISH VERY WELL. LOOK FORWARD TO OUR FOOD TOUR TOMORROW
May 22, 2017
Ayutthaya UNESCO World Heritage Site Tour
Very good tour! Excellent tour guide!
May 21, 2017
Multi-Cultural Markets tour with Piyaporn
Fantastic in every way! Piyaporn was an amazing guide for the Multi-Cultural Markets tour. We discussed first what my main interests are and Piyaporn adjusted the tour accordingly. She was informative and cheerful and knows all the ins and outs of the crowded alleys. We started with the Flower Market, then continued through Little India and finally China Town. Piyaporn helped me find really great souvenirs and was able to bargain in Thai so I got the best prices. I had a wonderful time throughout. This is a tour I could not have tackled on my own. Having a local at my side, one who is really familiar with the area and can explain the history, culture and customs made it a truly memorable day. Highly recommended! Thank you so much, Piyaporn!
May 20, 2017
Ayutthaya day trip, Thailand
Piyaporn was truly an amazing tour guide. She was so kind and accommodating, willing to share Thai history with us so that we understand it better, and really just a genuinely sweet Thai woman! Thank you piyaporn for leaving us with wonderful lifetime memories of ayutthaya and Thailand!
May 15, 2017
An excellent and unique tour with Piyaporn
Piyaporn arrived perfectly on time to pick us up from our hotel lobby and throughout the day took us to some of Bangkok's markets, which was such an incredible experience. Our favourite was the flower market. Piyaporn was so friendly and a helpful guide. We also liked that she took us to places that felt off the beaten track and filled with local people - very few tourists - this made it a far more authentic experience. We'll never forget her amazing Bangkok tour!
May 14, 2017