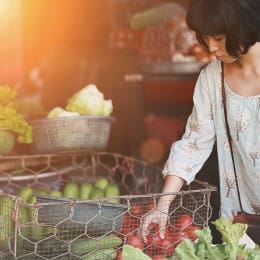 About Tiffany
Location:

Ho Chi Minh City

Languages:

English

Response time:

less than 10 hours
We are a couple who loves to share Vietnamese food experiences with people from over the sea.

Visit our home, you'll be served a Vietnamese traditional lunch or dinner set menu including 5 dishes (steamed rice, pork/ fish/ chicken cooked with sauce, sauteed vegetables, Vietnamese fish and dill soup, lotus sweet soup) or more (according to your special requests).
Read reviews
(42)
Tiffany offers:
100% personalized local things to do & food experiences
Guest reviews about Tiffany
Special Vietnamese Dinner
Wonderful hosts! Very kind and we had a lovely time :)
December 1, 2016
Fun Tour for Food Lovers by Night
Wow
What started out as just eating an amazing meal - trying chicken feet and chicken gizzards - which where all good
(not 100% on the feet - but can say I have tried it) the food kept coming and it was brilliant tasty and just yummy.

Tiffany and her Husband were great hosts - and very interesting - they have really cool jobs and gave a great insight life in Saigon.

Then off the the Cuckoos Nest for some local culture - a kind of open mike night - with a local superstar ;-)

Great Night - worth twice the price - would recommend to everyone who visits Ho Chi Minh as a must do

Thanks Tiffany
James & Jenny
November 21, 2016
Special Vietnamese Dinner
I bought the experience for my partner and her mother as a birthday gift and they completely LOVED it. Many thanks to Tiffany and her brilliant husband for their hospitality and such a great time!!
July 26, 2016
Special Vietnamese Dinner
It was such a fun night at Tiffany's! The Cyclo ride that brought us to her house was a great way to experience the unique traffic and vibrance of HCM city. We were there early and helped in preparation of the ingredients, in which Tiffany gave us a great insight to the background and variety of Vietnam cuisines. Her husband Anh made a point to make conversations during dinner despite him not proficient in English and it was a really engaging session. To top it all off, Tiffany is a great cook and the food was delicious! Definitely an experience worth more than the money we paid for this. (:
July 10, 2016
Personalized experience with Tiffany
It's my 3rd time to have a meal at Tiffany's. This time around I brought a friend visiting from the Philippines. While Tiffany was preparing our food, we sat by the kitchen and just talked about difference in food between the North and the South of Vietnam and our home country.

We had a perfectly delicious authentic local cuisine while having the best conversation with Tiffany and her family.

Tiffany never disappoints and would definitely bring friends to her again.
June 19, 2016
Fun Tour for Food Lovers by Night
Tiffany was awesome! My wife and I me her for dinner (street food) and a night on the town in Saigon. It was one of our favorite nights during our vacation and I would highly recommend her as a host.
June 11, 2016
Special Vietnamese Dinner
We had an amazing time with Tiff and her husband! They are both super sweet, friendly, easy going and caring. We really enjoyed the surprise cyclos ride to their apartment as well as their cute, cozy shop apartment with funny cats. The food they cooked was unbelievably delicious- 6 traditional dishes full of different tastes, textures, and colors. At the end of the evening, they invited us to go to a local Vietnamese rock concert hall which we loved. Truly spectacular evening :)
April 20, 2016
Special Vietnamese Dinner
Judy and I would love to thank Tiff and her very charming, and most talented photographer husband for a wonderful night of food, conversation and a most interesting night. What an interesting couple, a charming cramed home full of treasures, with lots of wonderful stories. We really enjoyed our ride to your home, and have already passed on your details to fellow travellers we met along our journey. See you nextt iemwere in HCM...Jenny & Judy (Your first Australian visitors!) PS...thank you for our little gift, its yummy, and every time I have a sip I think of you both
April 8, 2016
Personalized experience with Tiffany
Great experience , highly recommandable :-)
Special Vietnamese Dinner
Our time with Tiff was just fabulous! She is a great host, cook and entertainer! She arrange all to perfection and we felt very welcomed in her eclectic house.
We just loved spending the morning in the local market, tasting all the sweets and delicious foods and picking up the cooking ingredients. I think this helped both me and my boyfriend to embrace the Vietnamese street food quicker than expected - first time in Asia for both of us!
If you are in Saigon, we highly recommend spending some time with Tiff! Thanks so much for everything! Cat and Simon
Fun Tour for Food Lovers by Night
Meeting Tiffany and spending time with her was one of the nicest experiences of HCMC. We met her in her tiny eclectic apartment which was really interesting and then she took us to a street food lane by the riverside. This was a specific seafood joint with menu pasted on the wall !
In all our travels across the globe we haven't found such a quick service or such an amazing array of seafood! Each preparation was outstanding ,each finger- licking delicious!
Then to top it Tiffany took us to a tastefully decorated high -end Cafe where beautiful girls' orchestra played and sang live. A perfect finale to a perfect evening.
Her parents joined us in the cafe too . We didn't know each others' language but that didn't come in the way of our conversation :) I would highly recommend this experience.
its most important to meet locals and learn there way of life. Thats what traveling is all about.
Thank you With locals Team . I've recommended you to all my friends.

Saroj Ray
Special Vietnamese Dinner
Both my husband and myself really enjoyed meetin Tiffany and her husband. There are a nice and friendly couple. We went together in the morning to visit the market and bought the ingredients for our lunch there. Tiffany explained us various facts about vietnamese way of cooking and products. At home we helped her to cook, the lunch was huge and delicious :) we had 5 differents dishes all excellent. After lunch we spent a nice time talking about everything and nothing. I would really recommend you to have a lunch or dinner with them, they are lovely people.
Fun Tour for Food Lovers by Night
We spent 3 weeks in Vietnam and used With Locals on a number of occasions. We spent New Years Day night with Tif and her husband; we ate great food, shared stories and went to an awesome live music bar that is popular with locals. Definitely recommend. Thanks Tif....see you next time x
Special Christmas Eve Dinner Party
The experience was great. Tiffany is a fantastic cooker and a kind host. Probably the best dinner in Vietnam during our family trip
Lucia
Special Vietnamese Dinner
We had a really great time with Tiffany! We first had breakfast at the market and after that we shopped the ingredients for the lunch! She explained everything we needed to know! Then the cooking session started and we already felt like home at her sweet kitchen! The whole day felt more like friends spending some time! I would definitely recommend it to everyone who wants to have some real local experience and meet really loving and nice local people!
Fun Tour for Food Lovers by Night
This was a really fun evening! It surpassed all of my expectations. Tiffany is a very warm and welcoming person. I really enjoyed her company. I would recommend this experience to any food and music lover.
Special Vietnamese Dinner
We began our Vietnam adventures by having dinner with Tiffany and Anh and despite spending three weeks experiencing all that this superb country has to offer, it remains one of our favourite memories of our travels and was a wonderful introduction to Vietnam and to 'With Locals'.

Tiffany and Anh welcomed us into their beautiful home & provided us with the most wonderful meal. Conversation flowed freely and easily and Tiffany gave us so many tips about our trip (especially where to eat which is very important to us) that our whole travelling experience was enhanced by meeting them.

I cannot recommend more highly that you take the opportunity to spend some time with this delightful couple. It will be one of the nicest meals that you eat and amongst a country of friendly and kind people you will meet two of the loveliest.
Special Vietnamese Dinner
It was so great with Tiffany and her family when we were in HCMC. My wife and I felt so lucky and happy spending dinner with Tiffany and her husband.

Elegant, shining, fashion, nice, interesting, traditional, knowledge, beautiful; these words accurately describe the image of this amazing lady! Cozy home, lovely kitchen decorated and filled with a variety of arts and crafts.

As a tourist, I seldom had the opportunity to communicate with local people. Her considerable knowledge and understanding of the local culture will greatly help you in Vietnam!

Her cooking is so great! I would not introduce any dish in the comment, I recommend you just go to Tiffany home and eat! No doubt, no regret!
Special Vietnamese Dinner
It was such a great time with Tiffany. My girlfriend and I really enjoyed the food she made for us. Tiffany and her husband are so kind and they have very beautiful kitchen and living room. We loved staying with them and we may come to visit her every year.
Special Vietnamese Dinner
It was indeed one of the highlights of our trip to HCMC. Tiffany and Anh were both engaging and delightful. Their house, which they have graciously opened to us, was an interesting mix of charming and organized chaos. The food that Tiffany cooked was really great. It seemed simple but the taste is anything but that. It tasted really great that my husband kept coming back for more. Do yourself a favor and give this a try. It may as well be one of the highlights of your trip just like with ours.
Special Vietnamese Dinner
We only had 1.5 days in HCMC so our time was limited but I'm so glad we chose to have dinner with Tiffany and her husband. It was such a great experience to have a home cooked meal and hear about Vietnam from their perspective. Tiffany and her husband were gracious hosts and their home is so warm and inviting with lots of charm and personality. We loved the food Tiffany prepared and probably wouldn't be able to find these dishes on our own. We enjoyed the conversation about culture, travel, and food/cooking. Tiffany even gave us some tips and recommendations for the next city we were traveling to. It was a wonderful evening and I'm so glad we made time for this unique experience that most people don't get to have when they travel.
Personalized experience with Tiffany
Many thank's for the very good dinner and for the discussion about lot's of points of interest.
Best wishes Ludger and Philipp from Germany
Personalized experience with Tiffany
Tiffany was great! What a super nice, very interesting, tremendously helpful host and wonderful lady! The food was yummy and we were stuffed when we were gone (and tried food we never had before). She and her husband have a ton of hobbies, and we learned everything from art to photography to - our favorite - the local music scene. After dinner, she and her husband graciously invited us to watch him and other local musicians perform (he is phenomenal), and we enjoyed hanging out with them so much, we went out with them afterwards to check out the local nightlife scene. Tiffany is now added on my Facebook and I hope to stay in touch with her - what a cool lady!
Special Vietnamese Dinner
We had a lovely time with tiffany and her husband, the food was delicious and then and their kittens were gracious hosts! Even when we couldn't make it last minute as we unfortunately we' weree robbed tiffany came and made sure we were okay and alongside withlocals they reorganised for us to go to tiffany s another night. Some of the best food in Vietnam!
Special Vietnamese Dinner
My husband and I had a wonderful time with Tiffany and her husband. She is a gifted cook with a passion to meet new people. We had a five course meal and dessert. Everything was prepared immaculately. Definitely one of the best meals we had in HCMC!
Special Vietnamese Dinner
I am glad this is my first stop in HCMC. Tiffany was very hospitable & besides the mouth-watering food, the company of 5 cats & 1 dog made it memorable. Beautiful kitchen & dining room. All in all, this is highly recommended!
Personalized experience with Tiffany
Happy Birthday Tiffany! 5 of us had a lovely lunch with Tiffany and his husband. She was very patient in setting up the lunch and made it 10am to accommodate our itinerary.

Once we arrived, she welcomed us with a very genuine smile. The house is very cozy and cutely decorated, almost like a hipster home in San Francisco.

The meal was perfect, especially the spring rolls, beef and the preserved raw pork , which my friend liked it so much that he decided to call it "meat candy." Tiffany brought out more dishes and even shared her birthday cake! And we sang the happy birthday song in 4 different languages for her. We talked about life in HCMC. Lots of laughter and very relaxing lunch.
Personalized experience with Tiffany
Our family of 7 (my adult siblings, husband, sister-in-law and my parents) booked a lunch with Tiffany and her husband, Anh, on our first day in Ho Chi Minh City. We were supposed to meet with Tiffany for grocery shopping at Tan Dinh Market, but because our flight arrived at around 3am, we weren't able to wake up in time. We just took a taxi to their house, but since the taxi driver didn't understand our directions, we ended up being dropped off at Tan Dinh Market. Tiffany was very helpful in giving us detailed directions on how to walk to their house.

When we arrived, their home was indeed cluttered (the floor and almost any available space) with the ceramics that they sell online, but this made their home more interesting; and with the tasteful decoration with rustic elements and furniture (most of which Anh made) and lighting, we instantly felt welcome.

While Tiffany was cooking, Anh set aside some of the ceramics to make space for a table that he made from scratch just that morning. We were so amazed, because he made the table while we there, and he was able to complete it in only 30 minutes with the help of their neighbor. WOW.

Also, while Tiffany was cooking, we didn't feel at all bored or restless because all the ceramic pieces were very interesting, and we had a fun time taking pictures. Also, they have two cats and a dog, Kitty (funny name!), who kept us occupied.

We also went to the kitchen to see if there was anything we can help Tiffany with, but she said that she was doing fine, so we just had a lively conversation with her while she was cooking, and learned more about them and about Vietnam.

Once the lunch was cooked and served, Anh joined us and we all had a great time talking about various subjects including the delicious food and how they were prepared. We also learned how to toast in Vietnamese, m?t hai ba yoooooo! :) (Hope I got it right).

After lunch, we left their lovely home with high spirits which, I believe (as I told Tiffany also), set the tone for our whole Vietnam trip. We had so much fun, and within only our four days in Ho Chi Minh City, we have already come to love Vietnam and its people. We can't wait to come back!

Our lunch with Tiffany and her husband was not only a simple activity on WithLocals - we had lunch expecting only a taste of home-cooked Vietnamese food, but instead, we left with full stomachs, warm hearts, and with new friends. :) Thank you Tiffany and Anh! We can't wait to see you again, whether it's in Vietnam or the Philippines! :)
Special Vietnamese Dinner
We had a nice time chatting with another couple that was invited for lunch but Tiffany seemed mostly busy and haven't had much time to spend with us but on the end she had few minutes to give us useful tips. The place is really cute but clutter(I think so they were rearranging some stuff there) and I almost broke quite a few valuable porcelain pieces. The food was good but I expected more diversity. I think so we passed buy on busy day but still had a good time.
Personalized experience with Tiffany
Tiffany was an excellent host for the evening. We enjoyed fresh spring rolls and some very tasty noodles before heading out for hot pot at a local eatery. Great way to learn a bit more about life in such a crazy city.
Special Vietnamese Dinner
Personalized experience with Tiffany
Spending the day with Tiffany was one of the best experiences that I've had within my six months of travel. Not only are Tiffany and her husband incredibly warm, creative and interesting people to spend time with, they are both so passionate about sharing their knowledge of Vietnamese cuisine and culture. Having the opportunity to spend time with, and understand the culture with locals is 100% better than any tourist activity or tour that you could find.
Tiffany really took the time to understand the kind of experience I wanted, which was to learn as much as I could about Vietnamese cuisine. In the morning, we went to the local markets to purchase the ingredients for the days cooking. We also spent some time walking around the markets, and Tiffany showed and taught me about all of the different ingredients and produce in sight. She was extremely knowledgeable, even explaining the history of the different varieties of noodles used in Vietnam.
The food that Tiffany cooked was nothing less than incredible and it was so refreshing to try some truly Vietnamese cuisine. Tiffany took the time to explain to me how to prepare and cook each dish so that I can recreate the dishes for my family and friends when I return home.

Tiffany's apartment is one of the most creative, beautiful and interesting living spaces I have ever seen. All of the furniture has been built by Anh and the spaces are filled with beautiful ceramics from Japan that they sell from their home.

You can visit museums and zoo's anywhere in the word, but if you want to really TRAVEL and experience real Vietnamese culture and cuisine there is no better way than sharing the day and not to mention incredible food with Tiffany!
Special Vietnamese Dinner
Had a great time and eats. Recommend to anyone. Got some good information about where to eat in Saigon.
Special Vietnamese Dinner
We had a truly great time with Tiffany and Anh. They are such kind and wonderful hosts. We joined them for an early morning trip to the market and then helped them make lunch. Our son loved playing with their 3 adorable pets, especially "Kitty" the dog. We'd recommend the experience to anyone looking for a tasty home-cooked meal in Saigon or just looking for some friendly company during your travels. Absolutely worth the very reasonable cost.
Special Vietnamese Dinner
it was a great experience dining with Tiffany and meeting her mom. and of course her dog and cat sharing the show with my little boy.
Special Vietnamese Dinner
Tiffany was an amazing host, very welcoming and friendly and easy to talk to. The food was delicious! Such a lovely array of food - we loved every dish! Thank you for such a lovely evening.
Special Vietnamese Dinner
It was a great experience!! Tiffany´s house was full of people around the four of us buying ceramics, it was like to be in an alternative and original space more than in a house. It was such amazing night and Tiffany´s food was excellent!! I truly recommend the experience!!
Special Vietnamese Dinner
I can guarantee that Tiffany and Anh will provide you with both a lovely meal and terrific company. They are a very warm and interesting couple and are keen to share their unique home. The food was absolutely delicious and it was great to see Anh and Tiffany work together to prepare the meal.
Special Vietnamese Dinner
We had an amazing dinner with Tiffany at their lovely house. The food was very delicious and I enjoyed playing with her adorable cats and dog.
Special Vietnamese Dinner
Tiffany and Anh are fantastic! They are incredibly warm and loving people with whom if you share a dinner or lunch, you cannot resist becoming friends forever. I had so much fun with them at their cute place along with their adorable pets. The food was AMAZING and the best part was letting me help Tiffany with the cooking. I love doing it and in turn learnt a thing or two about Vietnamese cooking too :-) Over 4 hours I have come to love them both so much for their personality and their artistic spirits. I am so thankful to Withlocals for giving me an opportunity to meet such nice people.
Special Vietnamese Dinner
Amazing lunch with Tiffany and husband, Anh! Lovely home and the food was just delicious!
Special Vietnamese Dinner
It was really a well-prepared and tasty 3 dishes - Vietnamese lunch with pork, beef, shrimp and tropical vegetables.
Host is a young lovely nice girl who is skillful with her cooking. She seemed to shine in her own small kitchen set up by her husband. It was quite special to know that every single piece of furniture in the house was made and painted by her talented husband.
I very much love their living space. It is a stylish colorful warm house which is also a small shop where they display hundreds of imported pottery and crystals items. And because of that, their set of bowls and dishes used for the lunch were special as well.
I believe a lunch or dinner with this friendly couple will bring travelers much more than the foods. They can share you lots of interesting things, especially when her husband was the runner-up of Vietnam Idol 1st season 2007. How cool it is!