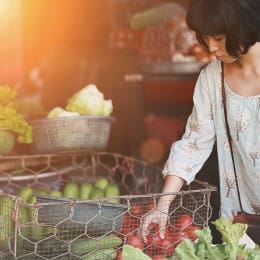 About Tiffany
Location:

Ho Chi Minh City

Languages:

English

Response time:

less than 10 hours
We are a couple who loves to share Vietnamese food experiences with people from over the sea.

Visit our home, you'll be served a Vietnamese traditional lunch or dinner set menu including 5 dishes (steamed rice, pork/ fish/ chicken cooked with sauce, sauteed vegetables, Vietnamese fish and dill soup, lotus sweet soup) or more (according to your special requests).
Read reviews
(44)
Tiffany offers:
100% personalized local things to do & food experiences
Guest reviews about Tiffany
Awesome tour
Tiffany und Ihr Ehemann haben uns einen sehr schönen Abend in Ho Chi Minh City beschert. Interessante Einblicke in die Esskultur Vietnams, die Lieblingsgerichte der Locals, und Antworten auf all unsere Fragen zu Kultur, Land und Leute haben wir erhalten.
Nach dem Essen stand ein Konzert mit Live Music in einem Club mit vielen weiteren Locals an - sehr interessante Erfahrung, eines der Highlights unseres Vietnam Aufenthalts. Nach dem Konzert klang der Abend bei Seafood und einem weiteren Bier aus.
Tour und Gastgeber sind sehr zu empfehlen - die beiden sind sehr aufgeschlossene, authentisch herzliche Menschen. Cám ơn Tiffany :)
May 15, 2017
Absolutely amazing experience
Tiffany and her husband gave my wife and I the experience of a lifetime. We went to locals only restaurants and ate some of the most unique, delicious dishes we've ever had. We also visited a bar/club to see some local music acts. Lastly, we ended the night with street food and cocktails.

I can't recommend Tiffany enough. Her hospitality was superb and we learned a ton about Vietnamese culture. If you're looking for an incredible, once in a lifetime experience with a knowledgeable local, look no further.

Thank you!!
April 20, 2017
Special Vietnamese Dinner
Wonderful hosts! Very kind and we had a lovely time :)
December 1, 2016
What a Fab & Brilliant Night
Wow
What started out as just eating an amazing meal - trying chicken feet and chicken gizzards - which where all good
(not 100% on the feet - but can say I have tried it) the food kept coming and it was brilliant tasty and just yummy.

Tiffany and her Husband were great hosts - and very interesting - they have really cool jobs and gave a great insight life in Saigon.

Then off the the Cuckoos Nest for some local culture - a kind of open mike night - with a local superstar ;-)

Great Night - worth twice the price - would recommend to everyone who visits Ho Chi Minh as a must do

Thanks Tiffany
James & Jenny
November 21, 2016
Special Vietnamese Dinner
I bought the experience for my partner and her mother as a birthday gift and they completely LOVED it. Many thanks to Tiffany and her brilliant husband for their hospitality and such a great time!!
July 26, 2016