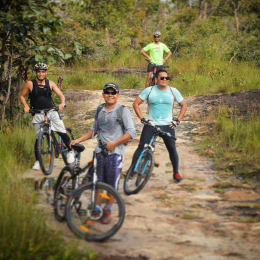 Your private guide:
Ngoun
About Ngoun
Location:

Krong Siem Reap

Languages:

English

Response time:

less than 8 hours
People call me Lux. (Lux Soap)

My family name is Ngoun Sominea, I am generally a Professional local Tour Guide and the founder of AngkorTouchStone Private Day Tours. I have been arranging tours since 2007, as I came originally from Phnom Pehn the Capital city in 2003.

According to my 10 years working as a tour guide and tour organizer I have found doing this job is fun, Wipe out at the same time!, apart from that I like to share my local history, culture, tradition, religions.
Being a tour guide is not easy job, but what make me curious about this job is to provide good service and good personality of being responsible as well as taking care of the tourists I tour, in another words I am doing my best to offer what Cambodia has to satisfy the clients needs. lots of people asking why i call my self best professional local Tour guide? lots to answer!, i never say I don't know to any questions, it easy because when i get stuck i will make one up!!!! Just Kidding.


When it comes to the question why I would be a great tour guide and great trip organizer? I would say: honest, reliable, hard work, potential, caring, experience, great personality, and super friendly and knowledgeable.

Being on time is one of the reason why great tour guides has and I always be on time with well prepare tour plan.

After working for the tour guide service since 2007 I am confident to give great organizing tour and sure to make the tour unforgettable as I have been recommended on Trip Adviser, Lonely Planet, I believe people who are visiting Cambodia are interested in historical, Cultural, food, people and other types of their interests but what I am sure about is they really want to experience something different and absolutely unforgettable places with a spectacular view,that what make me understand well about what they like as I could offer to them.
Read reviews
(9)
Ngoun offers:
100% personalized local things to do & food experiences
Guest reviews about Ngoun
Day trip to see Water falls at Kulen Mountain
no comment
April 19, 2017
See Most of the major Temples Day Tour With Tuk Tuk.
no comment
April 18, 2017
Day trip to see Water falls at Kulen Mountain
Hello Ngoun,

This trip was one of the highlights of our trip to Siem Reap, thanks for your information about the country and people as well as the great experiences around Phnom Kulen

Best regards
Werner, Elisabeth and Regine
March 31, 2017
See Most of the major Temples Day Tour With Tuk Tuk.
Hello Ngoun,

Thank you very much for this day with your TukTuk driver, which as you already announced has been very flexible and has completely responded to our wishes.
We can only highly recommend this

Best regards
Werner, Elisabeth and Regine
March 31, 2017
See Most of the major Temples Day Tour With Tuk Tuk.
We booked our local experience almost one month prior. We asked for a personalized tour as we were 4 people instead of 3. We were never been in Cambodia before and we were pretty excited to visit Angkor at sunrise, which is why we explicity asked for it. We have been asked for an extra 40$ for the extra person and the sunrise experience, and we thought it was worth is since we were expecting a tour with a local expert, hearing for local traditions, off the beaten paths roads and so on. However, once in Siem Reap, we've never met Ngoun. We contacted him night before asking for confimartion and tickets - we thought it wasn't easy to buy them at 5am. The morning after, against every expectation, He sent at our hotel two guys who didn't talk a word of english, who just drove us from one temple to the other as taxi drivers and didn't have tickets of course, so as we thought once at the ticket box office we have been in line for more than 30minutes and lost the best moment of the sunshine. Angkor is amazing, anyway. The visit is worth even with no local guides, and tuk tuk is pretty useful and two guys Im sure did their best but it's not worth 45$ - that's too much!! you can find drivers for 12/15$ for all day long. Hope there will be a second time and this will help Ngoun to do better.
Kindest regards
January 3, 2017
Day trip to see Water falls at Kulen Mountain
Ngoun took us on a tour to kulen mountain. The tour was really nice, he told us lots of stories and showed us many beautiful things. His language is very good, what makes it easy and learnfull. I would recommend Ngoun highly, he made a positive difference to the experience.
December 6, 2016
Personalized experience with Ngoun
We arranged our day tour with Lux prior to arriving in Cambodia and everything ran very smoothly and exactly as arranged.
Our guide and driver were waiting for us at 5.00am at our hotel.
The car was almost brand new and extremely comfortable - the air conditioning was very much appreciated in the Cambodian heat!
Our guide was very informative and spoke excellent English. He was also able to offer some good photographic spots for photos.
We could thoroughly recommend Lux. If you are looking for a custom-made tour he is only too happy to assist.
See Most of the major Temples Day Tour With Tuk Tuk.
Mr Phanna, was punctual, friendly, reliable and spoke a little English, but enough to get by and provide basic information. We were kept well stocked of water all day .
A nice surprise on the tour was visiting Banteay srei temple. This was an hours journey in the tuk tuk, which was relaxing and nice to see the Cambodian countryside and living, we would never have visited this temple if it had not been for Mr Phanna. Well worth the visit - beautiful.
However I had expected a little more information about the temples from his tour. However we had a lovely day with Phanna
Day trip to see Water falls at Kulen Mountain
It was great to get to meet Mr. Ngoun Sominea, he is a very friendly man and he is the his owner of this tour which he runs with his uncle Mr Phanna and his tour is based in Siem Reap Province Cambodia. His tour provides many great options.
Mr. Ngou Sominea is an awesome tour leader and very well organized! His assistant Mr Phanna took me for a day trip to the temples by tuk tuk, a must for all visitors, such a great way to get around! Mr Phanna's priority was showing me the best of the best temples and for a special experience he tried to make sure that there was minimal tourists around. This made the experience even more special because you feel like you are alone in this magical place.
The temples is a must in Siem Reap – and I would recommend Mr Phanna to be your guide and driver for this wonderful experience.