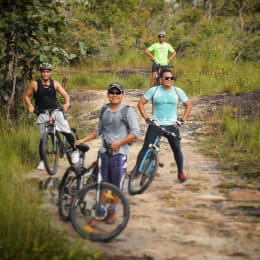 Your private guide:
Ngoun
About Ngoun
Location:

Krong Siem Reap

Languages:

English

Response time:

less than 7 hours
People call me Lux. (Lux Soap)

My family name is Ngoun Sominea, I am generally a Professional local Tour Guide and the founder of AngkorTouchStone Private Day Tours. I have been arranging tours since 2007, as I came originally from Phnom Pehn the Capital city in 2003.

According to my 10 years working as a tour guide and tour organizer I have found doing this job is fun, Wipe out at the same time!, apart from that I like to share my local history, culture, tradition, religions.
Being a tour guide is not easy job, but what make me curious about this job is to provide good service and good personality of being responsible as well as taking care of the tourists I tour, in another words I am doing my best to offer what Cambodia has to satisfy the clients needs. lots of people asking why i call my self best professional local Tour guide? lots to answer!, i never say I don't know to any questions, it easy because when i get stuck i will make one up!!!! Just Kidding.


When it comes to the question why I would be a great tour guide and great trip organizer? I would say: honest, reliable, hard work, potential, caring, experience, great personality, and super friendly and knowledgeable.

Being on time is one of the reason why great tour guides has and I always be on time with well prepare tour plan.

After working for the tour guide service since 2007 I am confident to give great organizing tour and sure to make the tour unforgettable as I have been recommended on Trip Adviser, Lonely Planet, I believe people who are visiting Cambodia are interested in historical, Cultural, food, people and other types of their interests but what I am sure about is they really want to experience something different and absolutely unforgettable places with a spectacular view,that what make me understand well about what they like as I could offer to them.
Read reviews
(29)
Ngoun offers:
100% personalized local things to do & food experiences
Guest reviews about Ngoun