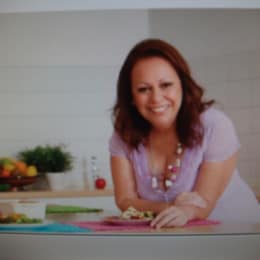 About Melina
Location:

Athens

Languages:

English, Ελληνικά

Response time:

less than 5 hours
I've been using food as a pleasure, as a health tool, as a business and as a family tradition for many years. I'm a published author and I used to be part of a TV show about healthy food habits for 4 years, so I can honestly say that food has changed my life.

My family is originally from minor Asia and Italy-Greece (12 islands - Rhodes -Symi) and this gave me plenty of knowledge and influence for my cooking. I like to create light recipes and balanced meals as a daily menu for my family and friends.

I love good quality products and I use lots of local herbs and spices, hand picked from the island of Symi and the Attica mountains. I'm a specialist for gourmet vegetarian dishes, cooked with local organic products.

I'd love to give you a taste of the unique Greek hospitality and share with you stories about the origin of Greek cuisine recipes. Check out my cooking class and dinner experience and let's enjoy a great meal together!
Read reviews
(237)
Melina offers:
100% personalized local things to do & food experiences
Guest reviews about Melina