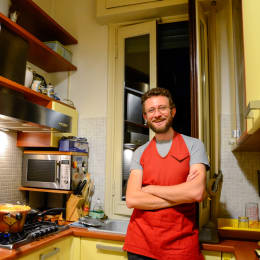 About Marco
Location:

Milan

Languages:

English, français, italiano

Response time:

less than 7 hours
I was born in small village on the mountains, and I try everyday to bring some magic to the big town.
Read reviews
(7)
Marco offers:
100% personalized local things to do & food experiences
Guest reviews about Marco
Marco, thanks a million for our supper!
It was an unforgettable evening. Thank you a lot Mark and Alessandro for the evening and hospitality. We talked a lot, laughed and had a very friendly atmosphere. Very tasty food, drinks and dessert. Marco cooked the polenta, which was 10 times better than we tried in Venice. The beef was delicious. Marco and Alessandro, we are waiting for you in Saratov :)
May 17, 2017
HIGHLY Recommend
We had dinner at Marco's on our last night in Italy and it was the perfect ending to our trip. The food was delicious and I really appreciated that he accommodated my, what I'm sure is annoying, food restriction so that I didn't feel like I missed out on anything. The conversation with him and his girlfriend, Alessandra, was a huge highlight. And of course, the wine and drink pairings were wonderful!
March 30, 2017
Very good and nice diner
We all had a nice time. Good company and good food. Can it get any better? No.
February 23, 2017
Best time of my trip
Marco: You're trully an artist! Thanks for your generosity to prepare such a wonderful meal and to having us in your house. My friends and I had an amazing night. We hope to see you in Peru!

Katherine
November 30, 2016
Discover the Taste of North Italy
I had a very exiting evening with Marco and Martha. First of all we never run out of interesting points to discuss: italian food, a little bit of football, politics, Milano ... It was really a pleasure to talk to them, especially for a single traveller.
But not to forget the food: I had a delicious menu made by Marco and Martha. We started with a polenta and a porcini-surprise in it, went on with a brilliant Osso bucco accompanied by a risotto milanese and ended with an almond cake (Martha can you please tell me the name again). All that accompanied by some good wines. Being again in Milano, I would never choose another kitchen.
November 8, 2016