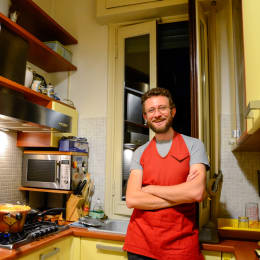 About Marco
Location:

Milan

Languages:

English, français, italiano

Response time:

less than 7 hours
I was born in small village on the mountains, and I try everyday to bring some magic to the big town.
Read reviews
(6)
Marco offers:
100% personalized local things to do & food experiences
Guest reviews about Marco
Discover the Taste of North Italy
We all had a nice time. Good company and good food. Can it get any better? No.
February 23, 2017
Discover the Taste of North Italy
Marco: You're trully an artist! Thanks for your generosity to prepare such a wonderful meal and to having us in your house. My friends and I had an amazing night. We hope to see you in Peru!

Katherine
November 30, 2016
Discover the Taste of North Italy
I had a very exiting evening with Marco and Martha. First of all we never run out of interesting points to discuss: italian food, a little bit of football, politics, Milano ... It was really a pleasure to talk to them, especially for a single traveller.
But not to forget the food: I had a delicious menu made by Marco and Martha. We started with a polenta and a porcini-surprise in it, went on with a brilliant Osso bucco accompanied by a risotto milanese and ended with an almond cake (Martha can you please tell me the name again). All that accompanied by some good wines. Being again in Milano, I would never choose another kitchen.
November 8, 2016
Discover the Taste of North Italy
Marco and his girlfriend were amazing company for our first night in Milan. When we arrived at their apartment (which Marco kindly sent us directions for), all the food was prepared and ready to be feasted upon. Through the night, they were both very hospitable, friendly, accommodating and great hosts. We had a lot of fun and the food was delicious, especially the polenta :) Thanks for a wonderful time!
May 24, 2016
Discover the Taste of North Italy
MARCO was absolutely FANTABULOUS! A GREAT HOST. He's an intelligent, interesting and intriguing person. (Self taught himself English!).

He very warmly and graciously welcomed us into his home. Moments after arriving we had a glass of chilled prosecco in our hands. The table was set with a platter of artisanal speck. Perhaps the best speck I have ever tried in my life. From there we had a number of Northern Italian dishes: pizzoccheri, sausage, fondue of fontina cheese, wild mushrooms, panettone. Everything was incredibly delicious. The polenta was also one of the best polenta I've had in my life, cooked for an hour in a copper pan as tradition would require.

I'm writing this comment the morning after the meal, and I am still stuffed, in the best possible way. It's wasn't just the quantity of food that we ate, but also the passion and knowledge that Marco puts into the meal. He puts effort into sourcing great ingredients from small producers.

Thumbs up also to Marco's girlfriend that joined us for dinner. She's engaging, lively, and fun. The interaction between them was just another plus to the dinner.

Final note, the couple smokes. Since they are well mannered people they do ask their guests if it's okay before doing so. It didn't bother me one bit.

As I think you all can guess, we had a great time. I would love definitely recommend it to anyone who wants to explore northern Italian cuisine in the comfort of someone's home.
Discover the Taste of North Italy
The dinner at Marco's place was great. He cooked a delicious a traditional plate from the north of Italy! The menu was very unexpected but it was so good. Marco is a passionate cook and you can feel it since the moment you arrive to his home, he prepared a very tasty polenta with a mushrooms salad, faraona (guinea fowl) and a very special speck :), just amazing. We shared a lot of stories and I had a great time with them, Recommended 100%