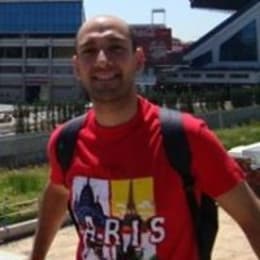 About Luis
Location:

Porto

Languages:

English, español

Response time:

less than 4 hours
I LOVE my city: Porto.
I'm so happy to live here where I can eat, surf, sing, dance and be with so wouderfull persons like the "tripeiros".
Come and meet us
Read reviews
(16)
Luis offers:
100% personalized local things to do & food experiences
Things to Do & Things to Eat by Luis
Guest reviews about Luis
Luis was great and very knowledgable
Luis was a great guide and we had a lot of fun drinking and eating with him. We walked through some interesting neighborhoods and stuffed ourselves with amazing Portuguese food
May 19, 2017
Culinary tour of Porto
Louis was fantastic. Knowledgeable, friendly, accommodating and has a fantastic way of customizing the experience for the group. I would highly recommend him
May 10, 2017
The best decision we made on our trip!
We're so glad we booked this tour! Luis was informative, fun, and super accommodating (we had a vegetarian in our group, which we thought was going to be a challenge, but Luis was awesome and found plenty of options). He took us to places we wouldn't have discovered on our own and was a true host to us for the evening. I think it was the best decision we made during our trip to Porto. Thanks Luis! :)
May 9, 2017
Passionate Porto Food Tour
My experience with Luis was fabulous! Not only was the food and restaurants/cafes he chose amazing, his knowledge of Porto, it's food and history was extremely fascinating! An evening with Luis as your guide is a must for anyone in Porto! Thank you for a great experience of Porto Luis i would definitely book again if i make it back to Porto!
April 19, 2017
Excellent Passionate Porto Food Tour
We were a group of 7 and we enjoyed the Passionate Porto Food Tour very much. Not least because of Luis, who was an excellent guide, -including issues concerning Porto and Portugal!
Luis found small, great, cozy bars and restaurants, where we had wonderful food and wine experiences!
We went behind the "tourist-places" - and returned to some of them, later on our vacation.
The photos Luis send us afterwards, reminds us about a wonderful night!
Obrigada Luis!
April 17, 2017