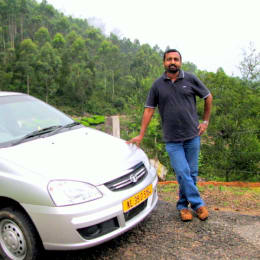 Your private guide:
Kiran
About Kiran
Location:

Mumbai

Languages:

English, Hindi

Response time:

less than 3 hours
I am an Ex. Bank employee with a Diploma in commerce and also a degree in commerce and law, with professional banking qualification (CAIIB) Mumbai. Staying in Mumbai for the last 40 years with my home town in Kerala. I quit my job solely to pursue my jest for travelling and painting. I used to go for cross country cycling in India and recently traveled to Kerala on a Motorcycle Rally covering 2500 KM.
For the last 35 years I have travelled length and breadth of my country India, having specialized knowledge of what to see, where to see, when to see and how to see. I covered almost all states in India eg. Maharashtra, Kerala, Karnataka, Goa , Tamilnadu, Pondicherry, Andaman, Uttranchal, Rajasthan, Gujarat, Himichal Pradesh, West Bengal, Sikkim, Meghalaya, Orissa and Madhya Pradesh.
I can offer tours to historical places, Temples, Palaces, Beaches, wildlife sanctuary, trekking, cycling, home stay and get to know the local culture, food and dance.
To feel the pulse of the region one should know the language of the place and I am comfortable with English, Hindi, Marathi, Gujarati and also have a working knowledge of Konkani, Malayalam and Bengali. By joining the Tour a small amount of your contribution goes to Orphan Street Children, Old Age Home, Food for Hungry, Education of Children, Health related problems and such other needs.
Read reviews
(49)
Kiran offers:
100% personalized local things to do & food experiences
Guest reviews about Kiran