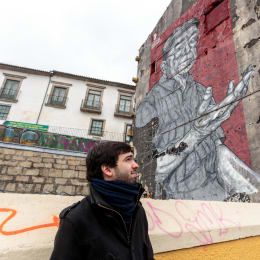 About Joao
Location:

porto

Languages:

English, português

Response time:

less than 6 hours
I am a Art History student, with a passion for Street Art, music, and Art Books. Born and raised in Porto, it's a city I love with all my strength.
Read reviews
(27)
Joao offers:
100% personalized local things to do & food experiences
Guest reviews about Joao
Cool Street Art Tour in Porto
I had a great Saturday morning stroll through the streets of Porto with Joao, looking at all the different styles of street art. Joao isn't just a great guide he's top bloke and incredibly knowledgeable about street art. It was a great way to see the city (Porto is wonderful by the way) and i totally recommend this a part of your trip.
March 23, 2017
Cool Street Art Tour in Porto
Really interesting tour about the street art and grafitti in Porto a chance to learn about a different side of a City. Joao was an enthusiatic, friendly and well informed guide. Highly recommend.
March 22, 2017
Cool Street Art Tour in Porto
Our host Joao was very friendly and hands on with his approach. He really got to know the people on his tour and made them feel special. Great tour! Would do again.
March 18, 2017
Cool Street Art Tour in Porto
The tour was super fun and we even got to make our own sticker art. 10/10. would recommend.
March 13, 2017
Cool Street Art Tour in Porto
The tour with João was not only very interesting, but also a lot of fun. João has firsthand knowledge of street art in all its forms and he shared with me amazing insider information about the artists and their backgrounds. He also knows all the shortcuts and the side streets of the city center, thus making for a truly local, off-the-beaten-track experience. João is an outstanding guide, and great company too. Plus, his excellent English made communication easy and pleasant. Highly recommended.
February 13, 2017
Cool Street Art Tour in Porto
We asked Joao to give an art tour in Porto for our group of 35 students. It was really nice to see Porto from an other point of view. We found out that we were both interested in stickers! Joao was very enthusiastic and did all his best to let us have a great time.
February 7, 2017
Personalized experience with Joao
I booked a single person tour and Joao was a great travel partner and tour guide. A good sense of humor, timely, professional, and asking good questions do help me make the most of my time. Joao taught me about local cuisine and their bomb sandwiches, Super Bock beer and was willing to log about ten kilometers of walking! I highly recommend Joao! Thanks.
February 4, 2017
Personalized experience with Joao
Joao dedicated his life to art and knows many of the graffiti- and street artists in Porto personally. He did not only show me around the most beautiful parts of Porto but gave me a little lesson in art, Portuguese history, graffiti and street art techniques as well. On top of that he is just a really cool guy to explore the city with. Every little piece of art has a story and Joao knows pretty much all of them.
I don't think you could find anyone fit better to show you around and tell those stories of the city.
January 9, 2017
Cool Street Art Tour in Porto
no comment
January 4, 2017
Cool Street Art Tour in Porto
Joao is a guy who grown up in Porto and was a witness of a Porto street art raise that seems to me a good and reliable source of the knowledge. Additionally, he is a nice person willing to answer to all the bothering questions and gives you a general and solid street art knowledge base. For sure that tour was really helpful for writing my thesis about street art.
December 11, 2016
Cool Street Art Tour in Porto
The Tour was Great, and João a very, very good Guide. A lot of informations, interesting Spots. 10/10
December 1, 2016
Cool Street Art Tour in Porto
What an interesting way to spend time with Joao. He is very passionate about his love for street art. Joao took us on a walk about Porto showing us and explaining to us about who and where the art can be found. We know have a better understanding for the artist that do this and how others put their mark on the city also. I would highly recommend this trip with Joao to anyone wanting to find the hidden art marks that Porto has. Keep that passion alive Joao.
October 29, 2016
Cool Street Art Tour in Porto
Joao gave us a very detailed and authentic tour about the street art movement in Porto. He knows his stuff and is very passionate about it, thus making him the perfect guide for this tour! After the tour I saw the city with totally different eyes. Thank you very much for the experience, highly recommended!
October 19, 2016
Cool Street Art Tour in Porto
João is a super-friendly, easy going street art enthusiast who really knows what he's talking about.

He seems to know every piece of street art in Porto. And even better: he knows the artists, and the stories behind their work. We've learned how street art came to be so big & diverse in Porto, discovered some amazing pieces of art, learned about sticker art (this was really eye opening to us).

João even tought us a bit about street art history - in a completely non-boring, entertaining way.

We can truly recommend going on a tour with him.
October 17, 2016
Cool Street Art Tour in Porto
Joao totally knows what he is talking about, we learned and saw so much interesting stuff and had a great time! Obrigada!!
September 16, 2016
Cool Street Art Tour in Porto
João was a fantastic tour guide. He's got a real passion for streetart and shared some really cool 'behind the scenes' insights on local taggers and grafitti artists. I'll def. be recommending a tour to my friends who are visiting OPO. Thanks João you're tha best!
September 4, 2016
Cool Street Art Tour in Porto
Very kind guide who has a profound interest in street art and sticker art. He knows the artists and that pays off. Very lovely your!
September 3, 2016
Cool Street Art Tour in Porto
This Tour was verry cool and we see the beautifull streetart in Porto! Jahao was a Nice host with a great passion! We Will highly recommend this Tour with Jahao when you travel to porto! Thanks for this great experience!!
August 19, 2016
Cool Street Art Tour in Porto
We had a really good time with João. Very interesting and interactive tour. Highly recommended.
August 10, 2016
Cool Street Art Tour in Porto
It was a great Tour! João knows almost everything about streetart in Porto. It is his passion in life.

We would strongly recommend the tour!!

Afterwards the city looks different..
August 3, 2016
Cool Street Art Tour in Porto
Joao was great. He showed us tons of great street art, helped us take a bunch of photos, and even gave us a little tour of Porto when we asked. Many thanks! had such a great time!
June 28, 2016
Personalized experience with Joao
We made a street art tour with João on May 21st and is was amazing. João prepared the tour with a lot of funny details (personalized sticker, painting possibilities, etc) and answered all our questions. We were a big group and we had a lot of fun. Thank you very much João
May 23, 2016
Cool Street Art Tour in Porto
Joao knows A LOT about street art in Porto. After the tour you'll have a different/new view on the lovely city!
Cool Street Art Tour in Porto
We really enjoyed it! It was a fantastic experience overall and we will certainly look at street art in a very different way! Thank you!
Cool Street Art Tour in Porto
It was surprising to get to know my city and it's street art through João's point of view, and we even got to discover some picturesque alleys that were hidden right in the heart of Porto, a few steps away from places that we know since kids, but we never got the chance to really "get lost" in our own town – so if you're interested in the graffiti culture this is definitively a good way to get to know Porto and look at the little details, that otherwise might have have been missed!
By the way, you get the chance to, during the tour, do some street art yourself, using some blank stickers provided by João, and leave your mark around in this city.
And its not only about walls, its about art being everywhere! We even got to spot some trains in the end :)
Thanks!
Personalized experience with Joao
A couple of friends of mine are going away for a few months, we are a small but tight group so we decided to spend a day together before they went away.
The day before we where supposed to meet I saw this tour on facebook. And as a last minute thing I sent the group a message proposing we should go. After a long time of not saying anything they responded(... finally), we are all locals and it was a way of getting to know a part of the city we didn't really know, they liked the idea so i booked it.
A couple of minutes later Jõao Kendal responded and we decided a time and place where we should meet.
Next day comes along and the group gathered for some coffee/chat before the tour, and once the time came, it passed and we got there 20 minutes late (sorry).
Once we got there the tour stared and... Have you ever passed by the same place time and time again, and one day you notice something new... that's always been there? Well that was my reaction to the whole experience.
A whole new world was there, in my own city, and i had barely noticed it.
So if you want to know the place better than most locals, than this is a nice and easy way to do it.
Cool Street Art Tour in Porto
João is a street artist himself and is also studying Art History. He'll will give you a tour of some of the most interesting street art pieces in the city and he will talk a little about the artist and techniques involved in each artwork. He knows some of the artists personally and has an intrinsic knowledge of the city and it's communion with local and international artists. It's a fun and interesting tour, you will get to know the city in a different way and have a great time in this beautiful city.