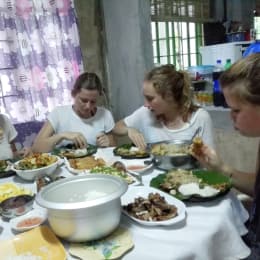 Your home chef:
Carlene Mae
About Carlene Mae
Location:

Santo Tomas

Languages:

English

Response time:

less than an hour
Cooking is what we love. Providing food on the table and seeing people liked the dish that we made is what we love the most. If you have any questions or food preferences, please let me know and we can cook a perfect meal for you!
Read reviews
(2)
Carlene Mae offers:
100% personalized local things to do & food experiences
Things to Eat by Carlene Mae
Guest reviews about Carlene Mae
A customized trip with Carlene Mae
Carlene Mae is a lovely woman and with the help of her mom she cooked the best philipino food. I really enjoyed spend my evening there.
September 15, 2016
Get Your Hands Dirty, Eat Like a Filipino!
Certified the best food in Batangas prepared by Carlene and her very amusing mom who both love to cook and share their delicious meals to everyone!

Not only will you able to try out the best home-cooked Beef Bulalo in town and other distinct Batangueno food, but you'll also get accustomed to the unique Filipino way of eating without using utensils. This, plus the ever-comic mom, the very enthusiastic Carlene and the laughs and jokes around make the whole experience really an awesome one!

To wrap it up, you get to take home self-picked mangoes from their very own backyard! You don't wanna miss this awesome experience, especially when travelling southbound!