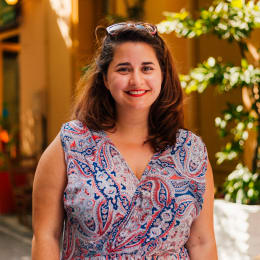 Your private guide:
Irini
About Irini
Location:

Athens

Languages:

English, Français, Ελληνικά, Italiano, Русский

Response time:

less than 18 hours
I am super passionate about travelling , exploring new things, cultures, people, mentalities & everything else in between. Having a plan is important, but the real beauty can be found mostly when you wander.

Since, I can't travel in other cities or countries everyday, I try to be a traveler and a wanderer in my own city and make my everyday life more exciting. Spreading this idea is something that I love! Interacting with many different people definitely keeps me full!

Check out my experiences and live a day like an Athenian!
Read reviews
(102)
Irini offers:
100% personalized local things to do & food experiences
Things to Do & Things to Eat by Irini
Guest reviews about Irini