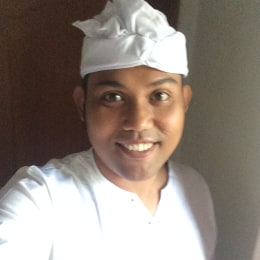 About Gede
Location:

Denpasar

Languages:

English

Response time:

less than 7 hours
Hi everyone, my name is Gede Aryadi. i was born and raised in Bali. I have passion in traveling and I'd like to share the experiences to you. Unlike any other, I do like searching a new way to enjoy Bali, so I will bring something different to you around Bali. Fluent in English. No hassle, best price, best service.
Read reviews
(7)
Gede offers:
100% personalized local things to do & food experiences
Things to Do & Things to Eat by Gede
Guest reviews about Gede
So much amazing food!
Gede was great! He picked me up from my hotel and we drove to 3 different spots for food. I've never had Balinese food so I was excited. He showed me the basics and the local spots. The food was great! We were supposed to go to 4-5 spots but I got full so I ended the food tour early.

He showed me great spots but he is also very knowledgable about the culture and very friendly. I had a great time!
May 20, 2017
Fantastic time
What an epic tour. Gede took my husband and I to several places that we normally would never have found on our own. So much good food! We started with the Balinese version of gado-gado with eggs (Tahu Telor), moved on to markets, a bakery, some sightseeing, coffee, dessert, and to crown the evening, Babi Guling (suckling pig). You will NOT finish this tour hungry!
Gede is super-friendly and knowledgeable about food, culture and life. I will definitely be hitting him up the next time we are in Bali for new places to go! Thanks again for the wonderful time.
April 23, 2017
Fantastic Tour - Highly Recommend!
Gede was a fantastic guide. He picked us up at our hotel and took us to a few cool, local places. He explained what all the food was and gave us plenty of time to enjoy our food. Gede is a great guide who really strives to make all tour experiences fun and memorable. Highly recommended! Thanks a lot Gede!
December 6, 2016
Review of Gede's sister
On the day of the tour Gede's sister was waiting for me in the lobby, and I only heard from Gede afterwards (saying he was tired and ill from the previous night's tour so he sent his sister). The tour itself was ok, and Gede's sister was very friendly although quiet.
October 23, 2016
Delicious Local Food Tour in Sanur
Thanks for this awesome tour ! Our guide Gede is really friendly and we had a really good time together.
We tasted a lot of food which was absolutely local and very tasty!
Thanks for the wonderful time and your good music ;)
J+M
June 4, 2016