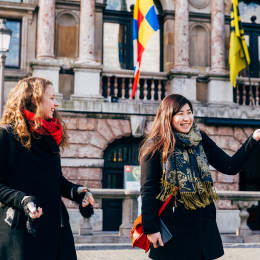 About Evi
Location:

Antwerp

Languages:

English, Indonesian, Nederlands

Response time:

less than 7 hours
Hellooo everyone!!!

I am an Indonesian girl and I live in Antwerp, Belgium to continue my studies here in communication sciences. I loves taking pictures, I'm an easy going, a happy person who loves to meet new people :)

I always get excited wherever I walk in the city Antwerp. I love see Antwerp's fashion and entertainment but also its historical places. Many times I love to walk around the city to take pictures :)

if you wanted to book but doesn't fit on my schedule, just contact me, maybe we can work it out !

So, I can't wait to share my experience in this beautiful to you all. Hope to see you soon :)
Read reviews
(3)
Evi offers:
100% personalized local things to do & food experiences
Guest reviews about Evi
Hang out in Antwerp City with an Expat
Great personal tour around Antwerps City and the highlights. It was really relaxed, never in a hurry. We had a stop with a drink and an interesting chat. A nice friend of her joined us.
Evi showed me a lot of possibilities, what to visit the next days (museums, exhibitions) and gave me a personal view of how it is, to study as Indonesian girl in Antwerps. Very nice, very personal and definitely recommendable!
July 22, 2016
Hang out in Antwerp City with an Expat
It was nice meeting Evi and spending an afternoon like an expat! As I am myself one, it really helped sharing her perspective over how to explore a new city. We had a walk and saw a lot of the highlights in the city and then made short stops to also get the "taste of the city" - with Belgian fries, a waffle and a coffee to rest our feet after a long walk. What impressed me the most was a hidden gem that she took us to - a shopping gallery, but the cool thing about it was not the stores, but its architecture, beautiful and grandiose. Evi is very flexible, so as I also had some checkpoints in mind she adapted the route to also see those things - I wanted to see Ruben's house and we were lucky to get a free pass. So if you want a relaxed day, with a local expat, meet Evi and enjoy Antwerp. I recommend ;)
Hang out in Antwerp City with an Expat
Great walk around Antwerp with a local person. We went through known and not so known local places, shopping areas or just interesting corners that Evi wanted to share with us.