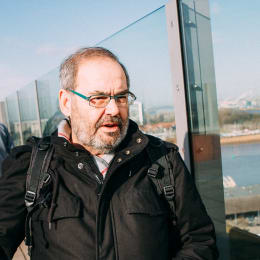 Your private guide:
Etienne
About Etienne
Location:

Antwerp

Languages:

English, Nederlands

Response time:

less than 5 hours
-I worked in chemistry plants all my carreer but I'm retired now for 4 years
-I'm married , have 2 children and allready 4 grandchildren
-I start my intrest in Antwerp 20 years ago , did all kind of studying about that and was city guide for 2 years
-I am basketballtrainer for almost 45 years now
-other favs :photography , film , reading , travelling ,little bit green fingers , gliding , younster camps in basketball , music (listening and playing)
Read reviews
(12)
Etienne offers:
100% personalized local things to do & food experiences
Guest reviews about Etienne
Main sights with non-classic stories
With my 9 years old along Etienne is patience & he made the walk interesting not only for adults but also for my boy. We enjoyed the tour guided by Etienne, he is very knowledgeable. He brought us to locations that probably normal tour would not cover. Highly recommended!
March 20, 2017
The Jewish Tour in Antwerp
Etienne provided an enjoyable and informative walking tour of Antwerp. He has a wealth of stories and insights, and adjusted to our interests. Highly recommend.
December 8, 2016
Main sights with non-classic stories
We enjoyed the tour very much, the guide is very knowledgeable, he described the history of the town in brief to give us a clear picture of what it has been through. we also visited various places, some of which we might not have found on our own. It was a worthwhile experience!
December 5, 2016
Main sights with non-classic stories
The tour was very informative and interesting. our guide Etienne was very knowledgeable and the tour represented good value for money. Thank you
October 12, 2016
The Jewish Tour in Antwerp
Etienne weet veel van de Joodse geschiedenis van Antwerpen. De drie uur van de wandeling vlogen om.
Etienne knows a lot about the Jewish history of Antwerp. The three hours of the walk went by quickly.
July 31, 2016
Main sights with non-classic stories
We were very happy with the tour and all the sights we saw and all the stories, knowledge which we received. It was unique, different experience! Thank you!
July 12, 2016
Main sights with non-classic stories
Such a terrific time on the tour of the beautiful city. You were super at showing and telling us all about the town. So patient. Thank you!
June 21, 2016
Main sights with non-classic stories
What a fun tour of Antwerp. Etienne was a very good guide and we thoroughly enjoyed the walking tour.
June 21, 2016
Best of Antwerp with 360° view
Thank you Etienne for such a knowledge filled and interesting walking tour! We were very impressed by your knowledge of small details and nuggets of information that set the tour apart from a regular hop-on hop-off tour of the city. We are going home much more wiser about our own city.
April 13, 2016
Best of Antwerp with 360° view
Etienne is a deeply informed guide - we could immediately tell he truly enjoyed his city and was curious about its every story. He was warm, friendly and also amusing! He patiently answered our every question. He told us the big, grand narrative of the city, and then he made it come alive with small nuggets of information and tiny details that we would not have come across otherwise. A beautiful day altogether :)
April 13, 2016
Best of Antwerp with 360° view
Etienne is like a story book! Knows everything about Antwerp: history, culture, architecture. It's quite expected since he has so many passions in such varied fields: engineering, basketball, photography - a very cultivated person! The tour with him started on top of the MAS museum, with a great and impressive view topped with hundreds of stories about each corner, building, or water of the city. And he's a good storyteller as well, keeping your attention undivided, as he does a 360 degrees round of Antwerp from above. After we got the big picture, we went to explore some hidden gems, and discovered a very old loft, where the Natzis used to have their office in. After this, we knew exactly where to head next and decided very easily what highlights we want to see in the city. He knew so many details about the evolution of the building, the reasons why each piece was at its place, I was very impressed. In the end we chilled with a coffee in a very nice place near in the area, where he usually goes. By the way, expect some good jokes, he's a quite funny guy :) Thank you Etienne, it was a pleasure meeting you!
March 31, 2016
Best of Antwerp with 360° view
I want to go on all tours with Etienne! Professional, curious and an interesting story teller he showed us whole Antwerp from the roof of MAS museum. That was a great way for us to plan our next days in Antwerp - very great experience when you just arrive to the city!