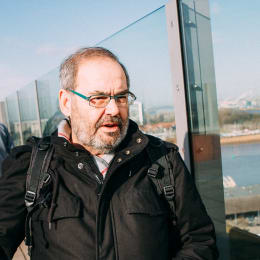 Your private guide:
Etienne
About Etienne
Location:

Antwerp

Languages:

English, Nederlands

Response time:

less than 5 hours
-I worked in chemistry plants all my carreer but I'm retired now for 4 years
-I'm married , have 2 children and allready 4 grandchildren
-I start my intrest in Antwerp 20 years ago , did all kind of studying about that and was city guide for 2 years
-I am basketballtrainer for almost 45 years now
-other favs :photography , film , reading , travelling ,little bit green fingers , gliding , younster camps in basketball , music (listening and playing)
Read reviews
(13)
Etienne offers:
100% personalized local things to do & food experiences
Guest reviews about Etienne
Antwerp with a local
Etienne is the total package. Extremely knowledgeable, accommodating and energetic. Highly recommend.
May 16, 2017
Main sights with non-classic stories
With my 9 years old along Etienne is patience & he made the walk interesting not only for adults but also for my boy. We enjoyed the tour guided by Etienne, he is very knowledgeable. He brought us to locations that probably normal tour would not cover. Highly recommended!
March 20, 2017
Excellent tour of Antwerp living history.
Etienne provided an enjoyable and informative walking tour of Antwerp. He has a wealth of stories and insights, and adjusted to our interests. Highly recommend.
December 8, 2016
Main sights with non-classic stories
We enjoyed the tour very much, the guide is very knowledgeable, he described the history of the town in brief to give us a clear picture of what it has been through. we also visited various places, some of which we might not have found on our own. It was a worthwhile experience!
December 5, 2016
Main sights with non-classic stories
The tour was very informative and interesting. our guide Etienne was very knowledgeable and the tour represented good value for money. Thank you
October 12, 2016