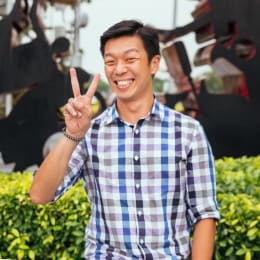 Your private guide:
Daniel
About Daniel
Location:

Pasir Ris

Languages:

English

Response time:

less than 16 hours
I grew up and received my education in Singapore. Believe me when I say that Singapore is a safe and peaceful country to live in. I love the vibrancy of the city as well as the peacefulness brought on by the lush greenery surrounding me.

I am very much inspired by shows such as The Wedding Planner, Amazing Wedding Cakes etc, as it is always about making someone's dream come true. That's what I tell myself every time when I plan a tour. I want to make it your tour!

Generally described as a jovial, easy-going and down to earth person, I look forward to bring you around this City Within A Garden I dearly call home.

Why not allow me to bring you around to start off your adventure? Tell me what you want to see and how you would like your tour to feel and I will assist you to maximize your time and budget. The tours listed on my profile would be a general guideline on what you could do when you reach Singapore.

Let me indulge you in the various cultures found within this multi-racial country, as well as the excitement from the shopping, night life and of course, all the delicious foods from different races, namely the Chinese, Malays and Indians.

I will try my very best to make it a wholesome experience for you and your loved ones.
Read reviews
(55)
Daniel offers:
100% personalized local things to do & food experiences
Things to Do & Things to Eat by Daniel
Guest reviews about Daniel