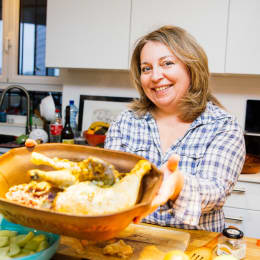 About Csilla
Location:

Brussels

Languages:

English, Français, Magyar

Response time:

less than 5 hours
Having grown up in a modest Hungarian family I could observe my grand-mother in her kitchen; from only a few ingredients she could do magic. She was a center figure in my life thanks to her kindness, cooking skills and the time she could devote to us.

I learnt how to prepare home made pasta, excellent soups, meat stews, vegetable stews, that I could easily adapt while learning Indian recipes for instance. Once the Berlin wall was demolished I started to travel. I have been to Vancouver, I discovered the best salmon ever and I fell in love with sushi recipes.

I have also been to Greece, to Israel, to Italy: enough to cover Mediterranean recipes. I have not yet been to Morocco but the colorful community in Brussels where I have been living for some eleven years offered me with all the best ingredients to this type of cuisine also!

My second best passion is urban sketches, I am planning to launch sketch classes as activities for tourists! All my family, friends encouraged me, so here I am, please feel free to contact me, I will soon be able to guide you through my best practices.
Read reviews
(8)
Csilla offers:
100% personalized local things to do & food experiences
Guest reviews about Csilla