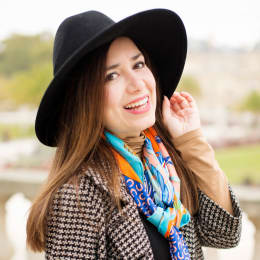 Your private guide:
Christianne
About Christianne
Location:

Paris

Languages:

English, français, español

Response time:

less than 10 hours
I am an American creative filmmaker who has taken a break from LA to go back to school in Paris and perfect my craft in a nourishing bohemian environment. I have many freinds and a great life in Paris.
Read reviews
(23)
Christianne offers:
100% personalized local things to do & food experiences
Things to Do by Christianne
Guest reviews about Christianne
A non tourist view
Been to Paris a few time great to see another side she was excellent also flexible and helped with a lot of our questions definitely recommend Christianne
May 22, 2017
Great afternoon in Paris
Christianne organized a great afternoon of walking around diverse Paris neighborhoods and getting the local perspective. From polished galleries and concept stores to hipster bars and gritty side streets. A great way to spend an afternoon. Christianne is fun, knowledgeable and very friendly.
May 18, 2017
Perfect
I liked my personalized walk (3h) with Christianne a lot, we have been to some places I would have never have seen otherwise, and she is also a very good company and a very attentive host. Highly recommended. :-)
May 2, 2017
A Day Like a Parisian Tour
Christanna was amazing. The tour was tailored to our interests. We had a very memorable afternoon. She left us so many recommendations to fill our week in Paris.
May 2, 2017
Made in France Fashion Tour
For all the ones that love fashion, boys and girls, this tour is perfection. Christianne brings you to small Parisian shops where all the jewellery, bags and shoes are home-made, as well as to some of the most famous brands boutiques, on avenue Montaigne. The tour ends for tea at one of the most beautiful hotels of the city. Fa-bu-lous!
April 10, 2017