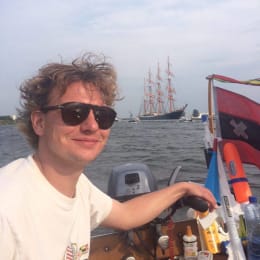 Your private guide:
Chris
About Chris
Location:

Amsterdam

Languages:

English, Deutsch, Nederlands

Response time:

less than 7 hours
Because of my fascination for history, especially the history of Amsterdam, I can tell you everything about the city.
From the first structures in the old city to the most contemporary architecture at the Oosterdok.

Besides that I can show you the way to the finest restaurants, nicest bars, best clubs and the most cozy areas which stays hidden for the most visitors.

I love to help you getting the most out of your Amsterdam visit.

Hope to see you soon in our historic, magical city.

From Amsterdam with love...
Chris.
Read reviews
(36)
Chris offers:
100% personalized local things to do & food experiences
Guest reviews about Chris
Great experience
Nice weather, Ice cold beers and a great sailor. What's not to like
May 22, 2017
Atypique et convivial
Chris fut un capitaine atypique et sympathique. L'expérience était joviale et conviviale avec l'apéro à bord. Une belle manière de découvrir ou redécouvrir amsterdam. A l'heure du coucher de soleil, tres agréable. Je recommande aux groupes d'amis qui comme nous cherchent à découvrir la ville tout en s'ambiancant...
May 15, 2017
Despite the weather
we had a really good tour with Chris which gave us a flavour of the city when we first arrived. Thanks.
May 14, 2017
Awesome 2 hour canal tour
Chris picked us up right on time at a convenient location. A very knowledgeable guide, he took us down many beautiful, small canals a larger tour boat could not. Super fun and engaging, we would highly recommend! He even had a Canadian flag aboard to welcome us! :-)
Definitely take Chris' tour!

Setia, Dale, Carol and Toby from Canada
May 2, 2017
The best way to experience Amsterdam
We had so much fun on our canal ride with Chris. He was accommodating & great with communication, we had cold, rainy weather the day we were scheduled to go, but we were able to quickly figure out another date & time to head out. Chris shows you all the places the big canal boats can't go. We brought snacks & drinks and had a great time relaxing & laughing on the canals ( the tourists on the big boats looked bored & jealous). Chris has a great personality and you can tell he really loves his city. Thank you Chris & you are welcome anytime you're in San Francisco! Kind regards, Dee & Damon
April 30, 2017