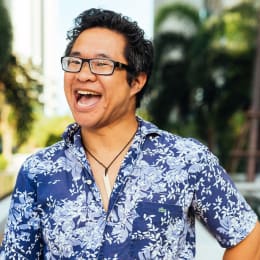 About Big
Location:

Bangkok

Languages:

English, ไทย

Response time:

less than 11 hours
I hail from the south of Thailand, born and breed but raised by a pack of wild wolves in San Francisco for most of my life.

I frequently visit my motherland and stomping grounds to "get my head straight" and fill my lungs once more with the air up there that only comes from the proverbial land of milk and honey: though in my case the land of late night food stalls and stinky fruit.

Having worked for decades in the games industry in the Silicon Valley playing video games and breaking things I headed out to on next venture to receive and introduce people from all over the world to my "backyard".

The latest expansion pack to Thailand Tour Tycoon has just been released. Are you a bad enough dude to save the president?!
Read reviews
(191)
Big offers:
100% personalized local things to do & food experiences
Things to Do & Things to Eat by Big