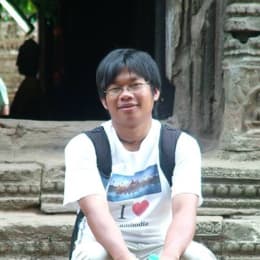 About Ben
Location:

Krong Siem Reap

Languages:

English

Response time:

less than 10 hours
Want to meet new people
I like to help people
I like to make friends
Read reviews
(25)
Ben offers:
100% personalized local things to do & food experiences
Things to Do & Things to Eat by Ben
Guest reviews about Ben
Sunset Dinner in the Paddy Fields!
Our evening was Ben absolutely incredible. First and foremost, Ben is a wonderful person. He is so nice and his story of how he came to work with the orphans, that this trip helps support, is moving. This was such a nice evening after seeing the temples and nightlife of Siem Reap. Ben confirmed our menu before arriving, then picked us up from our hotel in a tuk-tuk. The short ride there was spent chatting about Cambodia (all new info for us Americans!) and the orphans he helps support. When we arrived, we switched to the oxcart for our calm ride through the beautiful countryside. Our private table for 2 was waiting for us at the end (about 15min) and our meal started. The fresh spring rolls were...well... FRESH! Very good. But the Beef Lok Lak they prepared was incredible. It was the best meal we had our entire 9 days in Cambodia. Truly delicious. Then Ben had a local treat prepared for dessert - pumpkin custard made directly in the pumpkin, also quite tasty. We were left alone unless we needed something, allowing my wife and I to enjoy the beautiful scenery and lovely sunset. Ben took some pictures for us and when we were ready (after the sun went away), we went right back to our hotel. I can't recommend this trip enough! Ben is wonderful and some of the money goes to a good cause. Thank you Ben for a wonderful local experience!
February 6, 2017
Cook and Taste Amazing Cambodian Food
This is a great way to experience Cambodian cuisine and cooking practices. You get great context at the start, by going to a local market and seeing the produce on offer. Ben gives good explanations so you understand what types of food are on offer and why. The cooking class itself is a fantastic way to get stuck in and our results were delicious. I would reccommend this experience and would take part again if I'm ever back in Cambodia. Thank you!
February 6, 2017
Cook and Taste Amazing Cambodian Food
Ben was a friendly and knowledgeable host, who did a great deal of work in the local community. The trip was educational and quite humbling and dining in the paddy fields when the sun went down was beautiful.
February 1, 2017
Cook and Taste Amazing Cambodian Food
We had a great experience with Ben during our cooking course.

He was a very open and kind. He brought us to a local market and gave us a lot of information about the Cambodian local market and local food. After that we went to the village where we got the cooking course. Afterwards we got to eat the food that we made. It was delicious!

Ben is a great host and makes funny jokes. He also makes pictures during the cooking course and shares them with you (also recipes). He is very open and caring to help you with your trips in Cambodia. Last, he responds very quickly to your messages.
November 5, 2016
Experience a Night in a Village
Ben was a fantastic tour guide! He took care of all the details for my homestay and did his best to give me a real local experience in the villages. He took me all over on his motorbike to see and experience what daily life is like for the Cambodian people. Ben is very knowledgeable and in everything we did, he was teaching me something about the culture and the people. He gives these experiences because of the love he has for his people and his desire to help them. He has an incredible story to share with the world. Ask him about it. He can use everyone's help in order to help the villagers and especially the kids he takes care of. Thanks for a memorable experience Ben!
September 27, 2016
Cook and Taste Amazing Cambodian Food
Ben was a great host, speaks excellent English and has a great personality. First stop at a local market was immediately a bit of a shock, but quite interesting to see ... and smell! Then we drove up to his mothers house at the countryside in the middle of nowhere, next to a paddy field. Cool breeze, nice setting, enjoyable cooking at ease and some lying in a hangmat. And on top of all that, this is nonprofit, helping more then 20 orphans from 4 to 12 years old to get them a better life. They sleep on the floor in the shet where you cook. Overall a very nice day with only good vibes.

Guy
August 15, 2016
Sunset Dinner in the Paddy Fields!
Ben was wonderful to deal with. He gave us a lot of information, answering our many questions on our ride out of town. On arrival we had time to walk around and take pictures. The ox cart ride was an experience! It was cool to see how the land was divided by crop and worker/owner. After we had done a circuit we came to a table set with table cloth, candle and an excellent bottle of bubbly. Dinner was amazing...no shortage of food and all delicious!! I would highly recommend this tour, especially after learning how many people benefit from the tour and cooking class. Thank you Ben!! Oh ya, Ben also took pictures of us and emailed them to us the next day!!
April 13, 2016
Sunset Dinner in the Paddy Fields!
We had a very next ce time with Ben. He is full of information and is English is excellent. He was punctual and fulfilled the advertised tour. It is a very good tour to get nice pictures. The oxcart ride was bumpy but memorable. The dinner was lovely.....the food delicious!
Thank you for a great evening!
April 10, 2016
Be A Local, Live The Local Way of Life!
We enjoyed a lovely morning and sunset with Ben.
I had booked for the village experience, we had originally organised to travel to the village by bike however due to a slight change we travelled by mini bus. I am pleased we did as the cycle ride in the heat would have been to far for my 9yr old.
Ben introduced us to local cuisine in the small locals market, I probably would not have tried otherwise. We then continued onto a NGO Self Help Community Centre (SHCCcambodia.org) a school set up to help children from deprived family to allow children to have an education. Having since checked the organisation out, I have established that I too can do my bit when shopping online with the likes of Amazon through the organisations website to raise money for this cause, I would never have known this existed.
We then tried our hand at rattan weaving, a handicraft that requires skill and patience, I definitely fell short on the skill. I have a new respect for how much work goes into producing the ratten place mats etc, especially as the cost pence back in England
Ben is a very friendly and knowledgeable young man and is keen to share his knowledge with his clients with regards the history of the country and his culture. He has an amazing command of the English language. We enjoyed our time with Ben and I would have been very happy to have used him the whole time whilst in Siem Reap. Thank you Ben the photographs of our visit was a really nice touch. If in England look us up. Clair, Jon and Lily-Mae
March 30, 2016
Cook and Taste Amazing Cambodian Food
Great time with Ben and other travelers! We walked around the market in the village, cooked 3 traditional Khmer dishes and got to eat them too! :)) It turned out really good, I'll definitely try to make it at home (hmm, where to get banana leaves?) Ben is a great host, he took care of everything running smoothly. THANK YOU!
Cook and Taste Amazing Cambodian Food
We really enjoyed staying in the village for 5 days. At night you can see the stars shining brightly, and in the day you be delighted with the stunning views of paddy fields. The experience on the whole was humbling. It was a life changing experince to live within another community that is so far removed from your own. Despite having little the people we met always had a huge smile for us! The only bad thing was the initial culture shock, realising the village doesn't have running water. In the end we actually looked forward to our rain water bucket showers. The homestay food was amazing expertly created by the lovely and talented chef!
I also did the cooking class, it was great to learn how to make yummy dishes using a traditional Cambodian firewood oven. You need Pumpkin custard in your life!
Cook and Taste Amazing Cambodian Food
A very "gourmet" trip with Ben! Travelling with Ben is confortable, authentic and very delicious! We visite the local market with explications on local food! a great moment! We had cooking course with our 3 children (2 years old)! It was perfect. Patlah, The smily Chief cooks local products. The village is Nice! Thanks for this local trip with you Ben! See you in liege 😎
Cycling Tour to Experience the Country Life!
We had a really great day with Ben!
It was really nice to be out of the city and to see the "real" life.
Would definitely recommend this trip!
Personalized experience with Ben
We did an afternoon cooking class with Ben during our trip to Siem Reap. We got picked up from our hotel and it was about 15min drive in the Tuk Tuk to reach the village. The atmosphere is so serene and it feels very authentic and not touristy at all. The cook La was very nice and even though she does not speak English we managed to communicate well with Ben's help. We made spring rolls, fish amok and pumpkin custard. We did all the prep and had to chop/smash everything as directed. All ingredients are fresh and sourced locally. We even made the little baskets from banana leaf for the fish amok. Ben made lots of pictures of us cooking which was really nice as we didn't want to mess around with our camera while cooking. The food was really tasty and the portions were big. The left over spring rolls and other food are given away to village kids. Part of the money from the cooking class is dedicated to help the local community. Amazing experience and definitely recommend it!
Cook and Taste Amazing Cambodian Food
Half a day with Ben and the village community.

We were picked up at our guesthouse 13.30 by Ben and a tuk tuk. We the drove to a small village nearby. We were introduced to the village chef and the assistant. We made three dishes which were all delicious. We had to do everything by ourselves, step by step and under close supervision of the village chef. After diner we did a ride on the ox-cart through the countryside while watching the sunset.

Food is part of a country's culture and there is no better way to discover that in a small village that grow all the food themselve. Also part of the money goes directly to the community. Still more that 40% of Cambodia lives in extreme poverty. Contribute to a good cause while learning more of the culture is a good way to discover Cambodia.

Thanks Ben and company!!
Cook and Taste Amazing Cambodian Food
Cooking is my absolute passion, and when I travel, I like to soak in the local culture to feel the heartbeat of the place. Attending the local cooking session was indeed the highlight of my trip because I got to spend 4-5 hours bonding with Ben and his family over a meal. It's not so much that I learned new recipes. The most important part was making new friends and sharing new experiences with them. Riding the ox cart and seeing cows literally jumping on the paddy field is a priceless experience.
Cook and Taste Amazing Cambodian Food
We had a good time in local area!
Ben and the chef are very kind.
The cooking experience was fun. I want to try another menu next time.
Of course the food was delicious!!!
We want to try those food in Japan.
Please send me a recipe. I'm waiting for receiving it!
Cook and Taste Amazing Cambodian Food
We spent three weeks in Cambodia and Thailand and this was one of our favorite days. Now that I'm home, people ask me what my favorite part was, and I always bring up this day. It's clear that Ben loves Cambodia, and he really wants to show travelers what being Khmer is all about. On top of that, the food was delicious and really fun to make.

Ben speaks great English, and he will tell you all about his country and life in the village. Even if you don't want to cook, please email Ben and I'm sure he would be more than willing to arrange some other awesome experience for you!

Huge thanks to Ben, and the villagers that welcomed us in for a day!!!
Cycling Tour to Experience the Country Life!
I highly recommend Ben's cycling tour to anybody who likes cycling and wants to see a different ("real") part of Siem Reap/Cambodia. You will see a real local village that is normally free of tourists/traveller (besides me did't saw any other foreigner)

The bike were quite new in a very good shape. We visited a village near Seam Reap and i learned so much about the local way of life in the village and even was able to try some of this things by myself: harvesting rice, riding an ox cart and create handcrafted stuff out of palm leafs as well as rattan.

Ben is a perfect host and can give you many background information about th village, the history of cambodia, ...For information/review about Ben please see the reviews for his other events.
Cook and Taste Amazing Cambodian Food
I keep it short and confirm the other excellent reviews: A perfect host, a perfect setting, a tasty meal = a perfect and memorable (half) day - especially for lunch right before my flight out of Cambodia. The food was sooo delicious. I eat too much and slept during the complete flight. I even had to skip dinner on this day ;-)
Cook and Taste Amazing Cambodian Food
The cooking class with Ben and his mother is in our top 3 of cambodia.
Ben picked us up at our hotel and with the tuktuk we went to his home village. Ben's English is brilliant so communication was very easy. We spoke about all types of topics like Cambodian history and future, marriage traditions, village life etc. All the things we wanted to know about Cambodia and more. Arrived in the village, Ben's mother and friend where already busy with preparing the meal. We could step in and got an explanation what everything was called and how we could help. The food was amazing. Way to much, but other people in the village will also enjoy the food we made.
Ben is a very open and warm personality. He works hard and does a lot to help the village; produce more food, earn more money and get better education for the local kids. The cooking class is part of this. So you are not only have a good mail for a good price you also help the village and learn more about the country. For us s perfect combination of activities.
Cook and Taste Amazing Cambodian Food
I love Ben. I ended up 10 times than what I signed up for! Ben has a great command of English and a huge heart for helping his fellow Cambodians. He picked me up and took me to a village that he helps through his charity organization. I was taught how to cut, cook local foods I'm ready to open up my own restaurant lol! He drove me around downtown And took me to some local hang out spots it became a truly all round experience!
Ben went above and beyond in taking care of me and educating me to all things Cambodian. I hope in the future I can assist him in his projects.
Must Do Experience
Cook and Taste Amazing Cambodian Food
We were in Siem Reap for the Angkor Temples but also wanted to experience another part of Cambodia.
On the with locals site we found what we were looking for. Cooking traditional Cambodian dishes on the countryside just outside of Siem Reap with Ben and his two chefs. Due to illness we had to postpone the cooking lesson for 2 days, luckily for us that was no problem. We were picked up at our hotel by Ben with a tuk tuk. During the ride we talked a lot about Cambodia, about the village and the kids Ben supports.

When we arrived at the site the chefs had already layed out the ingredients. We made fried springrolls from scratch, Fish Amok and as desert there was a pumpkin custard (amazing). The instructions were clear and the chefs enjoyed looking at our efforts (sometimes we were a bit clumsy to their enjoyment).We were just with the 2 of us but there was more food than we could eat. Luckily the people from the village helped us with eating al the springrolls we made! The fish amok was perfect and the pumpkin custard was heavenly. We got the recepies printed out to take with us to try again at home. We chose to cook in the afternoon, if you choose to cook in the morning you would also go to the market to buy the
ingredients. After the meal you would have time to ride an ox cart if you would like to. Because we cooked in the afternoon it was dark after dinner. On the way back to the hotel Ben made a stop at an insect vendor. We tried the diving beetles and the crispy fried frogs, very good!!

We would surely recommend this expercience with Ben. He is easy to talk to, will tell you everything you would like to know about life in Cambodia and he does good work for the villagers he supports.
Cook and Taste Amazing Cambodian Food
What a fantastic sfternoon with Ben & his family, such an inspirational guy. By far the highlight of our trip to Cambodia - if you get a chance definitely book this experience.

We spent the afternoon cooking spring rolls, Amok curry & pumpkin custard with Ben & Chef (his mum), learning about life in Cambodia. Ben does amazing work with the local villagers: helping them in self sufficieny,teaching the childen English at weekends, helping them break free of poverty & a % of the experience also goes back to them.
Ben`s mum Chef was so patient helping us all the way. Encouraging us step by step.Her instructions were so clear even with Ben translating.
The food tasted amazing & we ate it at sunset overlooking the rice fields.

Thank yiu Ben for an amazing afternoon & truly wishing you every success for the future. I hope we can meet again on another trip to your beautiful country.
Cook and Taste Amazing Cambodian Food
A Family Experience
Today I had lunch with Ben and his mum it was very special. Ben's mum is an amazing chef! Her food was very delicious, she cooked us three types of traditional food - Amok, Lok Lak, and Spring rolls, there was lots of variety and the food was very tasty!
Ben is such a great guy; he is friendly and very helpful to his guests and his mum by helping her with the cooking! His English was excellent and he is very knowledgeable being a tour guide, he had lots of stories to tell. It was a nice to have a personal experience of cooking and shopping at the local markets to buy all the ingredients. After having lunch we took a village walking tour, it was lovely to see the Cambodian countryside; we got to see locals working on their farm, and see firsthand Cambodian culture and traditions. There is nothing Ben can't do – if you would like to have try at ox cart riding, this can be arranged too! Ben loves this program because he can also help poor people in his community because the amount that people pay for cooking lunch or dinner 10% will be donated to the organization to help those in need.
The location was stunning surrounded by rice paddies with a cool breeze and hammocks to relax; it was a perfect place to enjoy perfect company and a delicious lunch! I would highly recommend this program!