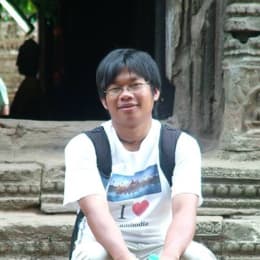 About Ben
Location:

Krong Siem Reap

Languages:

English

Response time:

less than 10 hours
Want to meet new people
I like to help people
I like to make friends
Read reviews
(26)
Ben offers:
100% personalized local things to do & food experiences
Things to Do & Things to Eat by Ben
Guest reviews about Ben
Learn to cook & help kids at the same time
Ben will pick you up from the hotel and show you around the local market with lots of info, we had done a couple of cooking workshops before but there was lots of things I had not known, very interesting. we made a starter , main course and dessert and all was delicious and as Ben is supporting 71 orphaned kids you know your money for the workshop is going to a good cause.
April 10, 2017
Amazing Sunset Dinner in the Paddy Fields
Our evening was Ben absolutely incredible. First and foremost, Ben is a wonderful person. He is so nice and his story of how he came to work with the orphans, that this trip helps support, is moving. This was such a nice evening after seeing the temples and nightlife of Siem Reap. Ben confirmed our menu before arriving, then picked us up from our hotel in a tuk-tuk. The short ride there was spent chatting about Cambodia (all new info for us Americans!) and the orphans he helps support. When we arrived, we switched to the oxcart for our calm ride through the beautiful countryside. Our private table for 2 was waiting for us at the end (about 15min) and our meal started. The fresh spring rolls were...well... FRESH! Very good. But the Beef Lok Lak they prepared was incredible. It was the best meal we had our entire 9 days in Cambodia. Truly delicious. Then Ben had a local treat prepared for dessert - pumpkin custard made directly in the pumpkin, also quite tasty. We were left alone unless we needed something, allowing my wife and I to enjoy the beautiful scenery and lovely sunset. Ben took some pictures for us and when we were ready (after the sun went away), we went right back to our hotel. I can't recommend this trip enough! Ben is wonderful and some of the money goes to a good cause. Thank you Ben for a wonderful local experience!
February 6, 2017
Worthwhile experience - would do it again
This is a great way to experience Cambodian cuisine and cooking practices. You get great context at the start, by going to a local market and seeing the produce on offer. Ben gives good explanations so you understand what types of food are on offer and why. The cooking class itself is a fantastic way to get stuck in and our results were delicious. I would reccommend this experience and would take part again if I'm ever back in Cambodia. Thank you!
February 6, 2017
Cook and Taste Amazing Cambodian Food
Ben was a friendly and knowledgeable host, who did a great deal of work in the local community. The trip was educational and quite humbling and dining in the paddy fields when the sun went down was beautiful.
February 1, 2017
Delicious and fun cooking class
We had a great experience with Ben during our cooking course.

He was a very open and kind. He brought us to a local market and gave us a lot of information about the Cambodian local market and local food. After that we went to the village where we got the cooking course. Afterwards we got to eat the food that we made. It was delicious!

Ben is a great host and makes funny jokes. He also makes pictures during the cooking course and shares them with you (also recipes). He is very open and caring to help you with your trips in Cambodia. Last, he responds very quickly to your messages.
November 5, 2016